Donald Trump Praises 'Beloved' Kellyanne Conway For Doing The Jobs No One Else Wants
President Donald Trump has praised White House Counselor Kellyanne Conway for taking on the tasks no one else wants to do.
Speaking at an anti-abortion gala on Tuesday where Conway was being honored, the president said Conway always stepped up to the plate, and singled out her TV appearances in particular, Mediaite reported.
Introducing Conway as "a beloved member of my administration," at the Susan B. Anthony List's Campaign for Life gala Trump described her as "a true fighter for faith and family" as he announced she was the recipient of the organization's 2018 Distinguished Leader award, The Washington Examiner reported.
"What a job she's done. What a job she's done," he said.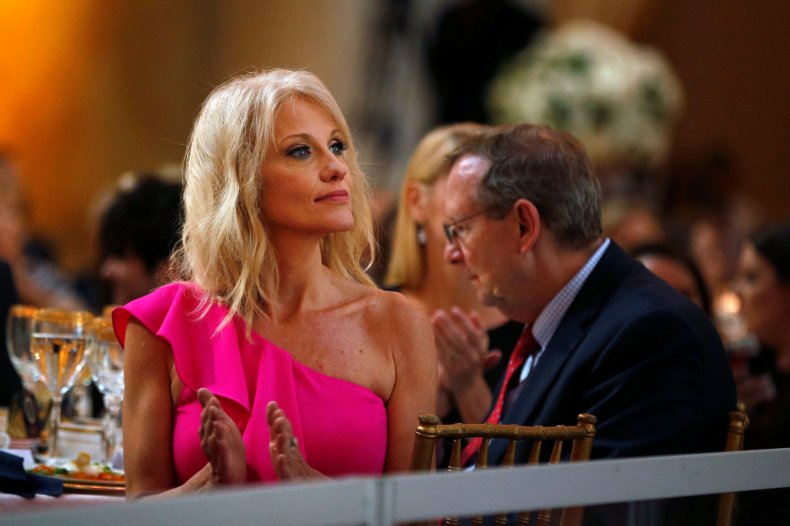 "She'll do the shows that nobody else dares go near. I'll say, 'Do this one or that one.' 'No problem, sir.' Others say, 'Sir, do you think I could take a pass, please? I beg you, please?' Great going, Kellyanne, thank you," Trump added.
The president was referring to the fact that Conway doesn't just appear on Trump-friendly shows like Fox and Friends, but also represents the White House on shows that are critical of the administration.
But her TV appearances have not always attracted praise, with previous gaffes including referencing the fictional Bowling Green massacre and defending claims that inflated the size of the crowd at Trump's innauguration.
It was on that occasion that Conway coined the phrase "alternative facts" in an interview with NBC's Meet the Press: "You're saying it's a falsehood. And they're giving… Sean Spicer, our press secretary gave alternative facts."
Indeed, at one point it was reported that Trump had asked Conway to take a step back from the TV appearances that had garnered so much criticism, however she appears to have been reinstated as one of the many go-to pundits from within Trump's team.