Donald Trump Is Under Growing Pressure From His Allies to Sideline Dr. Fauci
President Donald Trump faces mounting pressure from conservative allies to sideline Dr. Anthony Fauci after he further warned of "really serious" consequences to lifting coronavirus lockdown measures too soon.
The comments from Fauci, director of the National Institute of Allergy and Infectious Diseases, put him somewhat at odds with Trump and many of his supporters, who are pushing to get measures lifted so as to get the economy running once again.
"My concern is that we might start to see little spikes that will turn into outbreaks," Fauci told the Senate Health Committee over video link, when commenting on the risks of areas re-opening too quickly.
"The consequences could be really serious. There is no doubt, even under the best of circumstances, when you pull back on mitigation you will see some cases appear."
He said the ability to respond with "good identification, isolation and contact tracing," will determine "whether you can continue to go forward as you try to re-open America."
Trump has spoken of his desire for the nation to be back up and running "soon" and in a previous video shared by the White House said: "People want our country to open up." He added his desire to do that in a safe way, with measures such as social distancing remaining.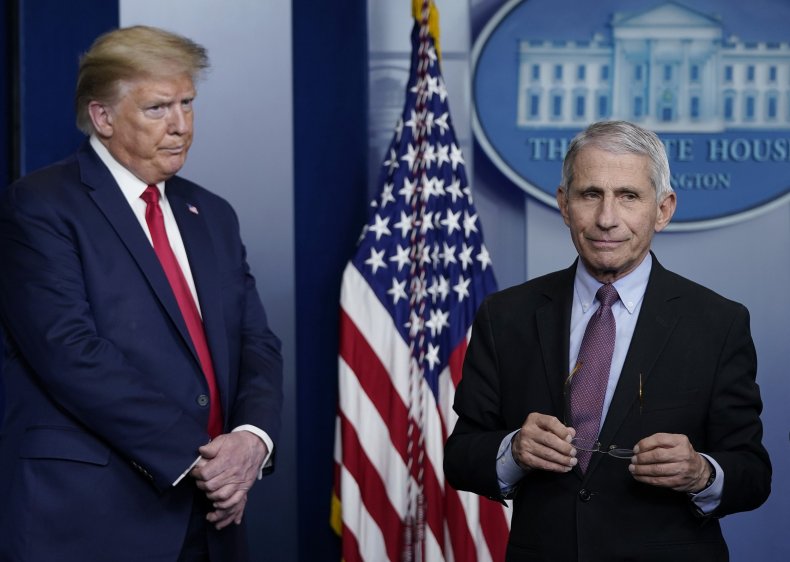 Following his comments, Fauci faced criticism from conservatives, including allies of Trump and commentators who have often sided with the president.
During the Senate Health Committee seassion, Sen. Rand Paul (R-KY) said "people make wrong predictions" and told Fauci: "As much as I respect you, Dr. Fauci, I don't think you're the end all. I don't think you're the one person that gets to make a decision."
He spoke of people on the "other side saying there's not going to be a surge and we can safely open the economy."
Fauci said he "never made myself out to be the end all" and said: "I don't give advice about anything other than public health."
Despite some criticism of Fauci, Sen. Lisa Murkowski (R-AK) said: "I think we need to follow the experts here."
Following the committee meeting, others began to comment on what Fauci had said.
Rep. Andy Biggs (R-AZ) told Fox Across America with Jimmy Failla that he felt Fauci and fellow coronavirus task force member Dr. Deborah Birx should be sidelined.
"Give them the gold watch and say thank you, exit stage left," he said, before commenting on the economic issues caused by lockdown measures for members of the public.
"It's time for them to go out and be quarantined without a government paycheck and see how they like that. We'll see how they like it."
Tucker Carlson, speaking on his Fox News show, asked whether Fauci was right on "the science" and spoke of areas which have opened, suggesting they have not all seen spikes. He zoned in on schools re-opening, questioning the lockdown continuing to "deny young people an education."
Carlson said Fauci has had a "lot of different positions," playing back previous comments and comparing them to later statements.
"Is this the guy into whom you want to vest all of your trust? Is this the guy you want to chart the future of the country? Maybe not," he said.
Fellow Fox News hosts Sean Hannity and Laura Ingraham also made critiques of Fauci. Between them they raised points such as Fauci earlier in the pandemic advising people did not need to wear masks then now encouraging them to do so. Hannity suggested Fauci "is a good man" but has "been wrong, a lot."
Talk show host and self-proclaimed "Hollywood Conservative" Chuck Woolery criticized Fauci for what he branded "faux science that changes everyday."
"Since you can't fire him, President Trump should send Fauci back to his office, thank you for your service, we are moving on," he tweeted.
Ryan Fournier, founder of Students for Trump, tweeted: "I do not trust Dr. Fauci."
Newsweek has contacted the National Institute of Allergy and Infectious Diseases and the White House for comment.
The U.S. has seen more than 1.3 million coronavirus infections amid the pandemic.
New York is the worst-hit state and the below graphic from Statista shows those with the highest number of cases.