Donald Trump Pressures 'Weak' Jeff Sessions to Investigate 'Hillary Clinton Crimes'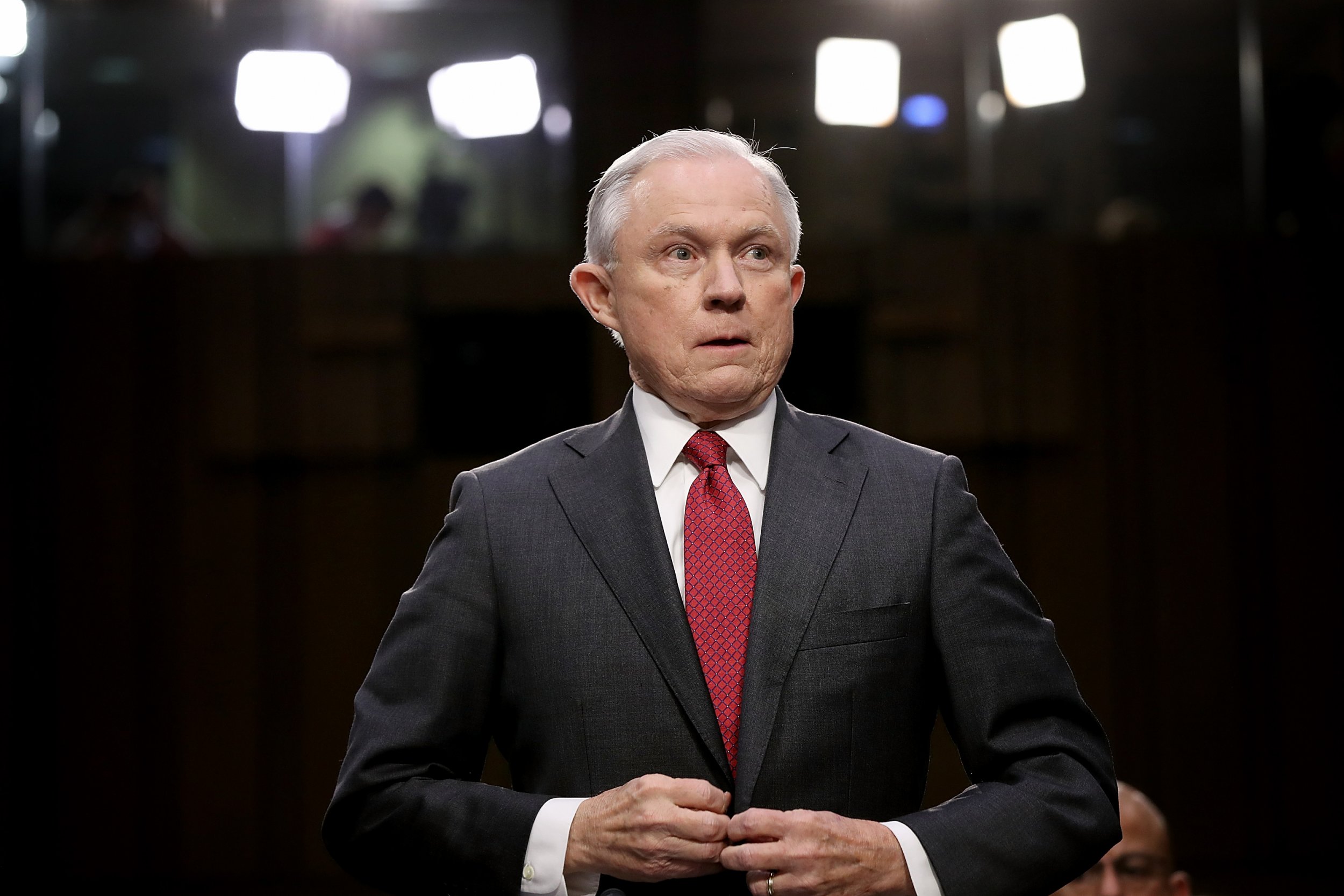 President Donald Trump is hinting his Attorney General Jeff Sessions could lose his job for not showing enough loyalty and quashing an investigation into whether the Trump campaign helped Russia to interfere in the 2016 election.
That pressure increased Tuesday as Trump called on Sessions to investigate what he called the "crimes" of his election rival Hillary Clinton.
"Attorney General Jeff Sessions has taken a VERY weak position on Hillary Clinton crimes (where are E-mails & DNC server) & Intel leakers!" the president tweeted early Tuesday.
On Monday Trump tweeted that Sessions is "beleaguered"—in other words beset with troubles—in the Trump administration.
During an interview with The New York Times last week Trump said that he would have never hired Sessions if he had known he would step away from the Russia investigation in March due to a conflict of interest.
"Sessions should have never recused himself, and if he was going to recuse himself, he should have told me before he took the job, and I would have picked somebody else," Trump said. Legally law enforcement officials must step away or "recuse" themselves from legal matters where they have a conflict of interest.
Sessions backed away from the investigation—which is examining whether the Trump campaign assisted Russia in its campaign to influence the 2016 election in favor of Trump—in March. He bowed out after it was revealed he made misstatements to Congress about meetings with Russian officials during the election.
Read more: Trump's Kellyanne Conway ought to be fired, says Bush ethics chief
Sessions was an early and vocal supporter of Trump during the campaign and became a member of his election team. Last week the Washington Post reported that Sessions, counter to testimony he gave to the Senate, may have discussed Trump's positions on Russia-related issues and prospects for U.S.-Russia relations with Russia's ambassador to the U.S. Currently the U.S. has several sets of financial sanctions against Russia and its officials that have hurt the Russian economy.
Easing these sanctions would fly in the face of their intention to punish Russia for invading the Ukrainian region of Crimea in 2014, corruption by Russian officials, and interference in the U.S. election.
On Monday, Trump suggested Sessions was disloyal during a speech to the Boy Scouts at their 2017 Jamboree. "As the Scout law says, a scout is trustworthy, loyal—we could use some more loyalty I will tell that you that," the president said.
The president is eager to quash the Russia investigation, which he has repeatedly called a "hoax" and "phony." Trump echoed statements made by Russian Vladimir Putin to him that Russian hackers are so good that American intelligence would have never been able to trace last year's hack of American political parties and party members back to them.
Early this year key intelligence agencies concluded in a rare public report that Russia had conducted a campaign to influence the election in favor of Trump.
Staunch Trump ally Republican Rudy Giuliani came to Sessions defense on Monday after it was revealed that Trump was considering him as a Sessions replacement. Giuliani told CNN that Sessions "made the right decision under the rules of the Justice Department" to turn over responsibility for the investigation to Deputy Attorney General Rod Rosenstein.
American intelligence agencies found no evidence that Putin worked to help Clinton win the election, yet the president is now questioning why Sessions is not investigating her.
During the election, Trump coined the campaign slogan "lock her up" to attack his opponent over her use of a private email server to handle some classified government information when she was working as secretary of state in the Obama administration. An FBI investigation concluded she hadn't committed any wrongdoing.
Trump has often repeated unsubstantiated claims made in a book written by an editor at the right-wing news outlet Breitbart that Clinton helped Russia gain control of U.S. uranium, among other things.
Weeks after winning the election Trump said that he wouldn't push for an investigation of Clinton and that he "hadn't given [the prosecution] a lot of thought."
Jeremy Bash, a senior adviser in the Obama administration, advised Sessions Tuesday, "Don't quit."
"I think he should make the President man up and fire him." Bash told NBC's Today show.