Trump's Kellyanne Conway Ought To Be Fired, Says Bush Ethics Chief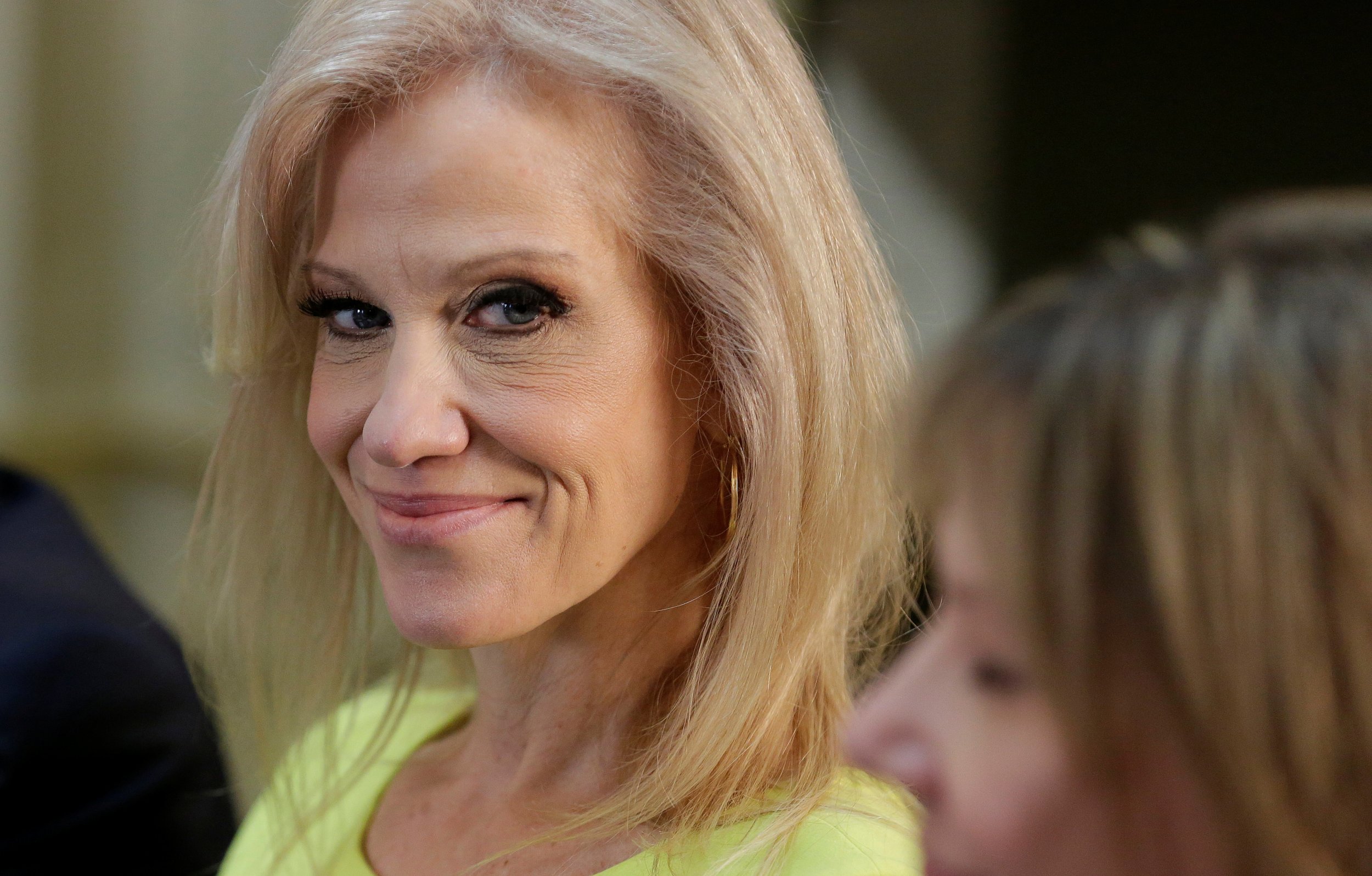 White House counselor Kellyanne Conway wouldn't have lasted a week in the Bush administration, according to President George W. Bush's chief ethics lawyer.
"At this point I think Kellyanne Conway ought to be fired," said Richard Painter, who served in the Bush administration from 2005 to 2007, during an interview on Boston radio station WBUR's syndicated NPR show "On Point" Monday.
"We put up with lie after lie from her and several of the others in that White House," Painter said. Yet Conway—who is counselor to President Donald Trump—crossed the line last week, he argued, when she began attacking the impartiality and character of special counsel Robert Mueller, who is leading the Russia investigation.
America's intelligence agencies concluded early this year that Russia led a hacking and misinformation campaign to interfere in the 2016 election and help Donald Trump secure the presidency. Mueller's investigation is probing exactly how they did that and whether Trump's campaign helped in any way.
Mueller's team of prosecutors is also looking into whether Trump obstructed justice when he fired former FBI director James Comey who was originally investigating the issue.
Late last week Conway appeared on "Fox & Friends" and attacked the impartiality of Mueller and his team, saying they had conflicts of interest in the investigation because they had at one time or another donated money to Democrats during elections. The president, his son-in-law Jared Kushner, daughter Ivanka Trump, and many senior White House staff and Cabinet members have all also donated money to Democrats in the recent past.
During an interview with The New York Times last Wednesday Trump said "a special counsel should never have been appointed in this case." Mueller, he claimed, has a conflict of interest in the Russia investigation because he interviewed for the job of FBI director the day before he was named special counsel.
Read more: If Trump fires DOJ's Robert Mueller it would trigger a crisis, say legal experts
"There were many other conflicts that I haven't said, but I will at some point," Trump warned. Days later the Washington Post revealed Trump's legal team have been looking for ways to undercut and discredit Mueller and the team of prosecutors he has assembled to carry out the investigation.
On Sunday July 23 President Trump called the investigation a "phony Russian Witch Hunt" on Twitter. The president has repeated this slogan numerous times and questioned whether America's intelligence community's findings about Russian election interference.
During an interview with CNN Sunday Conway again characterized Mueller and his team as a "band of Democratic donors."
Attacks like these cross the line, Painter said. White House staff have "no business doing that," he said, calling attacks on Mueller's character an effort "to obstruct justice."
Mueller is a registered Republican and the former director of the FBI under President George W. Bush and President Barack Obama. On Monday, Republican House Speaker Paul Ryan defended Mueller as "anything but" a Democratic partisan.
"I don't think many people are saying Bob Mueller is a biased partisan. He's really, sort of, anything but," Ryan said during an interview on Wisconsin radio's "The Jay Weber Show."
"I don't know what's going on over there in that White House," said Painter, "but once again when you've got spokespeople for the White House who are attacking the character of Robert Mueller and his staff simply for doing their job."
"That is crossing a line of unacceptable conduct," he said, "and Kellyanne Conway and the rest of them are doing that ought to be fired."
Trump's Kellyanne Conway Ought To Be Fired, Says Bush Ethics Chief | U.S.