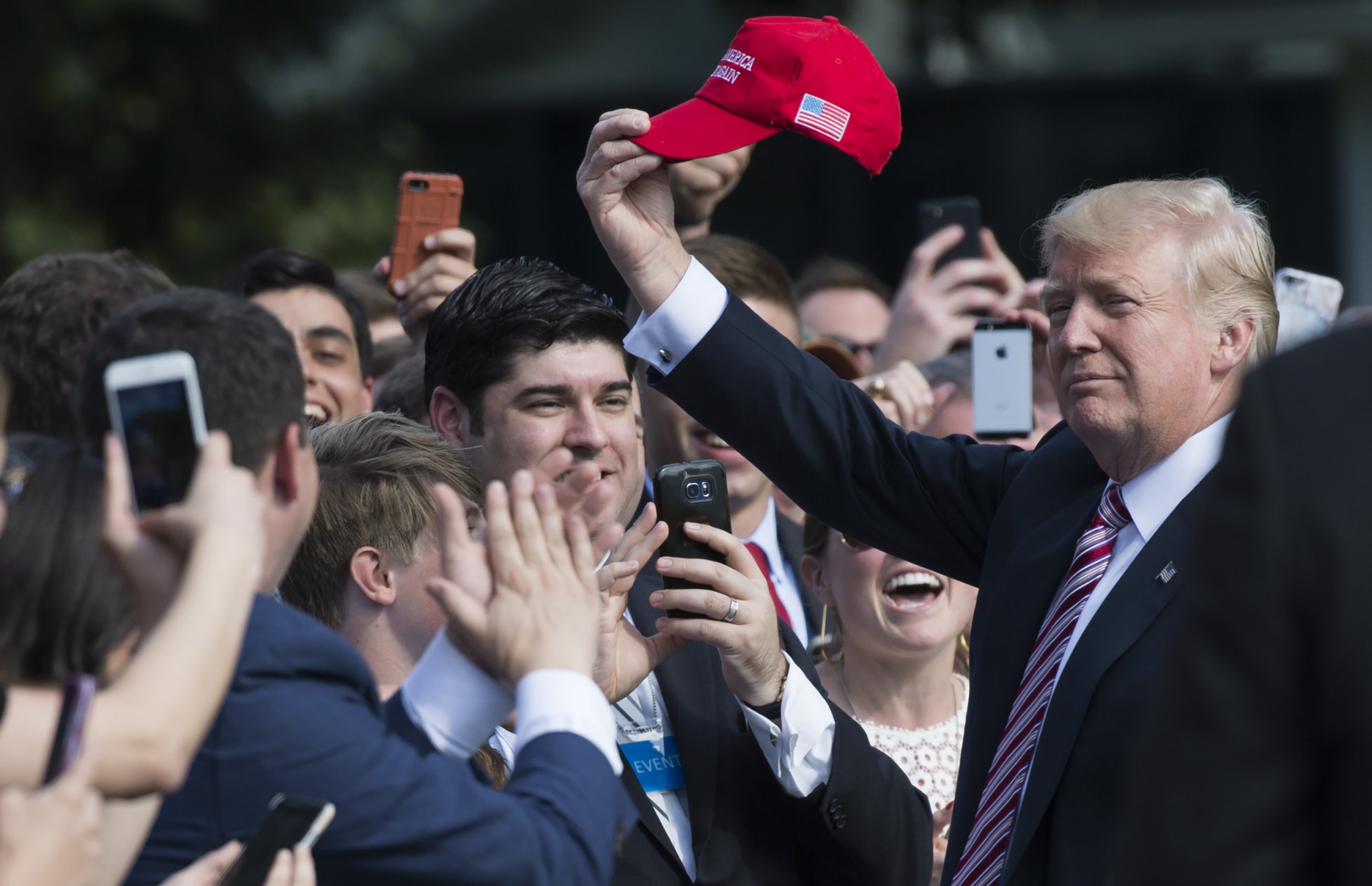 President Donald Trump says he wants Americans to go Black Friday shopping for "Trump Gear" merchandise— concerning some who say the president is using his position of power to promote his brand.
The president took to Facebook to encourage his supporters to take part in the 30 percent off sale for merchandise including his "Make America Great Again" hats and dog leashes.
"Use the code GIVING for 30% off OFFICIAL Trump Merchandise," the post said.
Trump is not the only one posting about his site's sale online. The Republican National Committee tweeted out the "HUGE SALE TODAY" and tagged the president.
Trump appears to be taking advantage of the holiday season to promote his merchandise. The campaign website released a Christmas edition "Make America Great Again" caps earlier this week. The signature red hats now feature Christmas lights with the back of the hat adorned with "Merry Christmas." The price of the hats now cost $45 almost double the price of the original red caps.
The hat is one of several Christmas-themed items for sale on the site. The campaign site is also offering a "Make America Great Again" collectible hat ornament.
"Made of brass and finished in 24 karat gold, this ornament is sure to make any tree stand out," the description reads.
Trump's campaign sent out a news release about the sales advertising that gifts would arrive in time for the holidays.
"All merchandise purchased on Black Friday is guaranteed to be delivered before the holidays, so be sure to get your stocking stuffers and gifts for family and friends before supplies run out," the release read.
The website often advertises sales but without the president's promotion online. Some were not too pleased with the president using social media to promote his brand. Vicente Fox, former president of Mexico and longtime Trump critic, called out the president on Twitter.
"I thought you were going to focus on aiding the American people, not profit from them," he posted.
Fox released a video in September joking that he would run against Trump in 2020.
"Donald. Fucken. Trump," he said the video. "If that worn-out baseball glove tightly gripping a turd can be president, then, amigos, anyone can."
Others wondered whether the president of the United States was even allowed to promote the sale of his own campaign gear.
"Is this even possible?????," Linda Straub commented on his post. "A sitting President promoting his merchandise on the web on Black Friday???? Beyond an embarrassment, and highly unethical. What a disgrace."