WATCH: Former Mexican President's NSFW Video Announces a 2020 Run Against Trump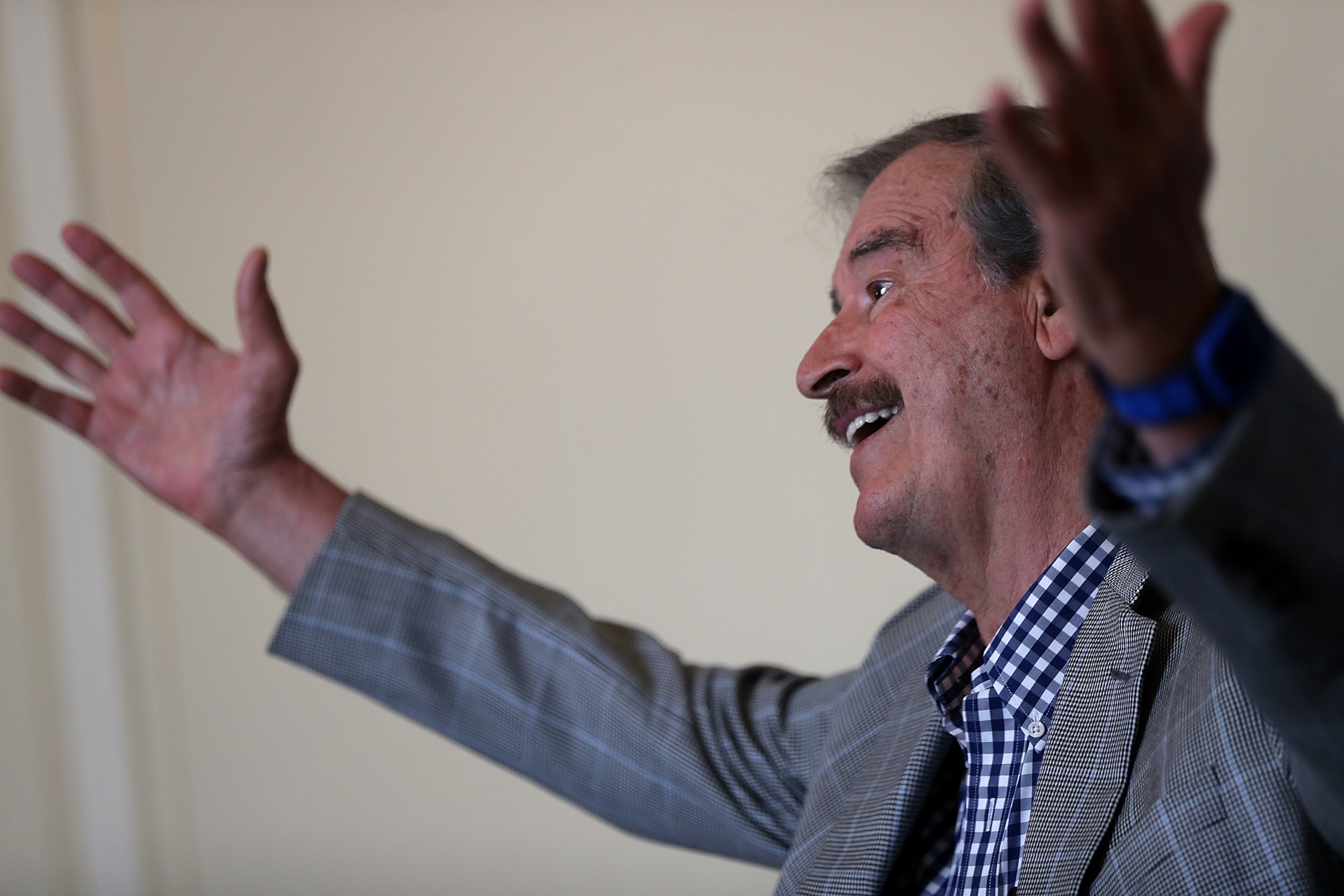 A high-profile politician with serious credentials has announced this week he intends to run against President Donald Trump in 2020.... Well, kind of.
Vicente Fox, the former president of Mexico and a famously profane critic of Trump, put out a video ostensibly announcing he'd run in 2020. It's a gleeful five-minute slam of the former reality TV star in the White House.
Fox, of course, can't run for president—he was born in Mexico, after all—but that didn't stop him from making the case for himself (or anyone, frankly) against Trump.
The video opens with Fox's three-point argument: "Donald. Fucken. Trump," he says, counting the words with his fingers until he's left with only the middle-finger salute.
"If that worn-out baseball glove tightly gripping a turd can be president, then, amigos, anyone can," said the 75-year-old Fox, who led Mexico from 2000 through 2006.
In between the jokes, the former Mexican leader laid out the main arguments against Trump, such as his promise to hire a competent cabinet (Trump's team is worse than the squad that lost to a basketball-playing golden retriever in the movie Air Bud, Fox says) and to never defend Nazis ("Donald, what the fuck is wrong with you?" Fox asks).
Fox remains one of Trump's most vocal critics, with rapier attacks that began after Trump promised that Mexico would pay for increased border security. Mexico, Fox retorted, would "never pay for that fucking wall" along the southern border. More recently, he has attacked Trump for taking a vacation ("If you're not happy with your job, just leave," he tweeted) and for overseeing an administration that's "a bad reality TV show with low ratings called Survivor White House."
And just this week Fox tweeted that the president didn't have "the balls" to rescind DACA himself—the policy that allowed undocumented young people brought to the U.S. to get things like work permits and driver's licenses—and instead sent out his attorney general to announce the unpopular decision.
So, it's true to character that Fox would say in the new video, "Donald, you suck so much at this job, if they ever do a Mount Rushmore for shitty presidents, it will just be your bloated, orange head four times. Yuck."
The video was released through Super Deluxe, a site that traffics in humorous viral videos. The campaign announcement builds to a climax of Fox calling out a mariachi band to provide the "razzle-dazzle" that Americans crave. The band then breaks into an anti-Trump song with lyrics linking Trump to an evil king on Game of Thrones.
"Please vote for Vicente to be presidente / He cannot be any worse than Donald Trump / Because nobody's worse than Donald Trump / Not even King Joffrey and that bitch killed Ned Stark."
The video concludes with Fox showing off his version of Trump-esque red "Make America Great Again" hats—albeit with anti-Trump slogans such as "Always ask before grabbing a pussy" and "Trump has baby fingers."
And just to really drive the message home, the video concludes, "This ad was paid for by the ghost of Donald Trump's dead dad, who is looking up from hell with shame in his eyes."
Watch the full video embedded below: