Donald Trump's Properties Received Over $16 million From Taxpayers and Political Organizations Since 2015: Report
Since he announced his candidacy for president in 2015, at least $16.1 million has poured into properties owned by President Donald Trump as a result of his political involvement.
That's according to campaign finance reports, state government spending and federal agency expenditure records obtained by ProPublica and Washington-based transparency organization Property of the People and published Wednesday.
Trump hotels, golf courses and restaurants have been the direct beneficiaries of spending by his presidential campaign, Republican organizations and taxpayer-funded government agencies.
Since April 30, 2015, Trump's campaign, which is largely funded by individual donations, has spent the most at Trump Organization properties, totaling more than $13.5 million. The next highest spenders were political campaigns and organizations, such as the Republican National Committee and congressional campaigns, with a total of a little over $2 million. Taxpayer dollars spent at Trump properties through federal, state and local agencies, like the State Department and city governments, amounted to almost $400,000.
ProPublica noted that the state and local agency amounts spent are actually much higher because of inconsistent disclosures and reporting by the agencies themselves.
To obtain the financial records, Property of the People made Freedom of Information Act requests to 15 federal agencies and ultimately sued four of them for failure to comply.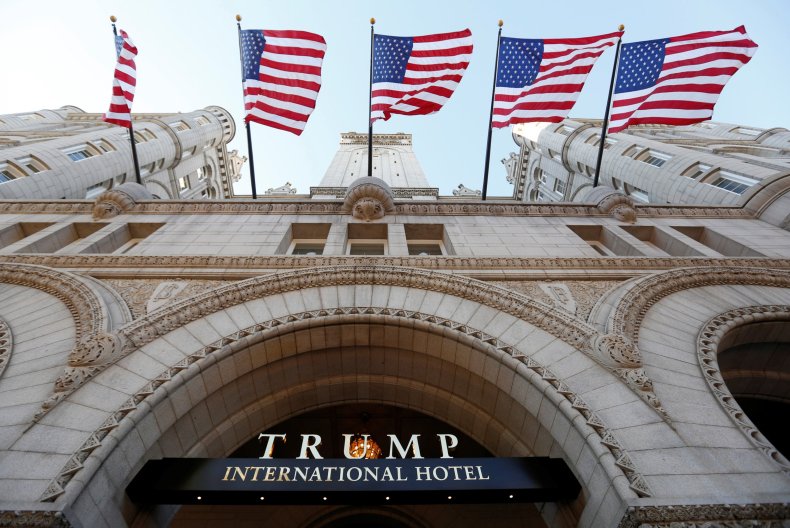 The finances of Trump hotels are currently being debated in a lawsuit filed against Trump by Washington, D.C., and Maryland over the "emoluments clause," the anti-corruption provision of the U.S. Constitution that prohibits members of the government from receiving gifts from foreign governments.
Jordan Libowitz, communications director for the watchdog group Citizens for Responsibility and Ethics (CREW), told Newsweek there's a reason past presidents have always put their assets in blind trusts.
"When governments, both domestic and foreign, spend money at his hotels, it's not just a constitutional problem," said Libowitz, whose organization is also co-counsel in a lawsuit involving the Trump International Hotel in Washington, D.C. "It also raises questions about whether the president can be bought."
While the case is still ongoing, U.S. District Judge Peter Messitte has said a trip to the D.C. hotel by Maine Governor Paul LePage "rather clearly suggests that Maryland and the District of Columbia may very well feel themselves obliged, i.e., coerced, to patronize the Hotel in order to help them obtain federal favors," according to court documents. LePage later called Messitte an "imbecile" for allowing the case to proceed.
While there are no rules against federal employees and agencies using taxpayer money at the president's properties, watchdog ethics groups like CREW question why government agencies are now spending more at Trump hotels and properties than in the past.
"There sure seems to be a possibility that it could be to try to crusade for the president," Libowitz said. "The president needs to be above any implication of corruption."
Besides political campaigns and government agency expenditures at Trump properties, private organizations that conduct work with the president have continued to patronize Trump properties.
In March, a top lobbying group for the oil industry held a two-day board meeting at the D.C. hotel before it went to the White House to lobby against the president's proposed steel tariffs, Politico reported. During Trump's first year in office, dozens of foreign governments spent hundreds of thousands of dollars at his properties, including a Saudi Arabian public relations company that spent $270,000 at the D.C. hotel.
Neither the Trump Organization nor the White House immediately responded to requests for comment.