Donald Trump Proved Fox News' Rupert Murdoch Wrong
In November 2020, Murdoch predicted that Trump would be "irrelevant" by the time Joe Biden was inaugurated.
However, Trump remains a Republican top dog and polls show that Trump is far ahead of other potential GOP candidates for the 2024 presidential race.
Still, there are Republicans who believe Trump's popularity continues to wane, including former Representative Adam Kinzinger who believes it will be hard to find people who will admit to being a Trump supporter in five years.
Former President Donald Trump has defied the expectations his friend-turned-foe Rupert Murdoch laid out in the wake of the 2020 presidential election.
Weeks after Trump was defeated by Joe Biden, Murdoch told a Fox News associate that the former president would be "irrelevant" by the time Biden was inaugurated into the White House in January 2021.
"In another month Trump will be becoming irrelevant and we'll have lots to say about Biden, Dems, and appointments," the News Corp. boss wrote to former executive Preston Padden in a November 23, 2020 email.
However, as the United States moves toward the next presidential race, Trump's image remains far from irrelevant. Despite leaving office more than two years ago, the former president remains a Republican top dog and leading candidate for 2024.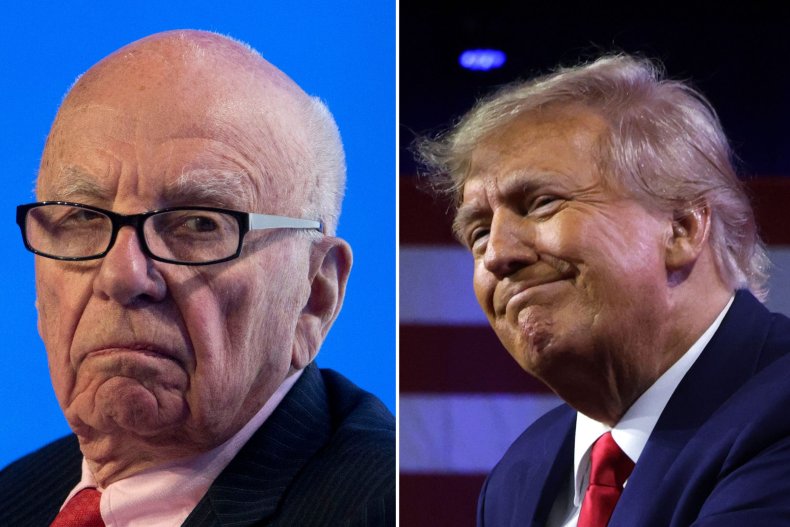 Murdoch is not the only high-profile figure who has suggested a Trump fall. Calls for the party to move past the former president were all made after his 2020 loss, the January 6 Capitol riot and the lackluster 2022 midterms that left many Republicans scratching their heads about how GOP candidates fumbled what was expected to be a "red wave."
Even though many Republicans blamed Trump's endorsements for the midterm disappointments, he remained undeterred in his political ambitions, announcing his third White House bid a week after Election Day.
Trump's 2024 announcement has furthered the rift between himself and Murdoch, who like other billionaire donors, has refused to back another presidential bid from Trump. In November, The Guardian reported that the media mogul's team had "made it clear to [Trump] that we cannot back another run for the White House."
Conservatives have continued to write Trump and his 2024 campaign off. Outlets like Murdoch's own Fox News have embraced alternative candidates like Florida Governor Ron DeSantis as the next GOP nominee.
But those efforts seem to have done little to sway Republican voters, who continue to support Trump in hypothetical matchups.
Even as more Republican candidates enter the field—including former South Carolina Governor Nikki Haley and biotech millionaire Vivek Ramaswamy—Trump has remained the frontrunner in polls, and also holds a considerable lead over DeSantis, who has yet to formally announce a 2024 run.
Last week's Morning Consult survey found Trump with 21 points over DeSantis, an advantage that is echoed in polls from earlier this month. Emerson College's February 25 poll showed Trump with 30 points over DeSantis and 61 points over Haley, while a poll from Beacon Research found Trump 15 points ahead of DeSantis and 42 points ahead of Haley.
Last month, Trump attacked both DeSantis and Murdoch-owned media companies on Truth Social, writing "DeSantis is a RINO who is trying to hide his past. I don't read the New York Post anymore. It has become Fake News, just like Fox & WSJ!"
While Trump has repeatedly claimed that his popularity has not diminished, and there have been polls that support such, some Republicans continue to believe that the former president is losing his grip over the GOP.
"I am hearing a lot of anecdotal stuff, around the edges, of people who've been hardcore with Trump who now just can't stand him," former Illinois Representative Adam Kinzinger told ABC last month. "In like five years, I still believe it's going to be hard to find someone that will ever admit they were ever a Trump supporter."
Although Kinzinger said Trump is increasingly "becoming irrelevant," he noted that "Trumpism isn't dying."
Newsweek reached out to Trump's campaign for comment.