Comedian Stephen Colbert ridiculed President Donald Trump's claim that he is "the best thing that ever happened to Puerto Rico" on Monday's episode of The Late Show.
Trump made the remark while discussing his relationship with the island at a press conference with Pakistani Prime Minister Imran Khan on Monday.
On Monday Trump claimed to have a good relationship with Puerto Rico because of his business dealings and his "many Puerto Rican friends." The president also repeated an inaccurate claim that Congress gave the island $92 billion in hurricane relief.
Colbert showed a clip of Trump's "best thing ever" claim, before quipping: "'Scuse me? The best thing? I've got two words for you—'Ricky Martin.'"
Last week, the singer joined hundreds of thousands of demonstrators calling for the resignation of governor Ricardo Rosselló. The protests were sparked, in part, by the leak of numerous offensive messages sent between Rosselló and his close allies.
Some of the messages criticized Martin over his sexuality, prompting many to call the scandal "RickyLeaks," according to CNN.
In the messages, former chief fiscal officer Christian Sobrino Vega said: "Nothing says patriarchal oppression like Ricky Martin... Martin is such a male chauvinist that he f****s men because women don't measure up. Pure patriarchy."
Martin criticized the messages on social media before addressing thousands of protestors in San Juan.
Per The Telegraph, Martin said on Twitter: "They mocked our dead, they mocked women, they mocked the LGBT community, they made fun of people with physical and mental disabilities, they made fun of obesity...It's enough—this cannot be."
Colbert referenced the singer's most famous hit on The Late Show, telling Trump he was "livin' la vida loca." The word "loca" is Spanish for "crazy."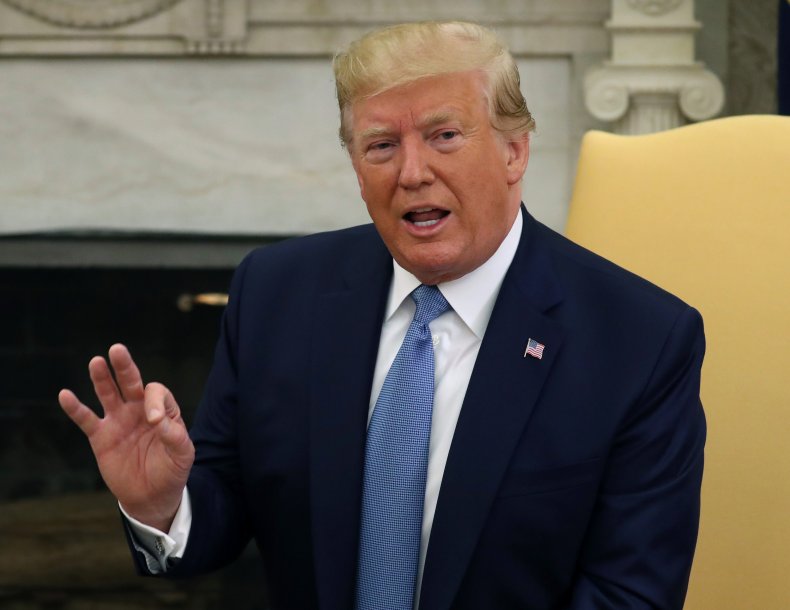 Colbert then showed another clip of Trump's Monday press conference, in which the president boasted "almost 100 percent" of Puerto Rico tuned in for the Miss Universe pageant when it was held on the island.
Miss Universe took place in Puerto Rico twice during Trump's 1996-2015 tenure as owner. Puerto Rico hosted the pageant in 2001 and 2002.
Imitating the president, Colbert said: "Puerto Ricans, 100 percent, always watch my pageants. Unless they lose power for a year which would never happen."
The Trump administration faced heavy criticism over its response to Hurricane Maria, which wrought extensive damage in Puerto Rico in September 2017.
Last August, a study estimated the disaster had killed 2,975 people on the island—a massive increase on an initial official estimate of 64. That month, it emerged 1,000 Puerto Rican families were still without power, as The Guardian noted at the time.