Donald Trump Says He Made Queen Smile More Than Other World Leaders
Donald Trump said Queen Elizabeth II smiled more with him than at other state dinners and added: "they honored me that night."
The former president said he was only supposed to meet the British monarch, now 96, for 20 minutes but it stretched to over an hour as "we talked the whole night."
His positive comments about the queen came as he heaped criticism on Prince Harry and Meghan Markle, speculating their marriage would end badly in an exclusive interview for the launch of Piers Morgan's new show, Piers Morgan Uncensored, on Monday, April 25.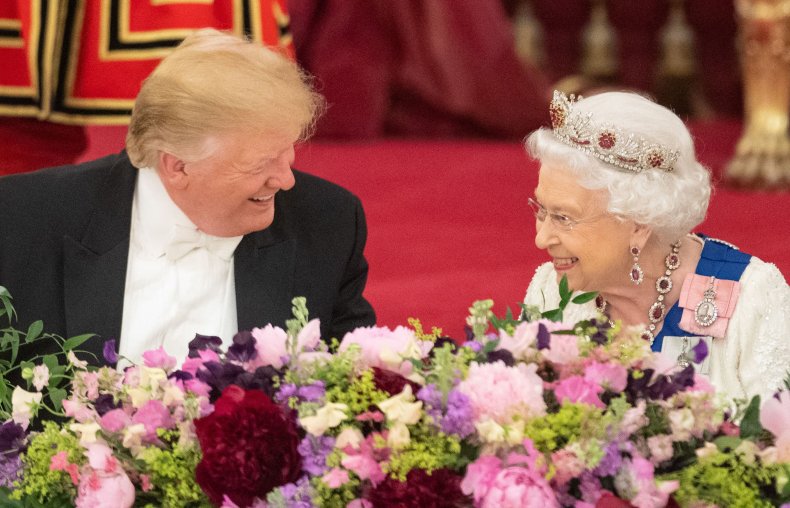 Trump said: "It was supposed to be just a quick meeting. And it was beautiful. The pomp and ceremony, nobody does it like the English. I don't know what it is. But nobody does it.
"But I met her, and it turned out to be more than an hour, substantially, because she liked me, and I liked her and she let it be known. She liked me and I let it be known."
Morgan replied: "I've heard other members of the royal family told me they enjoyed your company."
Trump then said: "We had a great time and then they honored the United States but they honored me that night which is really the honor of the country, and it was at the top level.
"And I sat next to her and we talked the whole night. And somebody said, 'we've never seen her smile so much.' We had a great time.
"She was laughing and smiling. They said they've never seen her have such a good time at a state dinner. You know, normally they're a little boring. Okay, this wasn't boring."
Trump has, in fact, met Elizabeth several times, including for the first time in July 2018. However, he may have been referring to a visit the following year.
The queen hosted a state banquet for the then president at Buckingham Palace on June 3, 2019, when the pair were pictured smiling at each other.
In her speech at the time, the queen spoke of Britain's close bond with America: "The anniversary of D-Day reminds us of all that our countries have achieved together."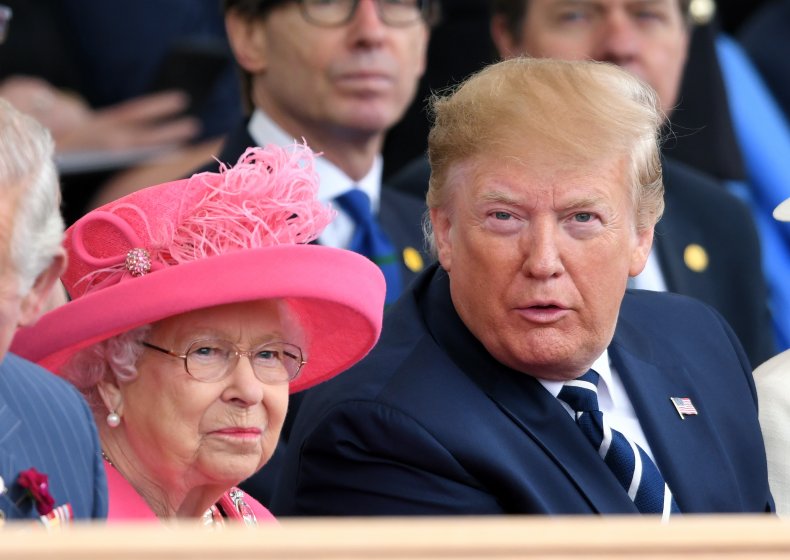 Trump described "the spirit of dignity, duty, and patriotism that beats proudly in every British heart" and said: "From the Second World War to today, Her Majesty has stood as a constant symbol of these priceless traditions."
The former president's interview with Morgan was highly critical of Meghan and Harry and particularly the Duke of Sussex's decision not to attend a memorial for Prince Philip at the end of March 2022.
Asked about Harry's absence, Trump said: "Terrible. It was a terrible thing, many terrible things that might have been, as you mentioned, that, that might have been the worst of all, because he was, you know, like her. He was a tough cookie, too.
"I remember years ago, Prince Philip came to New York, and we were in the Plaza Hotel. And there were many people wanting to meet him. And we were all taking a picture with him. Many people and the photographers said, I'll never forget this. He was tough.
"The photographer said, please move back there were like 30 of us. And he said, 'no, you move back'. And that was simple. I said, that's pretty good. You know, this guy's tough."
For more royal news and commentary check out Newsweek's The Royal Report podcast: