Donald Trump called for Prince Harry and Meghan Markle to be stripped of their royal titles by Queen Elizabeth II in an interview with Piers Morgan.
The former U.S. president said Harry was "whipped like no person I think I've ever seen" and criticized him for missing a memorial to Prince Philip in March.
He said the only issue he disagreed with the queen over was the fact Harry and Meghan retained their Duke and Duchess of Sussex titles.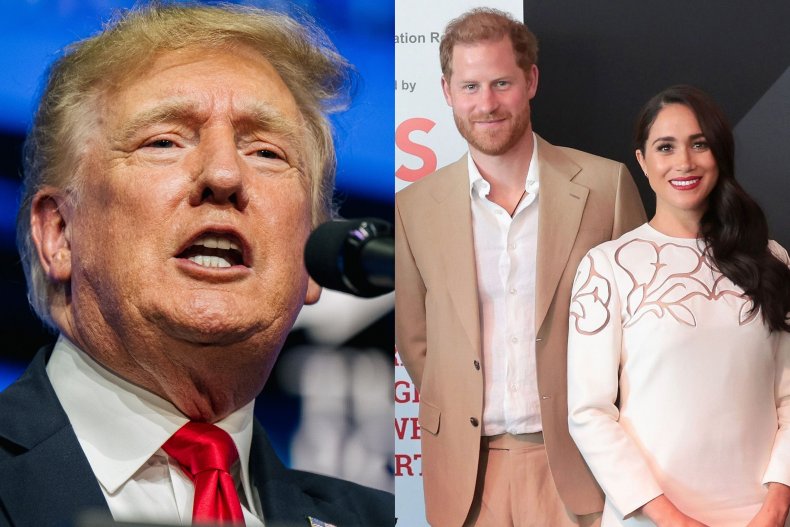 The comments were Trump's most wide-ranging broadside at the couple following several past criticisms and came in the inaugural interview for Morgan's new show, Piers Morgan Uncensored, broadcast on April 25.
Trump told Morgan during an exclusive interview: "The only thing I disagree with the Queen on, probably one of the only things ever, is that I think she should have said, 'if that's your choice, fine, but you no longer have titles."
"[The queen's] loyalty is to the country. And I think that he has been so disrespectful to the country, and it's a great country. I own a lot of things there."
Trump has criticized Meghan and Harry several times, including in the run up to the 2020 presidential election, which he lost to Joe Biden.
The Sussexes had made several interventions urging Americans to vote and some of their comments were interpreted as veiled criticisms of the Republican president.
Among them, Meghan called for "the change we all need and deserve" while Trump later said he was "not a fan of hers."
However, in his latest interview with Morgan he spoke at greater length about the couple and their relationship to the wider royal family.
Trump said: "So I want to know what's going to happen when Harry decides he's had enough of being bossed around. Or maybe when she decides that she likes some other guy better. I want to know what's going to happen when it ends, okay."
Morgan asked whether Trump thought the relationship would end badly.
He replied: "I do. I've been a very good predictor, as you know. I predicted almost everything.
"It'll end and it'll end bad. And I wonder if Harry's gonna go back on his hands and knees back into the beautiful city of London and say, 'please.' You know, I think Harry has been led down a path."
"Harry is whipped. Do you know the expression?" he added. "I won't use the full expression but Harry is whipped like no person I think I've ever seen."
Morgan is himself a long-standing critic of the couple and left his job at ITV's Good Morning Britain after being told to apologize for saying he did not believe Meghan's account to Oprah Winfrey of feeling suicidal while a working royal.
For more royal news and commentary check out Newsweek's The Royal Report podcast: