Trump Failed His 'Chaotic' 'Disaster' of a Freshman Year in Office and Is 'Not Fit' to Serve as President, Americans Say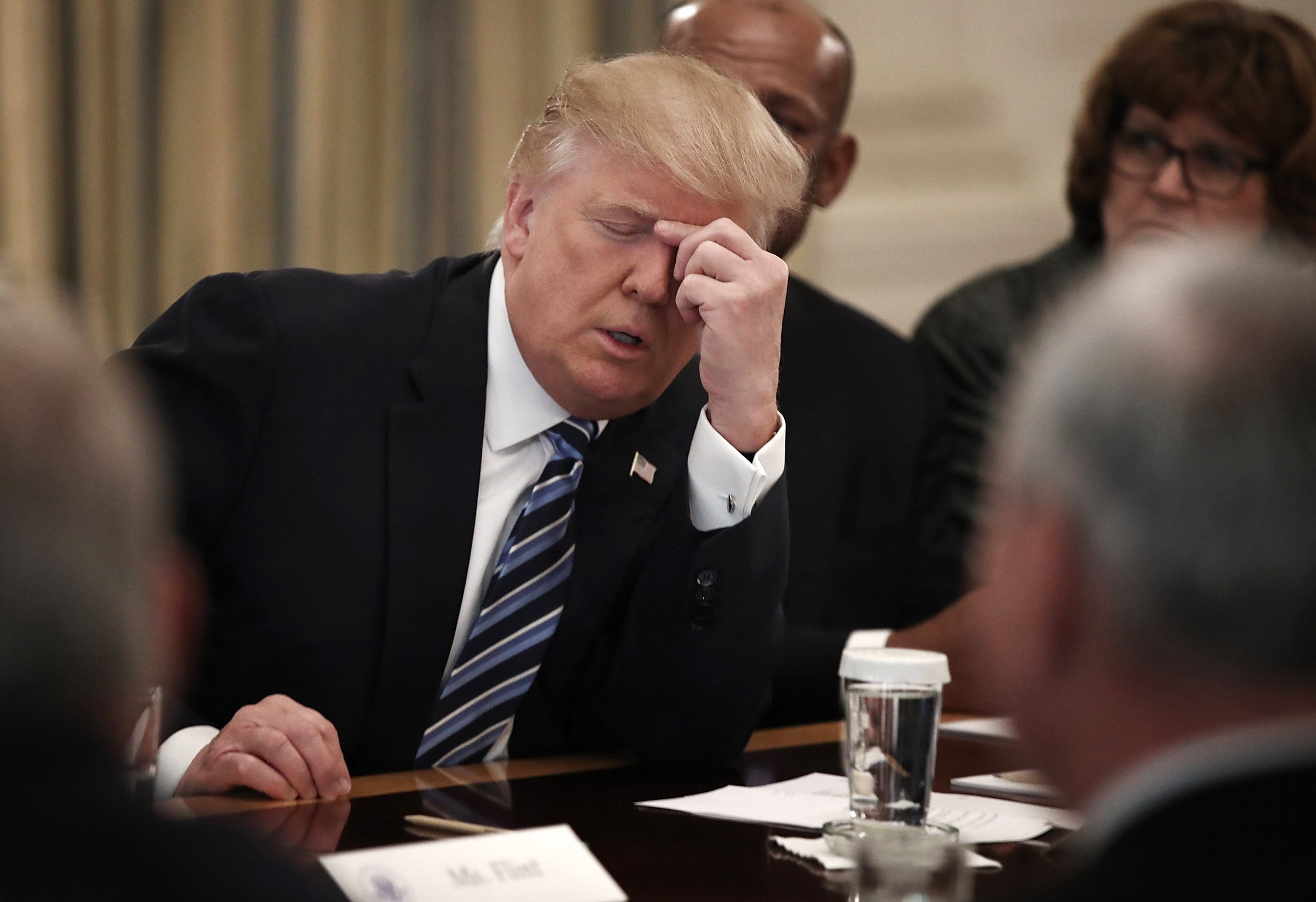 President Donald Trump—purportedly "like, a really smart person," and a "very stable genius"—failed his freshman first year in office, a new poll found.
Related: WilI Trump be indicted in 2018? Americans say it's more likely Mueller will exonerate him
A plurality of American voters who were asked to grade Trump's first year in office gave him an "F" or a "D," according to a Quinnipiac University Poll published on Wednesday.
"It's been a very tough freshman year for President Donald Trump, by any measure," Tim Malloy, the assistant director of the Quinnipiac University Poll, said in a statement about the survey.
Only 16 percent of respondents gave Trump an "A," while 39 percent failed him and 17 percent gave him a "D." Another 16 percent of voters gave him a "B" and 11 percent graded Trump a "C."
Only 36 percent of respondents approve of the job Trump has done, while 59 percent disapprove, according to the poll.
The majority of voters, however, think Trump still has some potential.
"It's a mixed bag," Malloy told Newsweek. Fifty-three percent of voters said Trump is intelligent, compared with 44 percent who do not. Another 59 percent considered the president "strong" compared with 39 percent who don't. Asked if Trump is honest, 63 percent said he wasn't while just 34 percent said he was truthful.
Trump's positive marks drop off from there.
"He gets very low grades on character traits—in fact, they're going south," Malloy said.
A clear majority of respondents, 69 percent compared with 29 percent, said Trump was not level-headed. Fifty-seven percent said he was not fit to serve as president compared with just 40 percent who deemed him up to the task. Most voters, 60 percent compared with 38 percent, said the real estate magnate does not have good leadership skills.
Voters also felt that Trump doesn't care about average Americans by a margin of 59 to 38. That schism was even greater when asked if Trump shared their values, with voters answering 66 to 32 that he does not.
"These are terrible numbers," Malloy said.
"This has been a president of breaking news and course changes and some discord. And some would say—not us—a presidency of chaos," he said.
Some people, in fact, have said just that. In journalist Michael Wolff's new explosive tell-all book Fire and Fury: Inside the Trump White House, former White House deputy chief of staff Katie Walsh said that was how the White House's since-ousted chief strategist Steve Bannon liked things. "Chaos was Steve's strategy" Walsh is quoted saying in the book.
"These situations have found their way into polling," Malloy said.
Pollsters also asked the 1,106 respondents to describe Trump's first year in office in their own words, giving them the opportunity to speak freely rather than select from a multiple choice option. The word "disaster," showed up most often, 69 times, followed by "chaotic," 62 times. That's nearly twice as many times as the words "successful" (44) and "great" (27) appeared. Entries also included neutral words like "interesting" and "different."
"Of the 43 words used at least five times, 25 words are negative, 10 are positive, and eight are neutral," read a press release from Quinnipiac University.
Even the positive responses in the latest Quinnipiac poll are problematic for Trump.
"The silver lining in this, if you're the White House, is 66 percent said the nation's economy is excellent or good," Malloy added. That's up from a December 19, 2017, Quinnipiac poll when 63 percent of voters surveyed described the nation's economy is excellent or good.
"There's a positive trend and it's happening under this administration, so that's something they can hang their hat on," Malloy said.
However, the White House will have to share the glory with Trump's predecessor. Almost half, 49 percent, credit former President Barack Obama with the economic growth. Just 40 percent of respondents said Trump was more responsible.
The pollsters also compared Trump's first-year approval rating to Obama's.
The country was split in January 2010, with 45 percent approving of Obama and 45 percent disapproving. "This after a very strong start," Malloy noted. The majority of Americans, by a margin of 59 to 25, approved of Obama in the first few months of his presidency in 2009.
"President Obama lost ground, too, but no one's been this low at this point," Malloy said of Trump's 36 percent approval rating.
Pollsters spoke with voters nationwide from January 5 to 9 by phone for the survey. Its margin of error is 3.6 percentage points.