Donald Trump Raised More Money Than All Top Democratic Presidential Opponents in Last Quarter of 2019
President Donald Trump's re-election campaign ended the year's final fundraising quarter by bringing in $46 million, the campaign said Thursday, outraising the top Democratic opponents whose campaigns have also released numbers.
Trump, despite his impeachment—or perhaps because of it—wrapped 2019 with his strongest fundraising quarter and with $102.7 million cash on hand.
Sen. Bernie Sanders (I-VT) topped the Democratic field so far, reporting that he raised $34.5 million during the final quarter. He was followed by South Bend Mayor Pete Buttigieg, who reported $24.7 million; former Vice President Joe Biden, who reported $22.7 million; and entrepreneur Andrew Yang, who reported $16.5 million. Rep. Tulsi Gabbard (D-HI) trailed the pack with $3.4 million.
Other top 2020 Democratic hopefuls, such as Sen. Elizabeth Warren (D-MA), had yet to release their fourth-quarter fundraising statistics ahead of the information becoming publicly available by the Federal Elections Commission. However, Warren reported last week that she raised about $17 million in the last quarter of the year.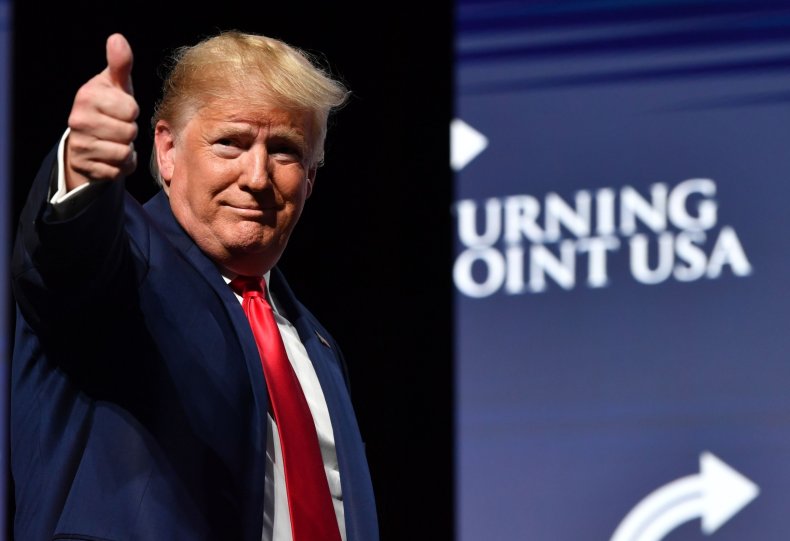 Former Department of Housing and Urban Development Secretary Julian Castro announced the end to his candidacy Thursday morning.
Trump campaign manager Brad Parscale attributed the president's fundraising success to "his wide grassroots support and his stellar record of achievement on behalf of the American people," he said in a statement released with quarter four statistics. Parscale also cited the House's "sham impeachment frenzy." The campaign raised a total of $143 million in 2019 and does not include funds raised by the Republican National Committee, which will also put its funds toward re-electing the president.
Sanders said on Twitter his average donation was $18 and that since the start of his candidacy, he's received 5 million contributions from 1.2 million people, which he added, was "more contributions from more people than any candidate...in the history of American politics." He raised $96 million last year and brought in $18 million in December alone.
Buttigieg received 2 million donations from 733,000 people throughout the year, he announced on Twitter, bringing in a total of $76 million.
The Biden campaign said it doubled its online fundraising from the third quarter and that 57 percent of donors contributed for the first time. The fundraising total was touted by the campaign in an email to supporters as Biden's "BEST fundraising quarter of the entire campaign!" Biden's average online contribution was $23 and overall average was $41. Since his campaign announcement in April, he's raised $59.5 million.
In the last 24 hours of the fourth quarter on Tuesday, Yang raised more than $1.3 million, which the campaign said was in part a result of the Democratic National Committee denying Yang's request for them to commission more early-state polls ahead of the next primary debate. Yang "saw a massive uptick in contributions, including from over 10,000 first-time donors," the campaign said in its release of its fundraising statistics. The average donation amount the Yang campaign received during 2019 was $30. He had 1 million contributions from 400,000 donors.
Donald Trump Raised More Money Than All Top Democratic Presidential Opponents in Last Quarter of 2019 | Politics