Donald Trump's vow to seek "justice for the January 6 prisoners" was met with rapturous applause by attendees of his rally in North Carolina on Saturday.
The ex-president voiced support for his supporters arrested over the storming of the U.S. Capitol building, while addressing a large crowd in Selma during his "Save America" rally.
Listing GOP aims, Trump told the crowd: "We will, while we're at it, demand justice for the January 6 prisoners and full protection of their civil rights. Like was received by ANTIFA and Black Lives Matter, who murdered people throughout our country."
More than 750 people have been arrested over the storming of the Capitol, with about 70 individuals so far having received criminal sentences.
At an earlier rally in Conroe, Texas, on January 29, Trump suggested he would pardon some of those convicted on charges related to January 6.
"If I run and if I win," he said at the time, referring to the 2024 presidential election, "we will treat those people from January 6 fairly. We will treat them fairly. And if it requires pardons, we will give them pardons because they are being treated so unfairly."
Newsweek has contacted Trump's representatives for comment.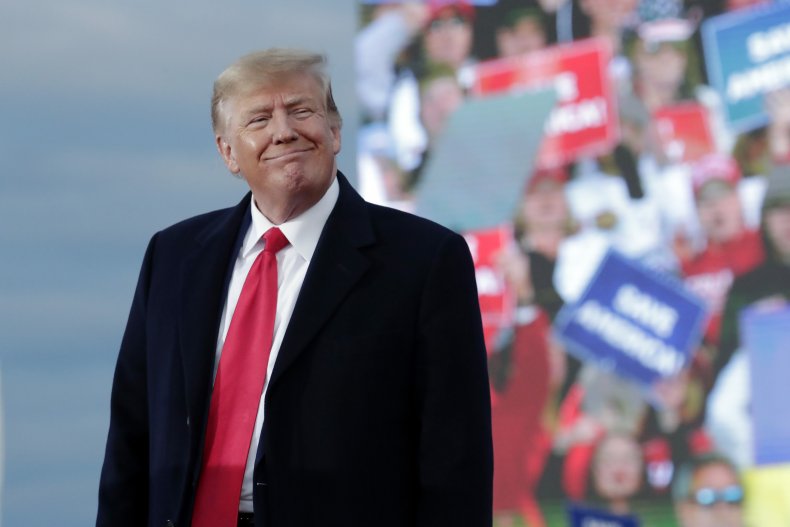 In North Carolina on Saturday, Trump nodded to the unique example of Matthew Martin, who on Wednesday became the only person acquitted over counts related to January 6.
Martin of Santa Fe, New Mexico, faced multiple misdemeanor charges, but in his ruling Judge Trevor McFadden noted video indicating stretched police did not physically block Martin entering the Capitol, and one even appeared to possibly be waving him inside.
"And as you have probably have heard, one of the first January 6 trials ended in an extortion [sic], and it was a horrible thing what they were doing to people," Trump said. "But there was exoneration because they effectively proved that he got waved into the Capitol by the police."
Trump also sought to blame House Speaker Nancy Pelosi and Washington D.C. Mayor Muriel Bowser for the riot, repeating a commonly used attack line that they rejected his request to deploy 10,000 National Guard troops on the day. "If they would have accepted that, there would have been no January 6 as we know it," Trump said.
The Pentagon and Pelosi's office have said there is no evidence that request was made, nor would Pelosi have the power to reject it.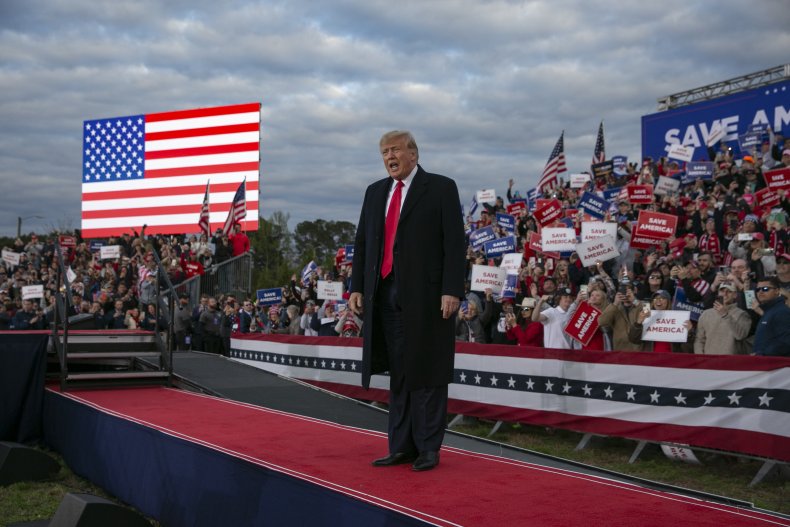 Trump arrived in North Carolina to promote and endorse Ted Budd for the Senate race in the Republican primary and the re-election bid for U.S. Representative Madison Cawthorn, who came under fire from Republican House Leader Kevin McCarthy over claims of orgies and cocaine use amongst his Republican colleagues.
Cawthorn and Budd were among the speakers at the event, which also featured North Carolina's Lt. Gov. Mark Robinson and MyPillow CEO Mike Lindell, who later received a shout out during Trump's speech.
In his own near 50-minute speech, Trump touched on many of his favorite topics.
He insisted Russia's invasion of Ukraine would not have happened under his administration "because you had a president who put America first," he railed against so-called "critical race theory," highlighted high gas prices, slammed recent handling of the border crisis, attacked transgender policies and called Democrats' social policy document, the Green New Deal, a "socialist joke."
Of the withdrawal from Afghanistan, Trump rhetorically asked "was that the lowest point in our history?"
On President Joe Biden, Trump quipped that the five worst presidents in American history together "could not have done the damage Joe Biden has done."
The former president's popularity among the crowd which chanted "we want Trump." This sentiment is clear among Republican voters, with many supporting him for a run in 2024.