Questions Swirl After Madison Cawthorn's Washington 'Orgy' Comments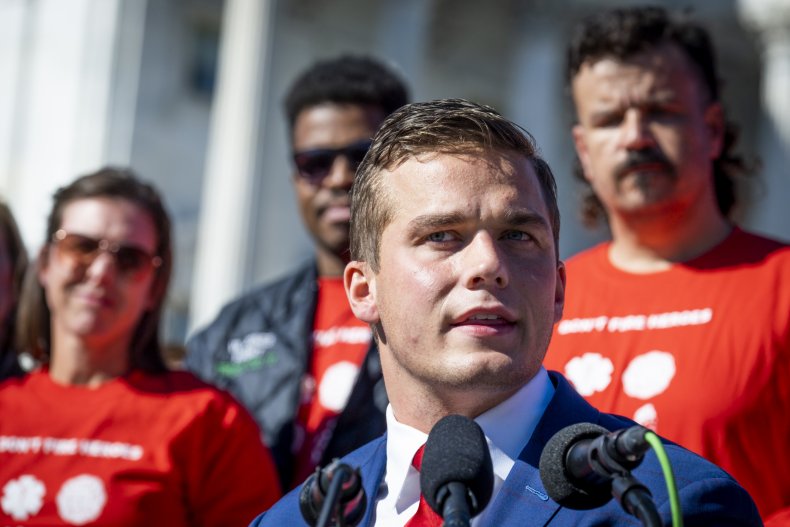 Questions have been mounting following Republican North Carolina Representative Madison Cawthorn's claim that Washington, D.C., politicians he had "looked up to" invited him to participate in an "orgy."
Cawthorn, 26, claimed that colleagues aged "60 or 70" had invited him to a "sexual get- together" and used cocaine in front of him, during an interview on the Warrior Poet Society YouTube channel last Thursday. The comments sparked online speculation about the identities of those Cawthorn was speaking about, with many noting that the staunch supporter of former President Donald Trump was more likely to be socializing with Republicans than Democrats.
"Based on this interview of GOP Rep Madison Cawthorn, I just have to say, wow, the @HouseGOP Caucus is much wilder than I thought," tweeted Representative Ted Lieu, a California Democrat.
"Madison Cawthorn specifically said he was referring to 'guys he really looked up to' which obviously rules out any Democrat, based on his own statements," influencer Kendall Brown tweeted. "So which Republicans in Congress is he alleging have invited him to a wild sex orgy?"
"Is this how y'all get down,@HouseGOP?" tweeted Representative Mondaire Jones, a New York Democrat. "Yikes."
"Well I've never seen that, but i also don't run in the far right freedom caucus circles," tweeted Republican Illinois Representative Adam Kinzinger. "So maybe?"
"I've been here almost 20 years and have never been invited to an orgy by a sixty-something, but I guess I don't hang out with as many Republicans as Cawthorn does," blogger Matthew Yglesias tweeted.
"Madison Cawthorn says people in DC have invited him to orgy's [sic] and done cocaine in front of him," tweeted Richard Ojeda, a former Democratic West Virginia state senator. "So is he telling on his GQP [sic] friends because we know he doesn't hang with Democrats. Maybe he's just hanging around with Don Jr and Matt Gaetz. Sounds like their kind of parties."
"'What this orgy needs is ... Madison Cawthorn!' is a thought that has never occurred to any sentient being in this galaxy," writer Steve Silberman jokingly tweeted.
During his Warrior Poet Society interview, Cawthorn spoke about "the sexual perversion that goes on in Washington" while maintaining that the Netflix series House of Cards, which focused on a corrupt D.C. politician, offered a largely accurate portrait of the Washington political world. Cawthorn recalled his supposed orgy invite without naming names.
"I look at a lot of these people, a lot of them that I've looked up to through my life—I've always paid attention to politics—then all of a sudden you get invited to, 'Oh hey we're going to have a sexual get-together at one of our homes, you should come," said Cawthorn. "And then you realize they're asking you to come to an orgy."
Cawthorn went on to claim that he witnessed unnamed people who had been "leading" the anti-drug movement using cocaine in front of him.
"There's some of the people that are leading on the movement to try and remove addiction in our country and then you watch them doing, you know, a key bump of cocaine right in front of you," Cawthorn said. "And it's like, wow, this is wild."
Newsweek reached out to Cawthorn's office for comment.