Donald Trump's Re-Election Prospects Are Far Worse Than Barack Obama's Were During Any Point in His First Term, Poll Suggests
A majority of Americans plan to vote for someone other than President Donald Trump, a new poll released on Tuesday says.
The Washington Post-ABC News survey found that a majority of Americans—56 percent—would "definitely not vote" for Trump. The poll noted that majorities of the demographics Trump might need to earn a second term—59 percent of independents, 64 percent of women and 56 percent of suburbanites—said they would not consider voting for him in 2020.
Still, 28 percent of respondents said they definitely would vote for Trump, while 14 percent said they would consider it, according to the Washington Post-ABC News poll. Those figures are much worse than any comparable results for President Barack Obama, who in 2012 beat Republican nominee Mitt Romney to earn a second term.
Anywhere from 41 percent to 46 percent of Americans said they definitely would not vote for Obama in half a dozen polls taken during his first term, according to the Post.
The poll surveyed 1,001 adults from January 21 through January 24. It had a margin of error of plus or minus 3.5 percentage points for the overall results. Results for specific parties had a margin of error of plus or minus 5.5 percentage points.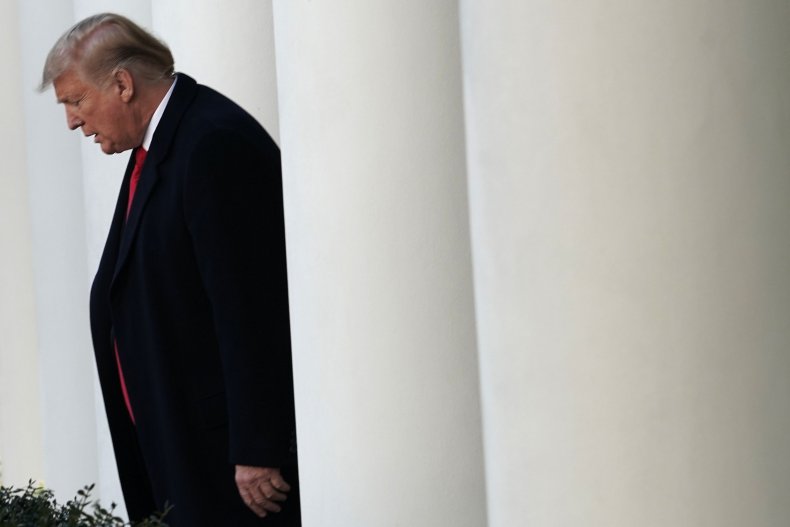 Trump has never been especially popular, but his approval rating has taken a dip lately amid—and after—the longest-ever U.S. government shutdown, sparked by the president's demand for funding for his long-promised border wall. His approval rating, according to multiple surveys, is hovering in the high 30s.
The tracker from data-focused website FiveThirtyEight—which aggregates public polls and adjusts for each survey's quality, recency, sample size and partisan lean—pegged Trump's average approval at 39.8 percent on Tuesday.
While Trump's popularity appears to have worsened as a result of the shutdown, it's possible another shutdown could be in the works—since the measure that reopened the government runs out in early February. The president himself admitted it was likely another shutdown was on the way.
"I personally think it's less than 50-50," Trump said about the chances for a bipartisan deal in a Wall Street Journal interview published over the weekend.