Former President Donald Trump appeared to issue a warning to the House of Representatives' Select Committee investigating January 6, 2021 after Representative Liz Cheney's primary defeat.
Trump took to his Truth Social platform on Tuesday to celebrate Cheney's Republican primary loss to Harriet Hageman, whom the former president endorsed, and suggested the select committee could soon be dissolved.
The former president called Hageman's victory "a complete rebuke of the Unselect Committee of political Hacks and Thugs."
"Liz Cheney should be ashamed of herself, the way she acted, and her spiteful, sanctimonious words and actions towards others," Trump went on. "Now she can finally disappear into the depths of political oblivion where, I am sure, she will be much happier than she is right now."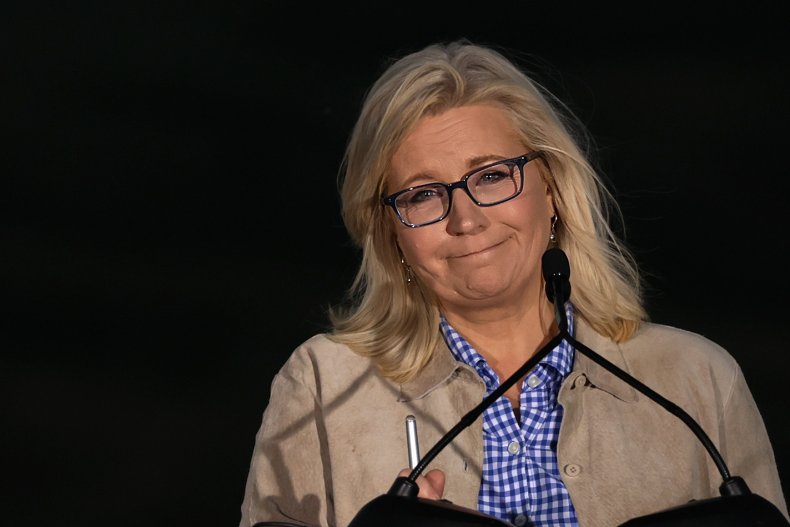 In a further post on Truth Social, Trump linked the January 6 committee's work to Cheney's loss. Cheney serves as vice chair of the committee and is one of only two Republicans on the panel.
"I assume that with the very big Liz Cheney loss, far bigger than had ever been anticipated, the January 6th Committee of political Hacks and Thugs will quickly begin the beautiful process of DISSOLUTION? This was a referendum on the never ending Witch Hunt. The people have spoken!" the former president wrote.
Trump also called Cheney's concession speech "uninspiring" and attacked her for not believing the 2020 presidential election was stolen from him. Courts have consistently rejected claims that the election suffered mass voter fraud and other irregularities.
"Liz Cheney's uninspiring concession speech, in front of a 'tiny' crowd in the Great State of Wyoming, focused on her belief that the 2020 Presidential Election was not, despite massive and conclusive evidence to the contrary, Rigged & Stolen," Trump wrote, adding that "it was."
"Liz Cheney is a fool who played right into the hands of those who want to destroy our Country!" he said.
Hageman had defeated Cheney in Tuesday's primary with 66.3 percent of the vote, according to an Associated Press (AP) estimate with 99 percent of votes counted.
Cheney had won just 28.9 percent support from Republican primary voters.
Newsweek has asked Liz Cheney's office for comment.
In her concession speech on Tuesday, Cheney accepted that she had been defeated but also defended her principles and appeared to compare herself to President Abraham Lincoln.
"No House seat, no office in this land is more important than the principles that we are all sworn to protect, and I well understood the potential political consequences of abiding by my duty," Cheney said.
"Our republic relies upon the goodwill of all candidates for office to accept honorably the outcome of elections. And tonight, Harriet Hageman has received the most votes in this primary. She won. I called her to concede the race. This primary election is over but now the real work begins," she said.
It wasn't immediately clear what Cheney meant about the "real work" but speculation has been mounting about a potential 2024 presidential bid, which she did not address on Tuesday.
However, she did mention Lincoln's early political defeats.
"The great and original champion of our party, Abraham Lincoln, was defeated in elections for the Senate and the House before he won the most important election of all. Lincoln ultimately prevailed, he saved our Union and he defined our obligation as Americans for all of history," Cheney said.
Trump has repeatedly hinted he'll run for the GOP presidential nomination in 2024, though no formal announcement has been made. It remains to be seen if Cheney will also contest that nomination or involve herself in the next presidential race in some other way.
Cheney has played a major role as part of the January 6 committee in presenting the panel's case against Trump and evidence of his actions leading up to the 2021 Capitol riot.
The committee is expected to hold further public hearings in the fall and Cheney will remain in office until January 3, 2023 when the new Congress meets.
Update 08/17/22 03.15a.m. E.T.: This article was updated to include more information.