Donald Trump Reacts to 'Very Sad' Joe Biden Press Conference
Donald Trump has called President Joe Biden's press conference on Thursday "very sad" and accused the media of fielding softball questions at his successor.
The former president told Fox News' The Ingraham Angle that reporters had asked "strange questions" and described the briefing as "ridiculous." He claimed to have never seen anything like it during his time in office.
The media briefing was Biden's first since taking office 65 days earlier and was restricted to just 25 reporters.
Speaking to Fox News host Laura Ingraham, Trump said: "Well, they were strange questions and they were asked in an interesting way. It was like softballs, like you're throwing softballs up, and it's just a different world. No one has seen anything like it."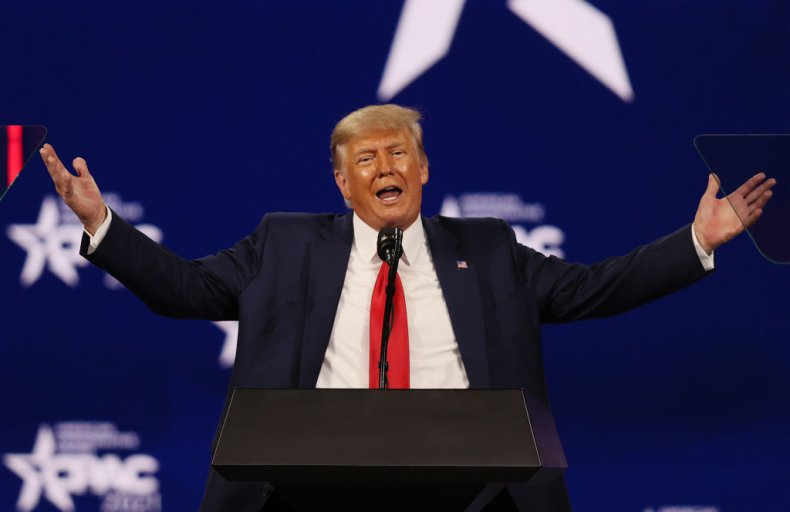 He later added: "It's very sad to watch actually. They're feeding him questions. They're easy questions—I notice [Fox News reporter] Peter Doocy didn't get to ask a question today—and there could be no difficult questions.
"They're ready to rip the microphone away if somebody did get a little bit testy. The whole thing is ridiculous."
Pool photos of the press conference showed that Biden used a "cheat sheet" that appeared to include the names and pictures of reporters. The reference sheet also placed circled numbers beside the images of the reporters.
A separate note card provided the president with details on infrastructure data. Newsweek has contacted the White House for further comment.
The use of notes at White House press conferences is not unusual or unprecedented. Trump used notes when speaking to the media about the Ukraine scandal ahead of his first impeachment in December 2019.
However, Biden's "cheat sheet" ignited a row on social media as liberal and conservative commentators offered contrasting takes on the president's performance. Some said the use of notes was simply a professional decision while others argued that it was a mark of decline.
During the press conference, Biden was quizzed on the migrant surge at the southern border, the filibuster and voting rights. He mentioned his predecessor by name eight times.
In his opening remarks, the president also addressed the White House's COVID-19 vaccination targets.
"We will, by my 100th day in office, have administered 200 million shots in people's arms," he said. "I know it's ambitious, twice our original goal, but no other country in the world has even come close to what we are doing. And I believe we can do it."