Donald Trump Refuses to Talk About Attending Joe Biden's Inauguration
President Donald Trump refused to discuss whether he would attend President-elect Joe Biden's inauguration in January, as he continued to insist that the Democrat "lost badly."
"I don't want to talk about that," the president told Fox News host Brian Kilmeade, in a TV interview that aired Sunday, on whether he would "show up at the inauguration."
Trump then claimed that he didn't lose the election. "I want to talk about this: we've done a great job," he said. "I got more votes than any president in the history of our country. In the history of our country, right? Not even close—75 million far more than Obama, far more than anybody. And they say we lost an election. We didn't lose. If I got 10 million fewer votes, they say I couldn't have lost."
Most news outlets called the election for Biden over a month ago, but Trump has refused to concede. Instead, the president's campaign has filed dozens of lawsuits alleging widespread voter fraud in swing states that Biden won in an effort to reverse Trump's election defeat. So far, the suits have been lacking in evidence, largely unsuccessful and routinely tossed out of court.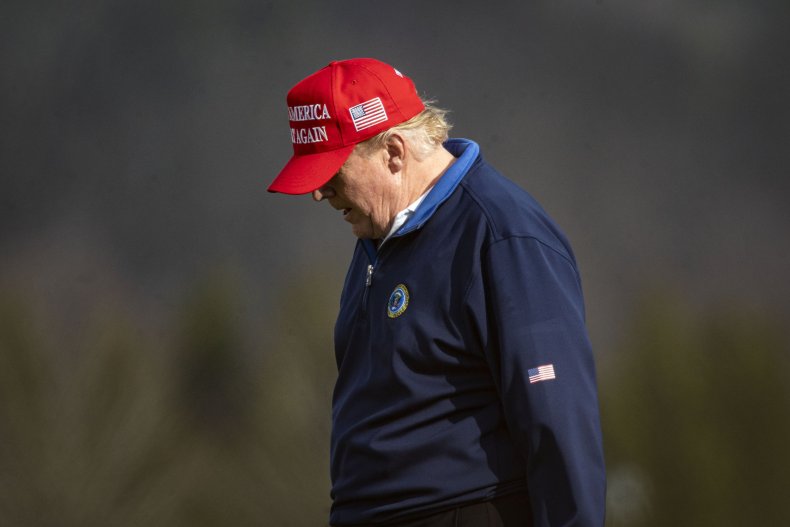 On Friday evening, the U.S. Supreme Court rejected a Texas lawsuit, billed by Team Trump as "the big one," challenging Biden's win in Wisconsin, Michigan, Georgia and Pennsylvania. The failed suit was the latest blow in a string of defeats for the campaign.
When asked during his Fox News interview about what will happen if he still doesn't concede by Biden's inauguration, Trump claimed that American would have an "illegitimate" Democratic president.
"I worry about the country having an illegitimate president. That's what I worry about," he said. "A president that lost and lost badly. This wasn't like a close election. You look at Georgia. We won Georgia big. We won Pennsylvania big. We won Wisconsin big. We won it big."
The president's Sunday interview with Fox News comes a day before the Electoral College is set to officially certify Biden's victory. Following the Supreme Court's decision last week, thousands of Trump supporters took to the streets in Washington, D.C. in the latest "Stop the Steal" protest.
MAGA supporters, once aligned with the Republican Party, have turned against the GOP for failing to help Trump remain in power—with some calling for a boycott of the upcoming Georgia Senate runoff elections.
"Destroy the GOP!" a large group of protesters chanted yesterday as they marched down the Capitol. Others booed Georgia Republican Senate incumbents Kelly Loeffler and David Perdue.
Former National Security Adviser Michael Flynn, whom Trump pardoned last month, conservative radio host Alex Jones, and MyPillow CEO Mike Lindell were among the speakers at the rally.
Newsweek reached out to the president-elect's transition team for comment.