Americans Are Supporting Donald Trump's Impeachment Much Faster Than They Did With Richard Nixon During Watergate
Americans are getting on board with the idea of impeaching and removing Donald Trump from office much faster than the previously ousted occupiers of the White House, including fellow Republican Richard Nixon.
A recent Fox News poll found that a record high 51 percent of voters want Trump to be impeached and removed from office—a 9 percent increase from a similar survey conducted in July (two months before the House of Representatives launched an official impeachment inquiry against the president).
"Whoever their Pollster is, they suck," Trump fired back at the conservative cable news network on Twitter.
The Fox poll also showed a noticeable bump in support for impeaching Trump since House Speaker Nancy Pelosi announced on September 24 that Congress would begin their inquiry amid reports that the president had pressured a foreign leader to investigate political rival former Vice President Joe Biden. A Politico/Morning Consult poll conducted in the two days after Pelosi's declaration found that public support for impeaching Trump was at 43 percent.
While more than 50 percent of Americans support removing Trump less than one month since the House's inquiry began, it took much longer for the public to approve of impeaching Nixon even as the Watergate scandal slowly unfolded. Nixon eventually resigned rather than face impeachment.
According to the Pew Research Center, public opinion on removing Nixon from office only shifted after the House Judiciary Committee recommended that he be impeached in July 1974. Before that, support for impeachment never creeped above 50 percent. Even as the Senate held damning televised Watergate hearings in the spring of 1973, less than 20 percent of Americans adults thought he should be impeached.
But Trump's overall approval rating has remained steady throughout his presidency and continues to be consistent even amid the ongoing impeachment inquiry.
Over the past year, his approval rating has been largely between 40 and 44 percent according to polling data from Monmouth University. At the end of September, Trump had a 41 percent approval rating.
Nixon's approval rating, however, plunged after the televised Senate hearings about the Watergate scandal. The Republican president entered his second term in 1973 with a 68 percent approval rating, according to Gallup. But after news broke of the Watergate scandal, his approval continually dropped until it was as low as 24 percent when he resigned in August 1974.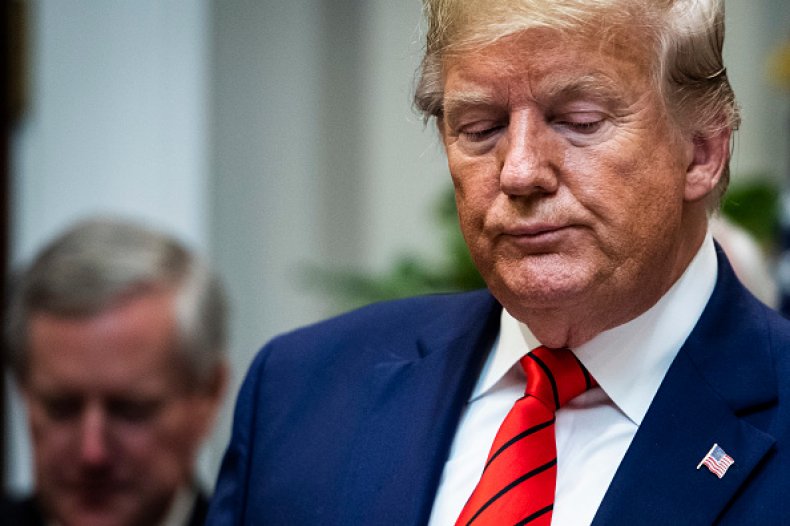 Despite the fact that polls show support for impeachment is growing, Trump has dismissed the House's inquiry as nothing more than a "Democratic witch hunt."
The inquiry began amid reports that Trump tried to pressure a Ukrainian President Volodymyr Zelensky to investigate Biden and his son Hunter for what Trump has alleged (without evidence) were corrupt business dealings. The communication was first detailed in a complaint filed with the inspector general for the intelligence community by a whistleblower who expressed concern that Trump was "using the power of his office to solicit interference from a foreign country in the 2020 U.S. election."
Trump acknowledged that he and Zelensky discussed the Bidens in a July 25th phone call, but has denied any criminal wrongdoing. A rough transcript of their call released by the White House does not show an explicit "quid pro quo" agreement between the two leaders for an investigation into the matter.
But then Trump escalated the situation by encouraging both Ukraine and China to look into the Bidens during an impromptu press conference outside the White House last week. The president has accused Hunter Biden of using a 2013 trip to China with his father, who was then serving as vice president, to get $1.5 billion from the country for a private equity fund. Despite his claims, Trump has not shared any evidence of wrongdoing.
Former Watergate prosecutor Nick Akerman told Newsweek that Trump's requests for an investigation, despite being done in public, were "still illegal and still amount to a crime."
House Democrats have been moving full steam ahead on their impeachment inquiry, issuing several subpoenas for information relating to Trump's conversations with Ukraine. Secretary of State Mike Pompeo and Trump's personal attorney Rudy Giuliani have both been subpoenaed by lawmakers.
Though the White House has stepped in and blocked witnesses from testifying before the House on the Ukraine matter. Last week, U.S. Ambassador to the European Union Gordon Sondland was blocked from appearing on Capitol Hill. Democrats threatened that preventing a witness from working with lawmakers could be considered "strong evidence of obstruction," which is an impeachable offense.