Is Donald Trump Invited to the Royal Wedding? Probably Not, And Here's Why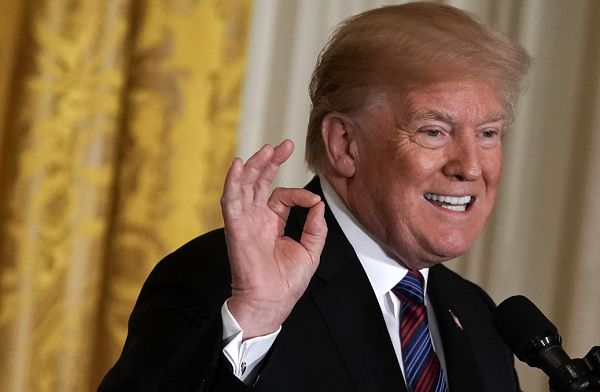 Invitations to Meghan Markle and Prince Harry's wedding were sent out in March, but it's highly unlikely President Donald Trump received one in the mail. Why? Well, for a number a reasons.
For starters, Harry's soon-to-be wife, American-born Markle, was a staunch supporter of Hillary Clinton, Trump's Democratic opponent in the 2016 election. Not to mention Markle has publicly dismissed Trump's rhetoric in the past, calling him "divisive" and "misogynistic" during a May 2016 interview on The Nightly Show with Larry Wilmore.
But what may be the real cherry-on-top is a few lewd comments Trump formerly made about Harry's late mother, Princess Diana.
Back in 2000, a transcript of one of Trump's many appearances on The Howard Stern Show was uploaded to the Factbase, first reported by Newsweek in September. In one of the previously unreleased recordings of Trump and Stern's conversation, the topic of the late princess came up, during which Stern asked Trump if he "would have slept with her?"
Trump didn't waste a second with his response: "Without even hesitation."
Trump went on to praise Diana, calling her "magnificent" woman with "great beauty." He even revealed he saw her "a couple of times" in the flesh. "She was really beautiful, and people didn't realize that beauty. She was supermodel beautiful. She had the height, she had the beauty, she had the skin, the whole thing."
However, in an even earlier recording dating back to 1997, Trump suggested he would have had sex with Prince Charles' ex-wife, but not before he made her take an HIV test. "Go back over to my Lexus because I have a new doctor, we wanna give you a little checkup," Trump said, acting out an imaginary scenario.
Before invites were officially mailed out, Piers Morgan asked Trump on his ITV show in January if his presence was requested at the royal wedding, to which Trump replied, "not that I know of."
Whether he received an invite or not, Trump said he wanted Markle and Harry "to be happy."
"The look like a lovely couple," he said.
Despite how lovely Markle and Harry look at each other's side, Trump's nice comments about the bride and groom likely weren't enough to get him access to what's expected to be the biggest wedding of the year, especially since he's never actually met Harry in person. Trump hasn't visited the U.K. since he became President of the United States either. "Trump should possibly put a little pencil mark in his diary, but not hold his breath," Dun Larcombe, a royal biographer, told TownandCountrymag.com in January.
Outside of the monarchy and dignitaries in the U.K., Larcombe suggested Harry may be "only be inviting people he knows."
Trump shouldn't expect the British Prime Minister Theresa May to help him secure an invite either. In a January interview with Politico's European branch, May said she was "no responsible for invitations to the royal wedding," despite the fact that the U.K. has a "special and enduring relationship" with the U.S.