'There's Only One Donald Trump': Sarah Huckabee Sanders Responds to Brazil's Bolsonaro Being Called 'Trump of the Tropics'
White House press secretary Sarah Huckabee Sanders responded to a question on Monday about comparisons between Brazil's far-right President-elect Jair Bolsonaro and the United States leader by saying: "There's only one Donald Trump in my opinion."
She made the remark with a smile, while neglecting to answer another question from the reporter regarding whether Trump has plans to attend Bolsonaro's inauguration or visit Brazil in the near future. When asked about U.S. concern over threats to human rights in Brazil potentially posed by Bolsonaro, Sanders responded by emphasizing the importance of Washington's ties to Latin America's largest economy.
"We promote human rights all over the world," Sanders said. "We value our long-term relationship with Brazil. We want to continue to be able to work with them and we'll see what happens from there."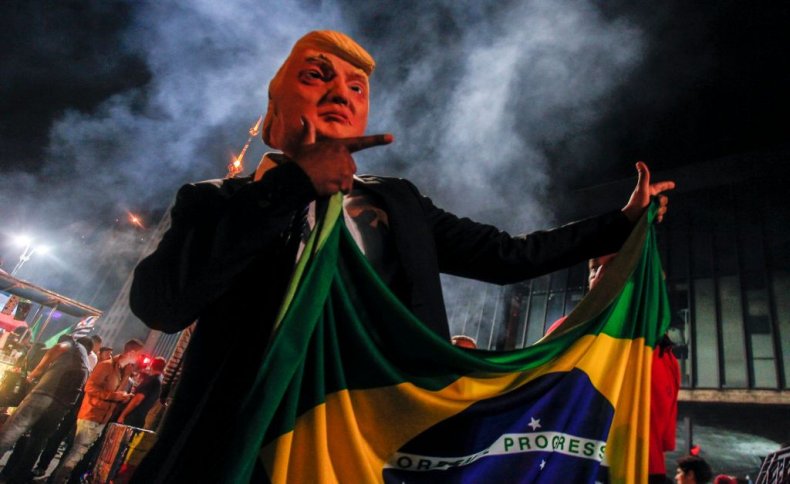 Critics of Bolsonaro have raised alarm over alleged sexist, homophobic and racist statements. Among other remarks, the president-elect has previously said a female politician was too ugly to deserve his rape, and that he would rather find out his son had died than that he was gay. He has also spoken fondly of Brazil's former military dictatorship and torture. His brash style and harsh statements have led many to compare him to the U.S. president, referring to him as "Trump of the tropics" or "Brazil's Donald Trump."
Earlier on Monday, Trump tweeted a congratulatory message to the newly elected leader and revealed they had already spoken.
"Had a very good conversation with the newly elected President of Brazil, Jair Bolsonaro, who won his race by a substantial margin," Trump wrote. "We agreed that Brazil and the United States will work closely together on Trade, Military and everything else! Excellent call, wished him congrats!"
Reuters chief Brazil correspondent Brad Brooks suggested that a "bromance" could be brewing between Trump and Bolsonaro in a column published following the election. He wrote that the Brazilian politician is "an ardent admirer—and shrewd imitator—of his U.S. counterpart" saying "that could usher in one of the warmest bilateral relationships in the Western Hemisphere."
"Trump will find a doppelganger whose worldview and pugnacious style are strikingly similar to his own," Brooks added.
Roberta Braga, the associate director of the Adrienne Arsht Latin America Center of the Atlantic Council, told Newsweek that Bolsonaro and Trump have put forward "similar foreign policy stances."
"A Bolsonaro administration may see itself more engaged with the Trump administration," she said, pointing out their views are similar when it comes "to trade, to investments, and the influence of China."
Correction: This article previously incorrectedly said Roberta Braga was connected to the Wilson Center. She is actually with the Atlantic Council.