Brazil Presidential Election: Jair Bolsonaro, the 'Trump of the Tropics,' Wins Runoff
With 100 percent of the ballots tallied, far-right presidential candidate Jair Bolsonaro has defeated leftist opponent Fernando Haddad in a Sunday runoff to become the 38th president of Brazil, home to Latin America's largest population and biggest economy.
Bolsonaro obtained 55.1 percent of the vote, trouncing the former Sao Paulo mayor, who received 44.8 percent. Voting is compulsory in Brazil, meaning that almost 150 million of nationals cast their ballots Sunday.
Dubbed by various media outlets as "Brazil's Donald Trump" and "Trump of the Tropics," the right-wing politician, who previously served in Brazil's Congress, saw a surge of support following the first round of elections on October 7. Despite Bolsonaro's history of sexist, homophobic and racist remarks, he saw his lead over Haddad grow to comfortable double digits before Sunday's vote.
Andrea Murta, the North American director for JOTA, a Brazilian information company that monitors governmental institutions, told Newsweek that Bolsonaro's victory could be attributed to several factors, including increasing division between those who support and those who oppose the Worker's Pary, for which Haddad was the candidate.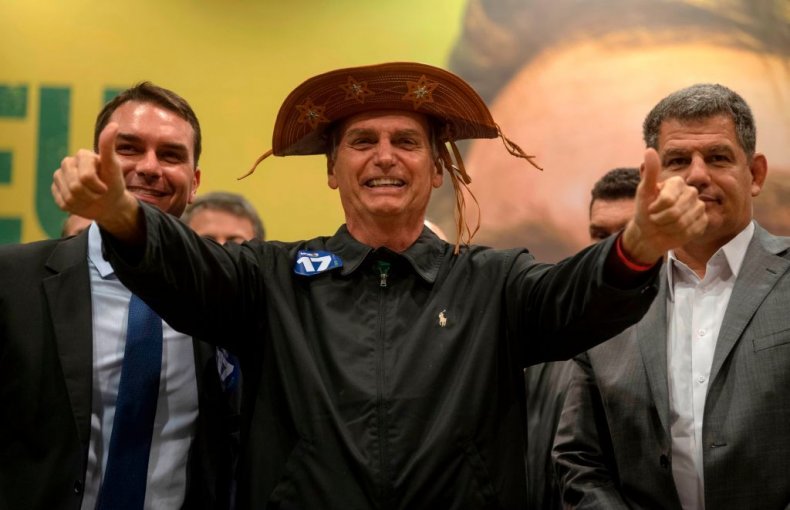 "Brazil has in the past years been increasingly divided between 'petistas' (Workers Party supporters) and 'antipetistas.' Today it appears the antipetista camp was stronger," Murta said, citing recent studies. She pointed out that this is "not so surprising considering the state of the economy and [high] unemployment rates."
Murta added, "When the economy is going down, voters tend to punish those who have been in power most recently."
Although former Workers Party (PT) President Luiz Inácio Lula da Silva was widely popular and presided over Brazil's "golden era" of prosperity, which saw rapid economic growth and millions brought out of extreme poverty, his party was marred by corruption scandals. His successor, President Dilma Rousseff, Brazil's first female president, was impeached in 2016 on charges of mismanaging campaign budgets. Lula da Silva is also now in jail, serving a 12-year sentence for money laundering and corruption.
Supporters and many analysts argued these were trumped up charges to discredit the leftist leaders. Regardless, the scandal has made many in Brazil distrustful of anyone connected to the Workers Party.
"Lula da Silva, and by association the PT [Workers Party], became a symbol of corruption and mismanagement in Brazil. The party was in power for over a decade, and many Brazilians perceive it to be responsible for Brazil's problems," Roberta Braga, the associate director of the Adrienne Arsht Latin America Center of the Atlantic Council told Newsweek.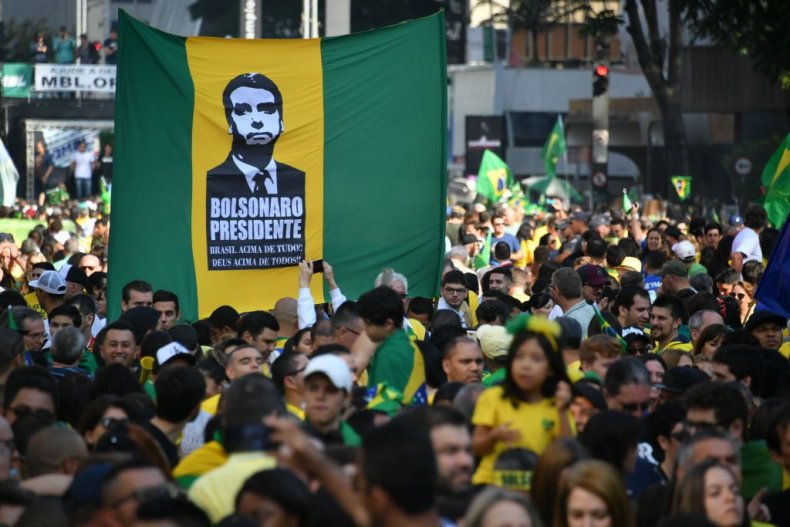 Braga said that an economic recession, rising rates of violence and persistent inequality led many Brazilians to "turn against what they perceive to be the political establishment in hopes of drastic change." Although many voters were also concerned about sexism, homophobia and racism in their country, these issues were given "less weight" due to greater concerns surrounding "security, unemployment and economic growth."
Brazil has an extremely high murder rate, with nearly 30 homicides for every 100,000 people having occurred in 2016, according to The Wall Street Journal. To put that in perspective, the U.S. had about five per 100,000 people in the same year. Additionally, nearly 13 million workers, or 12.1 percent, are unemployed in the country, while the economy remains feeble and GDP is decreasing overall.
But with both candidates having high rejection rates, many voters remained undecided up until the day of the election. "I do not know if I'll vote or not," Allanna Ferreira, a journalist from the capital city of Brasilia told Newsweek a few days before the runoff.
"The options are not good at all," she said, pointing out that she believed the Workers Party had been in power too long. However, she expressed concern about Bolsonaro's stance on human rights and the environment.
"At least [Bolsonaro] has no corruption on his CV," she quipped.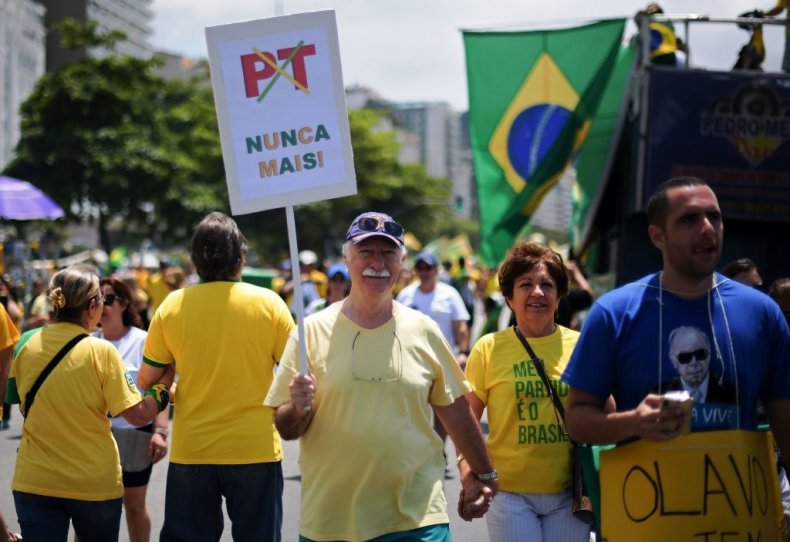 Renato Nasr, a graduate student from Belo Horizonte, told Newsweek that he planned to vote for Haddad, but wasn't happy with his decision.
"I think the party did good things for the country in the beginning, like establishing a number of social programs that have helped the poorest and most disadvantaged. However, toward the end of Lula's second mandate, economic troubles started to emerge bringing to light PT's mismanagement of the economy," he pointed out.
At the same time, Nasr explained that he couldn't "morally justify" voting for the alternative, Bolsonaro. "He goes against everything I believe in," he said. "Throughout the election campaign, the candidate has fiercely opposed support for Brazil's racial minorities, women's rights movements, LGBT rights, workers' rights, to name a few."
At the end of September, before the first round of voting, feminist activists launched a massive social media campaign accompanied by large-scale demonstrations using the hashtag "#EleNao," or "not him," against Bolsonaro. Despite the backlash, the politician managed to bolster his support among women voters.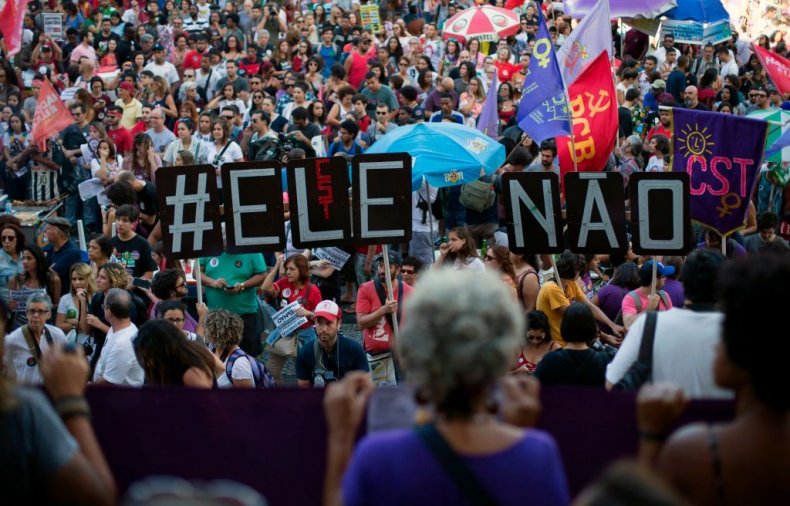 "It was evident that Bolsonaro would have a problem with women," Márcio Moretto Ribeiro, a professor at the University of São Paulo who tracked pro-Bolsonaro content on Facebook, told The Guardian. "[But] Bolsonaro and his internet base reacted—they adjusted the discourse to position him on the side of women but against feminists."
"It's a risky strategy, but it worked," he pointed out.
Anna Prusa, an associate at the Brazil Institute of the Wilson Center, explained that this election could be seen as "a vote 'against' instead of a vote 'for.'"
"Brazilians are frustrated with the failures of their government," she said.
Bolsonaro managed to position himself as an outsider, free from the corruption that has plagued the country's political class.
"It seems this was an election built on a 'follow the leader' style: voters did not choose a platform and then looked for the candidate who was closer to what they wanted," Murta, of JOTA, explained. "They chose a candidate first, and then adopted his platform."
Pointing out that Bolsonaro ran "with a strong anti-establishment and anti-institutional rhetoric," Murta said Brazilians hadn't "seen anyone speaking so strongly against our institutions since democratization."
"It would be difficult for a country, which has lived so many uninterrupted years under democratic rule to face a high, immediate risk to its democracy," she said, "but attacks against institutions, including against the press and the Supreme Court, are worrisome in a context of 'follow the leader' politics."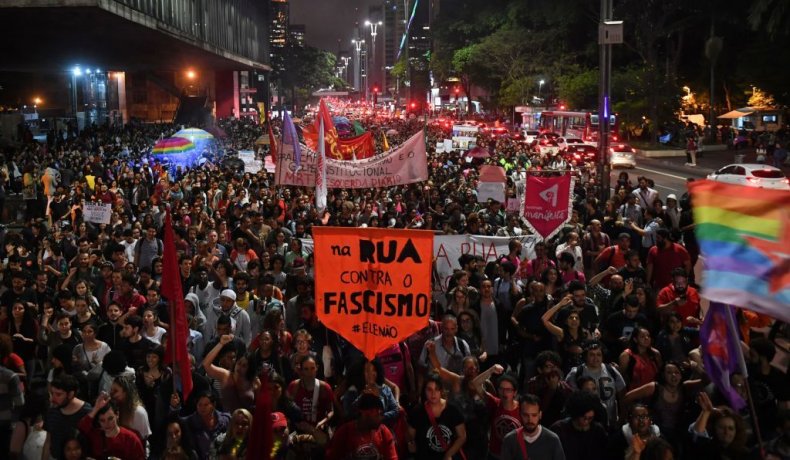 Nasr, who voted for Haddad, saw "polarization" as the biggest issue at play in the election.
"The right accuses the left of being a force of evil that will make Brazil look like present-day Venezuela… The left claims that the right will bring back Brazil's bloody military dictatorship of the 1970s and 1980s, and that it will undermine Brazil's democracy," he said, suggesting that both campaigns created "fear" and spread "fake news about their opponents."
As Braga explained, however, Bolsonaro will now need to form partnerships in order to get things done. Despite the backlash against the Workers Party, it still holds the majority of the seats in Brazil's Congress, serving as a check on the far-right leader's power.
"Bolsonaro will need to form alliances with the PSDB [Brazilian Social Democratic Party], MDB [Brazilian Democratic Movement] and other center-right and center-left parties if he hopes to successfully pass reforms during his mandate," she said.