Trump's Islam Speech in Saudi Arabia Follows a Long History of Verbal Attacks and Policies Targeting Muslims in America and Abroad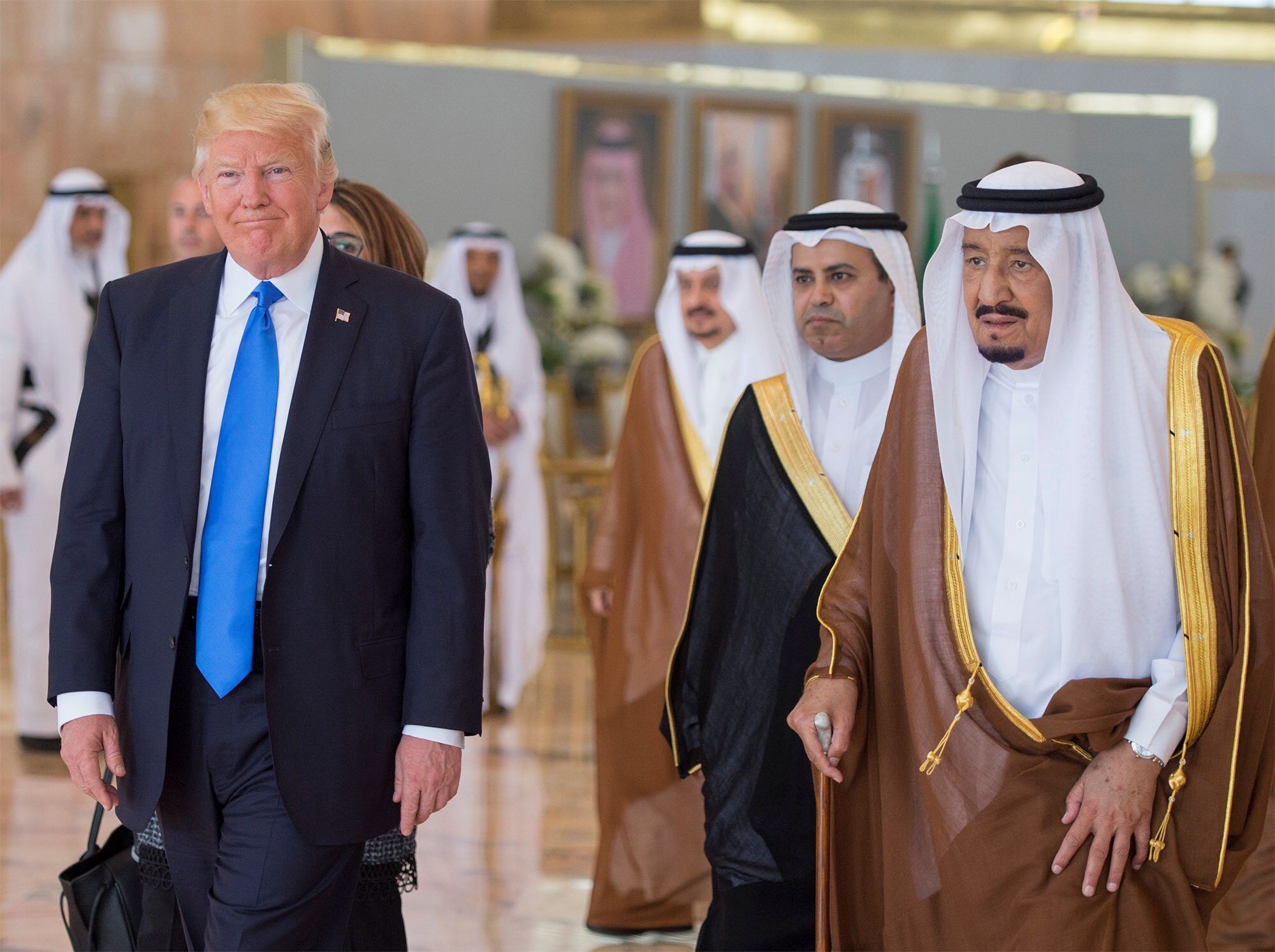 Donald Trump is giving a major speech on Islam before Muslim leaders in Saudi Arabia's capital Riyadh Sunday, where he will underline the importance of combating extremism.
Trump is on his first foreign foray as president, landing on Saturday alongside key officials and advisers and his wife Melania. At a lunch with 50 regional leaders Sunday, the president is expected to strike a collaborative note and seek further support in the fight against the Islamic State militant group (ISIS).
The Associated Press, which was given two copies of a draft of the speech by officials, reported that Trump will say: "We are not here to lecture - to tell other peoples how to live, what to do or who to be. We are here instead to offer partnership in building a better future for us all."
Trump's predecessor Barack Obama also delivered one of his key first keynote speeches in the Middle East, when he called for "a new beginning" between the Muslim world and U.S. in Cairo in 2009.
However, Trump's speech is likely to be met with wariness by many in the region, with the president's history of incendiary claims about Islam. The speech comes only weeks after his administration attempted to ban immigrants from seven Muslim-majority countries entering the U.S. The administration is currently battling a judge's order overturning the ban in courts.
In an interview with CNN in March last year, Trump said: "I think Islam hates us. There is a tremendous hatred there. We have to get to the bottom of it."
On the campaign trail he touted the idea of placing U.S. mosques under surveillance, and famously called for a "total shutdown" of Muslims entering the U.S.
Anti-racism group the Southern Poverty Law Center (SPLC) says Trump's rhetoric has fueled a spike in Islamophobic attacks in the U.S.
The speechwriter Stephen Miller is an architect of the "Muslim ban" whose statements on Islam have been controversial. As a student, Miller worked at the Terrorism Awareness Project, founded by the David Horowitz Freedom Center and regarded as an anti-Muslim hate group by the SPLC. Miller said the project was about fighting "Islamofascism."
Saudi Arabia is home to the Islamic world's most sacred sites, notably Mecca, where Muslims are duty bound to perform a pilgrimage at least once in their lifetime.
In a sign that Trump is likely to tone down his rhetoric, the phrase "radical Islamic terrorism," which Trump has criticized other politicians for not using, is unlikely to feature in the speech, administration officials told the media. The phrase is problematic, with critics arguing it portrays atrocities as an expression of Islam when most Muslims would regard such acts as a perversion of their faith.
Saudi Arabia has refrained from criticism of the Trump administration and, after a meeting with Trump at the White House in March, Saudi deputy crown prince Mohammad bin Salman declared Trump a "true friend of Muslims" and declared that the meeting "historical turning point" in U.S.-Saudi relations, which deteriorated after Obama's nuclear agreement with Iran.
Since taking office, the Trump administration has sought to strengthen ties with Riyadh, most recently through a $110 billion arms deal with the Kingdom. U.S. Secretary of State Rex Tillerson said Saturday the weapons sale would help Saudi Arabia provide a counter to "malign Iranian influence.
"The Saudi foreign minister Adel Al-Jubeir said Saturday his country was hopeful the U.S. could recalibrate its relationship with the Islamic world.
"If we can change the conversation in the Islamic world from enmity toward the U.S. to partnership with the U.S., and if we can change the conversation in the U.S. and in the West from enmity toward the Islamic world to one of partnership, we will have truly changed our world and truly drowned the voices of extremism, and drained the swamps from which extremism and terrorism emanates," Jubeir said, echoing Trump campaign rhetoric.
National security adviser H.R. McMaster said Thursday the president would "deliver an inspiring but direct speech on the need to confront radical ideology."
"The speech is intended to unite the broader Muslim world against common enemies of all civilization and to demonstrate America's commitment to our Muslim partners," he added.