Donald Trump Says 29 Presidents Were Allowed a Supreme Court Nomination In The Final Year of a Term
Speaking at his Fayetteville, North Carolina rally, President Donald Trump reiterated his intention to name a replacement for the late Supreme Court Justice Ruth Bader Ginsburg, by saying that every president who had an opportunity to name a new Justice in the last year of their term took it.
"There have been 29 times a vacancy opened during an election year, or prior to an inauguration. 29 times, that's a lot. Every single time, the sitting president made a nomination. That included—you ever hear of George Washington? Did you ever hear of Thomas Jefferson? Or how about the great Abraham Lincoln?" Trump said. "Think of it, 29 times. Every single time, nobody said, 'Oh, let's not fill the seat.' We won the election."
He then clarified that there were "some senators" who disagreed, referring to Republican Sen. Susan Collins of Maine, who said on Saturday that the winner of the November 3rd election should choose who takes the seat.
"So we win an election, and those are the consequences. It's called 'Fill that seat,' and that's what we're doing. The Supreme Court was a very central issue in both the 2016 presidential election, and the 2018 midterm elections—where, by the way, I didn't run," he continued.
Trump also confirmed he was planning on appointing a woman to replace Ginsburg, but said he didn't know yet who it would be. Amy Coney Barrett and Barbara Lagoa are considered by many pundits to be the frontrunners for the potential nomination.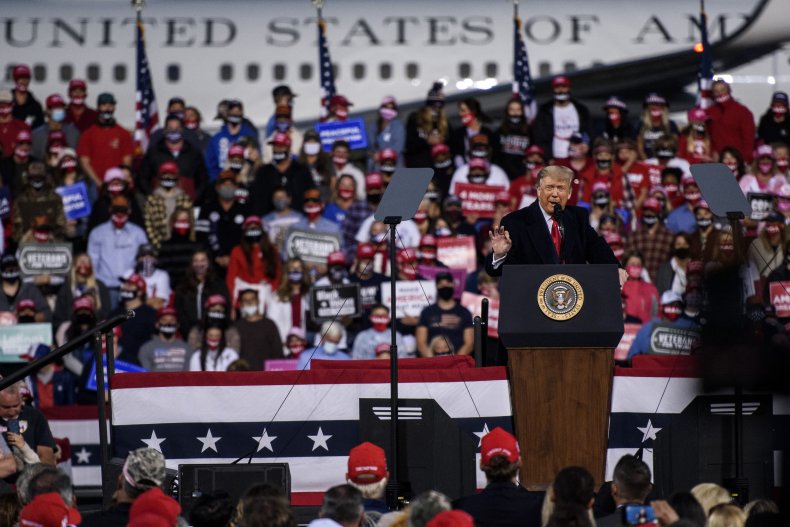 The nomination of a replacement for Ginsburg with less than 50 days before the election is controversial, particularly due to what happened after the death of Justice Antonin Scalia during the last year of then-President Barack Obama's second term.
Obama nominated Judge Merrick Garland to take Scalia's place. However, Mitch McConnell said he would not hold a confirmation hearing for Garland because Obama's term would be over in a year. McConnell cited an informal precedent known as the Thurmond Rule that the Senate would not vote to confirm a president's nominee to any federal court during an election year.
The Thurmond Rule is named for Republican Sen. Strom Thurmond of South Carolina, who served from 1954 to 2003. The rule dates to 1968, when Thurmond blocked then-President Lyndon Johnson from appointing Justice Abe Fortas to become chief justice, who would replace the retiring Justice Earl Warren.
Though called a rule, the Thurmond Rule is not at all codified, and often not followed. Former president of the American Bar Association William T. Robinson III called the rule "neither a rule nor a clearly defined event" in a 2012 letter to Senate.
"While the ABA takes no position on what invocation of the 'Thurmond Rule' actually means or whether it represents wise policy, recent news stories have cast it as a precedent under which the Senate, after a specified date in a presidential election year, ceases to vote on nominees to the federal circuit courts of appeals. We note that there has been no consistently observed date at which this has occurred during the presidential election years from 1980 to 2008," Robinson wrote, pointing out that circuit court nominees had been confirmed in 2004, 2008 and 2000.
Though McConnell blocked Garland's nomination in 2016, he has said that he intends to hold a hearing for Trump's eventual nominee.
"Americans re-elected our majority in 2016 and expanded it in 2018 because we pledged to work with President Trump and support his agenda, particularly his outstanding appointments to the federal judiciary," McConnell said in a statement Friday. "Once again, we will keep our promise. President Trump's nominee will receive a vote on the floor of the United States Senate."
In 2016, McConnell said, "The American people should have a voice in the selection of their next Supreme Court Justice. Therefore, this vacancy should not be filled until we have a new president," in choosing not to hold hearings for Garland.
Newsweek reached out to the Joe Biden campaign for comment.