Donald Trump Says Cancel Culture Has 'No Place' In the United States
Speaking at Mount Rushmore on Friday, President Donald Trump compared the tearing down of statues by protesters to cancel culture.
Trump opened his speech by thanking the performers, including the Blue Angels that flew over the mountain right before he took the stage. But after the thanks and a brief history of America's founding, he took aim at protesters and the left wing.
"1776 represented the culmination of thousands of years of Western civilization, and the triumph of not only spirit, but wisdom, philosophy and reason. But yet, as we meet here tonight, there is a growing danger that threatens every blessing our ancestors fought so hard for," Trump said. "Our nation is witnessing a merciless campaign to wipe out our history, defame our heroes, erase our values and indoctrinate our children."
Trump described the protesters that have caused the destruction of statues of Confederate soldiers and other controversial historical figures as "angry mobs... trying to tear down statues of our founders." He suggested that while many of the demonstrators had "no idea why they're doing this," the leaders of the protests were attempting to take "our country and all of its values, history and culture" away from Americans.
"One of their political weapons is cancel culture, driving people from their jobs, shaming dissenters and and demanding total submission from anyone who disagrees. This is the very definition of totalitarianism, and it is completely alien to our culture and to our values, and it has absolutely no place in the United States of America," Trump said.
"In our schools, our newsrooms, even our corporate boardrooms, there is a new far-left fascism that demands absolute allegiance. If you do not speak its language, perform its rituals, recite its mantras and follow its commandments, then you will be censored, banished, blacklisted, persecuted and punished," he continued.
Protection of monuments was a major theme of Trump's speech, perhaps buoyed not just by recent protests but a June 30 statement from Sioux tribal leader Harold Frazier, where he offered to destroy the monument, "free of charge."
"Nothing stands as a greater reminder to the Great Sioux Nation of a country that cannot keep a promise or treaty then the faces carved into our sacred land on what the United States calls Mount Rushmore. We are now being forced to witness the lashing of our land with pomp, arrogance and fire hoping our sacred lands will survive," Frazier said. "This brand on our flesh needs to be removed and I am willing to do it free of charge to the United States, by myself if I must."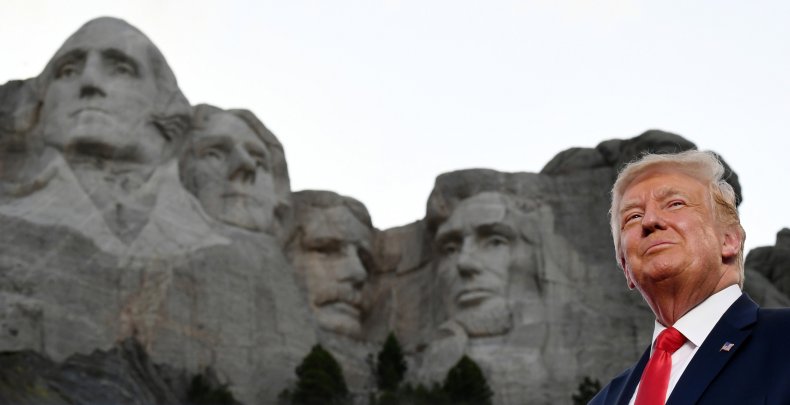 However, Trump also had harsh words for Black Lives Matter protesters, including athletes like Colin Kaepernick who choose to kneel during the national anthem.
"We want free and open debate, not speech codes and cancel culture. We embrace tolerance, not prejudice. We support the courageous men and women of law enforcement. We will never abolish our police, or our great Second Amendment which gives us the right to keep and bear arms," Trump said.
"We believe that our children should be taught to love our country, respect our history and honor our great American flag. We stand tall, we stand proud and we only kneel to almighty God. This is who we are. This is what we believe. And these are the values that will guide us as we strive to build an even better and greater future," he added.
Trump also touted the executive order he signed June 26 to protect monuments with a penalty of 10 years in prison for people who would pull down statues. He also promised to sign another executive order that would "establish the national garden of American heroes... a vast outdoor park that will feature the statues of the greatest Americans to ever live."
In addition to promising to protect monuments like Mount Rushmore, Trump also shared brief histories of the four presidents on the landmark, George Washington, Thomas Jefferson, Abraham Lincoln and Theodore Roosevelt.
Though Trump's speech was the centerpiece of the ceremony before the fireworks, the multi-hour event also featured Native American hoop dancers, Lakota storytellers and a performance by the U.S. Air Force Band. Former Entertainment Tonight host Mary Hart, a South Dakota native, was the master of ceremonies.
There were 7,500 people in the audience, chosen by lottery. Masks were not required to attend, and many people in the audience did not wear them. The audience also did not follow social distancing guidelines.
The same day, an anti-Trump rally was scheduled, though police cleared the area prior to Trump's arrival, according to witnesses.