Trump's 10-Year Prison Threat for 'Vandalism' Covers More Than Just Statues
President Donald Trump warned protesters they face 10 years in prison after targeting a statue of Andrew Jackson, while the threat could extend to those who have damaged other memorials amid recent demonstrations.
Ropes were tied around the bronze monument which sits in Lafayette Square depicting Jackson, 7th president of the United States, atop a rearing horse.
Police descended on the scene in front of the White House, foiling demonstrators' attempts to pull it down, after the words "killer" and "scum" were sprayed on its base.
Footage showed clashes between protesters and police clad in riot gear as they cleared the area.
Trump said several people were arrested following the incident, warning those involved in such acts face up to a decade in prison.
"Numerous people arrested in D.C. for the disgraceful vandalism, in Lafayette Park, of the magnificent Statue of Andrew Jackson, in addition to the exterior defacing of St. John's Church across the street," he tweeted. "10 years in prison under the Veteran's Memorial Preservation Act. Beware!"
In later tweets he wrote: "I have authorized the Federal Government to arrest anyone who vandalizes or destroys any monument, statue or other such Federal property in the U.S. with up to 10 years in prison, per the Veteran's Memorial Preservation Act, or such other laws that may be pertinent.....
".....This action is taken effective immediately, but may also be used retroactively for destruction or vandalism already caused. There will be no exceptions!"
His comments come amid a spate of statues being toppled across the United States during ongoing protests following the killing of George Floyd.
The protests have rallied against systemic racism, with numerous monuments called into question over the actions of the figures they depict.
Jackson has long been criticized over the signing of the Indian Removal Act in 1830, which ordered Native Americans to leave their lands and march west in a mass forced movement that became known as the "Trail of Tears."
Trump's message following the targeting of Jackson's statue raises the question of potential action being taken against other demonstrators under the Veterans' Memorial Preservation and Recognition Act of 2003.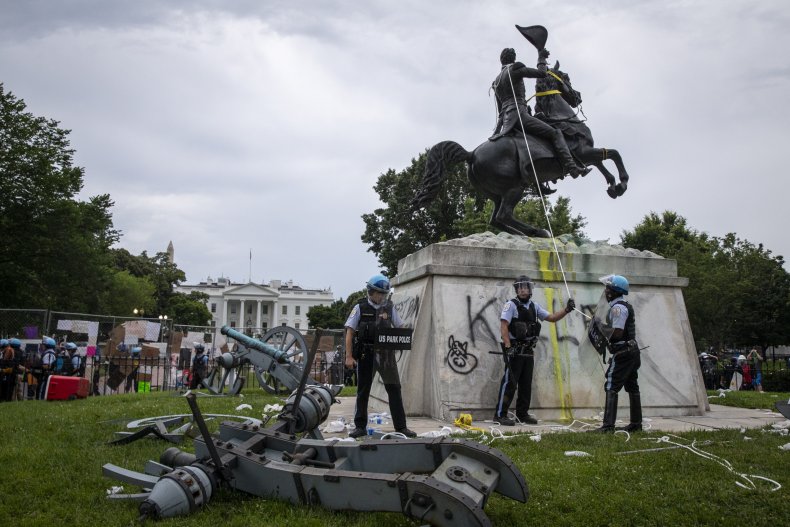 The act establishes criminal penalties for the targeting of veterans' memorials across the nation.
While the president's message referred to the action towards the statue, it covers anything deemed to be a monument which commemorates someone's service and is on public property.
It states that someone "who willfully injures or destroys, or attempts to injure or destroy, any structure, plaque, statue, or other monument on public property
commemorating the service of any person or persons in the armed forces
of the United States" may be fined or imprisoned for up to 10 years, or both.
The message is not the first time Trump has warned of tough action to be taken against protesters, having previously suggested he could intervene with military action to quell scenes of unrest across the United States.
Trump's statement comes after Sen. Tom Cotton (R-AR) called for the act to be used against those who have "defaced and torn down statues, memorials, and monuments around our country."
He described those behind the incidents as "violent mobs."
In a letter to Attorney General William Barr, he wrote: "It's past time to stop the mob; these vandals should be prosecuted to the fullest extent of the law. Unfortunately, local authorities, who normally would prosecute such crimes, have proven unwilling in many cases to uphold the rule of law. In some cities, it appears that feckless politicians have directed police to stand idly by while mobs rampage.
"Thus, I urge the Department of Justice to bring charges against these criminals. They aren't exactly criminal masterminds, typically filming their crimes and posting the videos on social media. Federal laws such as the Anti-Riot Act and the Veterans Memorial Preservation and Recognition Act should cover some crimes. Other federal laws may also apply."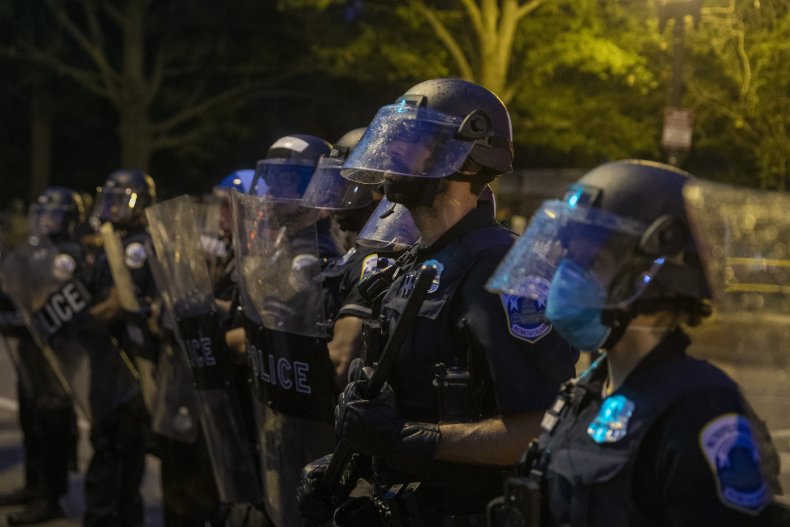 Cotton shared photos of the protests surrounding the Jackson statue and suggested that Trump "deploy federal law enforcement to protect this 168-year-old statue and every other landmark in our nation's capital."
Newsweek has contacted the Department of Justice to ask if it is considering the use of the act.
The White House and Sen. Cotton have also been contacted for further comment, as well as the United States Park Police for details on arrests.
Following the attempt to pull down the Jackson statue, Interior Secretary David Bernhardt tweeted to say he had been at Lafayette Square, where he said the protest had led to destruction, adding: "Let me be clear: we will not bow to anarchists. Law and order will prevail, and justice will be served."
While protesters have targeted a range of monuments, statues depicting members of the Confederacy have been a main focus in the United States. However, recent polling found that 44 percent of people believe those statues should remain standing.
Statues have not only been targeted in the U.S., with some depicting figures such as slave traders, colonists or military figures removed or brought into question across Europe.
Update: Further comments from President Donald Trump were added to this at 7:35am EDT 06/23/2020.