Governors Push Back Against Donald Trump's Threat to Deploy Military During Protests
Several Democratic governors pushed back against President Donald Trump's threat to send in troops to quell protests unless they "dominate the streets" with the National Guard.
Demonstrations continue across the nation following the death of George Floyd, with curfews imposed in multiple cities in several states amid clashes between protesters and authorities.
Some have used the protests as a springboard for looting and violence. Attorney General William Barr said "radical" groups had "hijacked" the protests to take advantage of the situation for ulterior motives.
Trump urged every governor to send in the National Guard to tackle the violence, adding he expects states to create an "overwhelming law enforcement presence" until the issues subside.
"If a city or a state refuses to take the actions that are necessary to defend the life and property of their residents, then I will deploy the United States military and quickly solve the problem for them," Trump said.
Protests continued in Washington D.C. as the president made his comments. Following his speech, Trump visited St. John's Church near to the White House after it had been damaged by fire amid the demonstrations. Police cleared local protesters to enable his trip.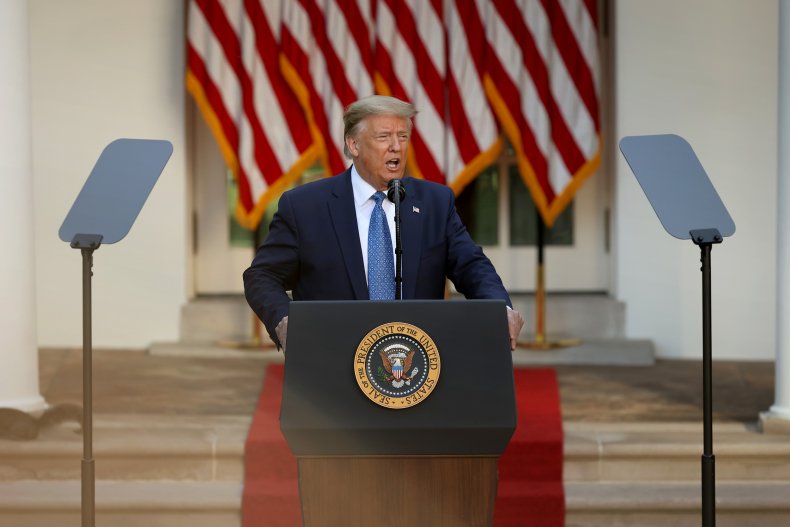 A number of Democratic governors criticized Trump's actions and comments, challenging the suggestion of using military force against U.S. citizens.
Jay Inslee, Washington governor, said: "This president has repeatedly proven he is incapable of governing. He has shown nothing but false bravado throughout the chaos that has accompanied his time in office.
"His admiration of authoritarians around the world should not allow him to violate 200 years of American tradition of local law enforcement. We have activated the National Guard in our state and made them available to any community who requests it.
"Our country is defined by our collective character and democratic ideals, not by reactionary calls for division and not by threatening Americans with their own military."
New York Governor Andrew Cuomo also took issue with Trump's use of the military.
"The president is calling out the American military against American citizens," he tweeted. "He used the military to push out a peaceful protest so he could have a photo op at a church. It's all just a reality TV show for this president. Shameful."
Gov. Steve Sisolak of Nevada said he denounces "violence and destruction of property," but wanted to acknowledge peaceful protests angered by "the rampant injustices Black Americans face."
"At this critical time, all Americans, especially our leaders, should be sending a message of compassion and taking the time to listen," Sisolak said in a statement.
"Unfortunately, the President has once again taken the path of inciting combativeness, stoking racial tensions, and creating division when we need unity more than ever."
J.B Pritzker, Governor of Illinois, said he rejected "the notion that the federal government can send troops into the state of Illinois."
"He should stay out of our business, we are working hard in the state of Illinois to bring down tensions," Pritzker told CNN.
Pritzker said the president wants to "change the subject from his failure over coronavirus," and to use the situation to "create another topic."
Newsweek has contacted the White House and each of the governors mentioned for further comment.
Their comments follow condemnation from Democratic lawmakers in Congress, including Sen. Elizabeth Warren (D-MA) who said: "Lives and our democracy are in danger."
More than 5,600 people have been arrested nationwide amid protests following Floyd's death, according to an Associated Press tally.
Floyd died after a police officer placed his knee on his neck while arresting him in Minneapolis. Video of the incident was captured and shared online, sparking widespread outrage over the situation.
Four officers were fired following Floyd's death, one of whom, Derek Chauvin, has been charged with third-degree murder and second-degree manslaughter.