Protests Near Me—List of Cities Rioting, States Where National Guard Has Been Deployed
Following mass protests across the country after the death of George Floyd, the National Guard has been deployed in 15 states and Washington, D.C., the National Guard confirmed.
"As of this morning [Sunday], approximately 5,000 National Guard Soldiers and Airmen were activated in response to civil disturbances in 15 states and D.C., with another 2,000 prepared to activate if needed. The situation is fluid so those numbers can change rapidly," the National Guard confirmed in a statement Sunday.
Protests have erupted in more than 30 cities across the nation, as of Friday, while at least 25 cities have imposed curfews and activated their National Guard forces, CNN reported Sunday.
"The civil unrest response mission is expected to grow as governors assess the fluid situations in their states and call on the National Guard to assist," National Guard noted on Sunday.
Nearly 62,000 National Guard soldiers in total have been activated in 24 states and Washington, D.C. "This number represents activations for civil unrest, COVID-19 response, as well as state-specific disasters such as wildfires, flooding and other natural disasters," the National Guard confirmed on Sunday.
Below are some of the major cities where riots have been taking place.
Minneapolis
On Monday, a man driving a semi-truck was reported to have driven toward a crowd of protesters marching down a closed interstate in Minneapolis. The truck eventually came to a stop on the bridge where many protesters were located.
"Minnesota's Multi-Agency Command Center (MACC) joined Guard members on an aerial reconnaissance flight of areas hardest hit during recent unrest," the Minnesota National Guard confirmed in a post Monday on its official Twitter account.
"The MACC coordinates law enforcement and public safety agencies assuring a unified response. #MACCMN," the post added.
Washington, D.C.
Protesters sparked several fires across the city near the White House, including at St. John's church, a U.S. National Historic Landmark built in 1815.
On Sunday, Washington, D.C. Mayor Muriel Bowser requested 500 National Guard soldiers, while later on Sunday Army Secretary Ryan McCarthy ordered the rest of the Guardsman (around 1,200 soldiers) to be deployed, the Associated Press (AP) reports.
Los Angeles and other cities in California
California Gov. Gavin Newsom declared a state of emergency in Los Angeles County and the City of Los Angeles and authorized the deployment of the National Guard.
Demonstrations have been taking place in several cities in California, where the state's Department of Human Resources on Monday has ordered the closure of all California state buildings "with offices in downtown city areas." The mandate includes all offices that license workers and provide health care, the AP reports.
Protests have also erupted in San Francisco, San Diego, Oakland and Sacramento.
New York City
Nearly 790 people in New York City have been arrested following protests, including the daughter of New York City Mayor Bill de Blasio, 25-year-old Chiara de Blasio. His daughter was reported to have been arrested after refusing to leave a street in Manhattan that had been ordered to be cleared by police. She was later given a court summons and released, the AP reports.
The state's National Guard was reported to be on standby on Sunday, with hundreds of additional troopers being made available in Rochester and Buffalo, New York Gov. Andrew Cuomo confirmed on Sunday.
"We expect additional protests tonight [Sunday] and we're preparing for such," Cuomo said at his daily briefing.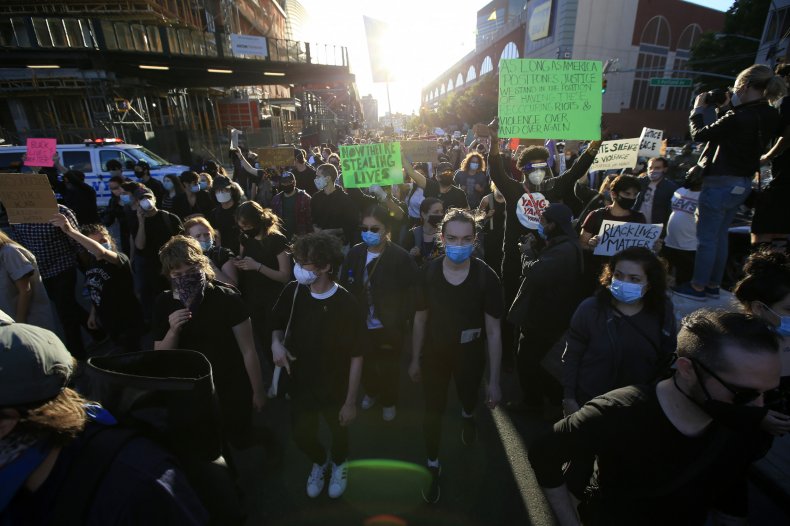 Boston
The Massachusetts National Guard was deployed in Boston on Sunday after several mostly peaceful protests were reported to have turned violent by the evening.
"Those now protesting in the streets of Boston have surrendered the moral high ground as efforts to hurt and harm police officers continue to intensify in our city. Men and women of BPD [Boston Police Department] doing their best to restore order and keep the peace," the BPD noted in a post Monday on its official Twitter account.
Louisville
Police were reported to have shot a man dead on Monday amid protests in Louisville, the largest city in Kentucky.
More than 400 Kentucky National Guardsmen are reported to be on duty in the state, according to a post Sunday from the official Twitter account of the Kentucky National Guard.
Chicago
Illinois Gov. Jay Robert Pritzker has authorized the deployment of 375 National Guard soldiers following violent protests in Chicago.
The demonstrations saw "four shootings in the Loop [neighborhood of Chicago] last night [Saturday] from 7 to 11 p.m. [local time]. Six people were shot. One person killed," Chicago Mayor Lori Lightfoot confirmed.
Atlanta
Up to 3,000 members of the state's National Guard have been authorized to provide assistance amid the protest, the Georgia National Guard confirmed. Several have been deployed across downtown Atlanta, including at the Georgia State Capitol Building, Centennial Olympic Park and the Savannah Civic Center, the Georgia National Guard.
Houston, Dallas and more cities in Texas
Texas Gov. Greg Abbott activated the state's National Guard on Saturday, in response to protests across the state, including in Houston, Dallas, San Antonio and Austin.
He declared a state of disaster across all Texas counties on Sunday amid the violent protests as well as damaged and lost properties across the state.
Denver
Colorado Gov. Jared Polis has approved the request of Denver Mayor Michael Hancock to activate the National Guard.
"To those peacefully protesting at a safe social distance, know that I see you and I am listening. Mayor Hancock has requested the support of the National Guard to help keep people safe and prevent further destruction and I have granted that request," Polis said in a statement Saturday.
A nightly curfew was imposed in Denver between 8 p.m. and 5 a.m. local time, from Saturday to Monday, Hancock confirmed in a statement.
Seattle
The National Guard has been deployed in Washington state, according to a statement Sunday from the office of Washington Gov. Jay Inslee.
At least 600 troops have been authorized to help with protests that have exploded in Seattle and Bellevue.
Phoenix
Arizona Gov. Doug Ducey on Sunday issued a statewide "Declaration of Emergency," imposing a curfew across the state.
"The curfew is in effect from 8:00 p.m. until 5:00 a.m. [local time] and shall expire on Monday, June 8, at 5:00 a.m. [local time] unless further extended," the governor's office confirmed in a statement.
"Today's [Sunday's] declaration also authorizes an expanded National Guard mobilization to protect life and property throughout the state. Our office will continue to communicate with local law enforcement to provide whatever resources we can," Ducey said in the statement.
Charlotte
The North Carolina National Guard confirmed on Sunday: "Today, the Governor has authorized 450 Guardsmen to support local authorities and help safeguard the lives and property of North Carolinians and the ability for individuals to exercise their right to peacefully demonstrate. Our Guardsmen are always ready to assist our community," in a post on its official Twitter account.
Over 15 people were arrested during protests in Charlotte on Sunday night, including four who were arrested for assaulting officers, while three others were arrested on illegal weapon charges, the city's police department said, AP reports.
Columbia
As protests continue in Columbia, the capital of South Carolina, the National Guard has been deployed in response to the unrest.
"Our Soldiers and Airmen will augment these civilian entities to enhance law enforcement agencies' ability to provide continued public safety and critical infrastructure security to allow citizens to peacefully protest," the South Carolina National Guard confirmed in a post Sunday on its official Twitter account.
Detroit
At least one person was reported to have been shot dead during the protests in Detroit, the largest city in Michigan.
"Members of the Michigan National Guard are serving the communities of Grand Rapids and Lansing this evening to provide support to civil authorities in order to ensure the safety of people and to mitigate and repair property damage," the Michigan National Guard confirmed in a post on its official Twitter account.
Kansas City, St. Louis and Ferguson
The Missouri National Guard was activated by Missouri Gov. Mike Parson on Friday.
"Despite the many peaceful assemblies, there are other events occurring throughout Missouri that have created conditions of distress and hazards to the safety, welfare, and property of residents and visitors in our communities that are beyond the capacities of local authorities," the governor's office confirmed in a statement.
Baltimore, Maryland
Tampa Bay, Florida
Portland, Oregon
Richmond, Virginia
Evansville, Indiana
Memphis, Tennessee
Columbus, Ohio
Omaha, Nebraska