Man Drives Semi-Truck Into Crowd Of Protestors On Minneapolis Interstate, Taken Into Police Custody
The driver of a semi-truck was taken into custody on Sunday afternoon after driving toward a crowd of protestors marching down a closed interstate in Minneapolis.
The incident occurred on I-35W in Minneapolis shortly after officers from the Minnesota Department of Public Safety closed the highway as protestors gathered.
"[The truck] didn't appear to drive through any barricades," a statement shared to Twitter by the MDPS from John Harrington, the agency's commissioner, said. Harrington estimated that 5,000 to 6,000 people were on the bridge at the time the truck drove toward them.
Video footage captured by WCCO shows the semi-truck approaching the crowd of protestors at a considerable speed. As the truck comes closer, people run out of its path and eventually comes to a stop on the bridge where many protestors are located. Shortly afterward, protestors rushed the truck and, according to the MDPS, pulled the driver from the vehicle.
"He wasn't stopping. He was beeping loudly and driving into a crowd of people. That's the same kind of malice that brought us here. It's a callous disregard for someone's humanity," Drew Valle, a teacher, told the Star Tribune about the driver.
MDPS said that the driver, identified later as Bogdan Vechirko, sustained non-life threatening injuries and was treated by a local hospital. He was later released and is now under arrest, though the charges have not been released by the state agency. It was unknown if the driver was injured from the abrupt stop or by protestors.
No protestors appeared to have been injured during the encounter, though officials said they could not rule out that people sought treatment independently.
Speaking to reporters on Sunday, Minnesota Governor Tim Walz called the encounter "terrifying."
"I don't know the motives of the driver at this point in time. But at this point in time to not have tragedy and many deaths is an amazing thing," Walz said.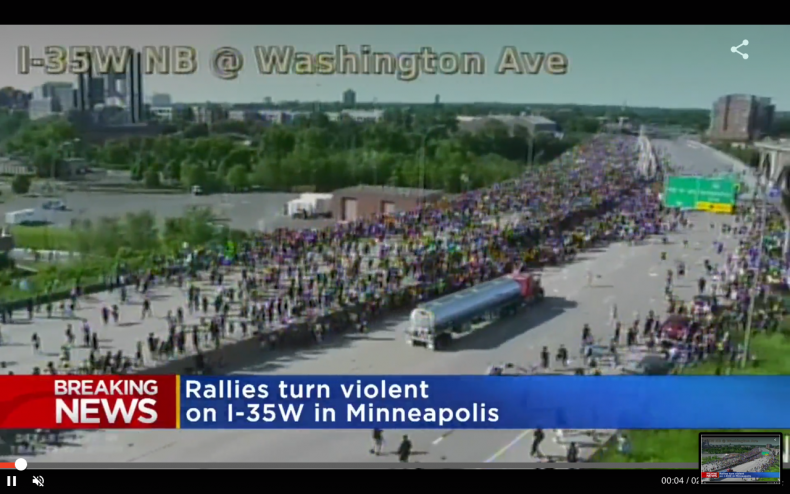 Protestors were on the bridge to mark the sixth day of marches in the Minneapolis area following the death of George Floyd on Memorial Day. Floyd, 46, died in the custody of officers from the Minneapolis Police Department following his arrest for allegedly using forged documents at a supermarket.
A video of Floyd's arrest went viral on Monday when an officer, identified later as Derek Chaucvin, used his knee to pin Floyd to the ground during the arrest. In the video, Floyd repeatedly tells officers that he can't breathe, but eventually he goes silent and appears to lose consciousness. However, Chauvin does not remove his knee. According to the video timestamp, Chauvin remained in place for nine minutes.
Outrage regarding Floyd's death was immediate, with many calling for the officers involved to be charged with murder. Chauvin and the three other officers involved in the arrest were fired by the Minneapolis Police Department on Tuesday, and Chauvin was arrested and charged with third-degree murder and manslaughter. The other officers have not been charged, though Hennepin County Attorney Mike Freeman said the investigation is ongoing and he expects charges to be issued at a later date.
Protests in connection to Floyd's death began on March 27 in Minneapolis and St. Paul, but soon spread across the country. In many areas, protests escalated into violence as people clashed with local police and, in some instances, National Guardsmen. Protestors being doused with tear gas and rubber bullets have been frequently been reported, as have reports of cars and buildings being vandalized or set on fire.
05/31/20, 10:18 p.m. This story has been updated with comments from Gov. Tim Walz and a protestor, and to update the headline.
05/31/20, 10:43 p.m.: This story has been updated to identify the driver as Bogdan Vechirko.