Donald Trump Says Critical Race Theory is 'Like a Cancer'
President Donald Trump said critical race theory was "like a cancer" during remarks at a campaign event in Jacksonville, Florida on Thursday.
Critical race theory is viewed by some as an important part of racial equality that highlights areas of American culture deeply rooted in heteronormativity dominated by the ideals of white people. Trump's administration viewed the teaching of critical race theory during the training of government employees as "divisive and harmful."
Originally banned in the executive branch of government in September, Trump expanded that ban on Tuesday to include U.S. government contractors and their employees. In his Thursday remarks, Trump said that he had fired many of the people responsible for the training.
"That hateful Marxist doctrine paints America as a wicked nation that seeks to divide everyone by race, rewrites American history and teaches people to be ashamed of themselves and be ashamed of their country," Trump said. "That's not happening anymore. We fired so many of these wiseguys. We had one getting $350,000 a year teaching our military this stuff. He said, 'What happened?' We said you're fired. Done. Get out."
"It's become a cancer," Trump added. "It's like a cancer, but they're gone. They're all gone and if they're not, let us know and we'll let them go."
President Trump did not specify how many of the individuals who led trainings had been let go. Newsweek reached out to the Office of Management and Budget (OMB) for comment.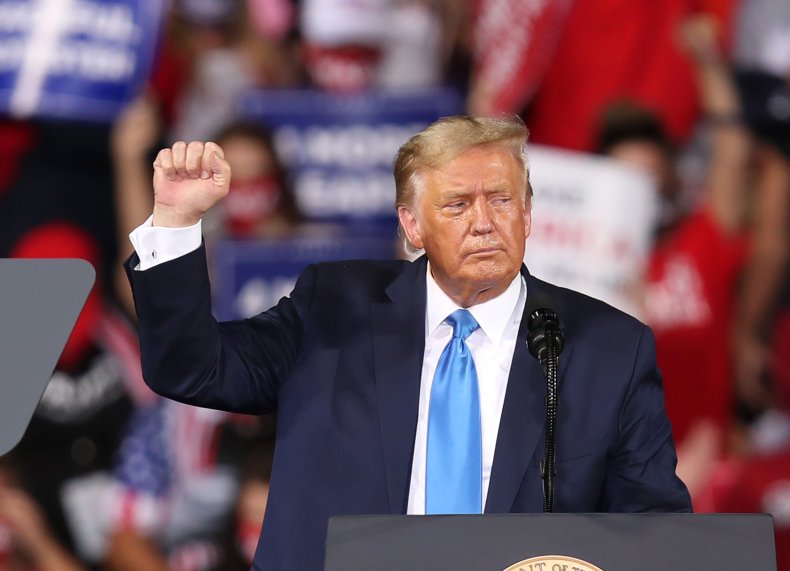 News of the president's ban on critical race theory came via a September memo to the heads of executive agencies and departments from the OMB. Director Russell Vought wrote that, according to press reports, some of the training claimed there was inherent racism in the concept that America is the "land of opportunity."
"The President has directed me to ensure that Federal agencies cease and desist from using taxpayer dollars to fund these divisive, un-American propaganda training sessions," Vought wrote.
On Tuesday, Trump tweeted that he had extended the ban on critical race theory training to "people and companies that do business with our Country, the United States Military, Government Contractors, and Grantees."
"Americans should be taught to take PRIDE in our Great Country," Trump tweeted, "and if you don't, there's nothing in it for you!"
Some civil rights groups view Trump's banning of racial equity training as part of an attempt to sanitize American history. President Trump has resisted renaming U.S. military installations named after Confederate generals. In September, Trump said that teaching critical race theory in public schools was "a form of child abuse in the truest sense of those words."
"Our country needs to acknowledge and reckon with its history of systemic racism and racial discrimination," said ReNika Moore, Director of the American Civil Liberties Union Racial Justice Program in a statement sent to Newsweek on Wednesday. "Instead, the Trump Administration is leading with ignorance and moving to ban training that could help address the issue. This is an attack on the fight for racial justice."