Donald Trump Says Don't Listen to 'Pessimists' as COVID Infections Set Records in at Least 21 States
President Donald Trump has continued to tout his administration's handling of the coronavirus pandemic in the week since emerging from his own COVID-19-caused isolation—encouraging supporters not to listen to "pessimists" despite new infections setting records in at least 21 states.
"The light at the end of the tunnel is near. We are rounding the turn," Trump told a group of fans Friday at an event in Fort Myers, Florida. "Don't listen to the cynics and angry partisans and pessimists."
Trump's messaging to the group of about 400 senior citizens has stayed consistent since the pandemic began earlier this year. In September, journalist Bob Woodward revealed the president intentionally downplayed the deadly virus' threat so as not to incite more panic and fear in the public, a decision that has undoubtedly hurt his chance for re-election.
According to polling website FiveThirtyEight, the majority of Americans—57.4 percent—say they disapprove of Trump's response to the coronavirus crisis. Most Americans disapprove of Trump's overall presidency, with 54.2 percent viewing him unfavorably, compared to the 42.8 percent who approve, FiveThirtyEight reported.
Appearing at an NBC News town hall event Thursday night, Trump addressed the White House Rose Garden ceremony on September 26 at which he nominated Judge Amy Coney Barrett to the Supreme Court. Many health experts are labeling the ceremony a "superspreader," as it preceded a weeklong wave of COVID-19 infections among several people in Trump's orbit, including the president.
Few guests wore masks at the event, many embraced and social distancing was nonexistent. When asked Thursday whether he should've known better than to hold the ceremony, Trump responded by incorrectly citing a Centers for Disease Control and Prevention (CDC) study to falsely suggest that mask wearing doesn't mitigate the spread of the virus—the study did not say that, The Associated Press reported.
And after first lady Melania Trump revealed Wednesday that their son, Barron, had also tested positive for coronavirus and has since recovered, Trump argued that the virus is not a big deal for young people, according to the AP.
"It happens. People have it, and it goes," Trump said at a rally in Iowa later that day. "Get the kids back to school."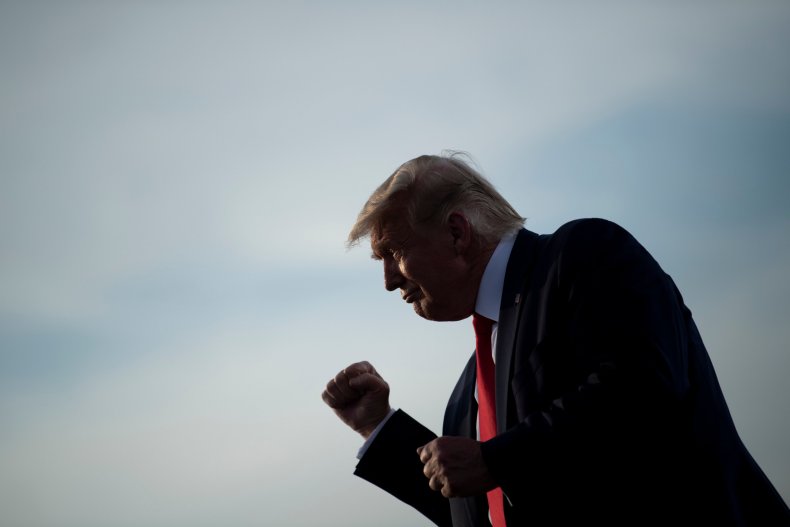 Data suggests, however, that the U.S. is not "rounding the turn," as Trump claimed Friday. In fact, at least 21 states have set records for new daily COVID-19 cases in October, according to data from both The COVID Tracking Project and The New York Times.
When both datasets are taken into account, those states include: Colorado, Illinois, Indiana, Kansas, Kentucky, Michigan, Minnesota, Missouri, Montana, Nebraska, New Hampshire, New Mexico, North Dakota, Ohio, Pennsylvania, South Dakota, Utah, Washington, West Virginia, Wisconsin and Wyoming.
Testing in the U.S. has also seen record numbers this month, with an average of about 1 million people getting tested per day—something Trump has repeatedly used as evidence the coronavirus pandemic has improved under his leadership.
"The total number of cases is not the full metric of success. Hospitalization capacity and mortality rates are far more instructive metrics," Trump said during a September 28 press conference. "As we do more tests, you're going to have automatically more cases. We are relentlessly focused on protecting the vulnerable while enabling healthy Americans to go back to work."
But for the vast majority of states that've set daily case records this month, the increase in their testing numbers is far less than their increase in cases, suggesting the pandemic is worsening. In a few of the states setting records, testing has actually decreased within the last two weeks, according to data from Johns Hopkins University.
Dr. Anthony Fauci, the nation's leading infectious diseases expert, discussed on Friday the current state of the pandemic in the country, telling PBS's Margaret Hoover "we're not in a place where I would have hoped we would have been."
The U.S. is averaging 50,000 new COVID-19 cases per day, and the majority of states have seen increases in their case numbers within the past week. Fauci had hoped the country would've started to see the baseline level of daily infections at "even less than 10,000," but it seems the U.S. is headed "in the opposite direction."
The colder months of the fall and winter present new challenges for the pandemic, as more people head indoors where the virus has a better chance of spreading. "Whenever you are dealing with a respiratory infection, that always makes it more problematic," Fauci said.
Newsweek contacted the White House for comment, but did not hear back in time for publication.
Update 1:15 p.m. ET: This article was updated to include case information from the New York Times coronavirus database.