Donald Trump Says He Answered Mueller 'Very Easily' Despite 'tricked Up' Questions
President Donald Trump said Friday he has already penned written answers to questions from special counsel Robert Mueller as part of the former FBI director's probe into Russian meddling in the 2016 presidential election.
Trump told reporters Friday he "very easily" answered the questions put to him, the Associated Press reported. "You have to always be careful when you answer questions with people that probably have bad intentions," the president said, as he once again attacked Mueller and his investigation.
According to the BBC, he said of the questions, "I'm sure they're tricked-up because, you know, they like to catch people."
Trump explained he had not yet handed over his answers and did not specify when he would do so. His attorney, Rudy Giuliani, has suggested the handover could be as early as next week.
Mueller initially requested a sit-down interview with the president, but has said he is willing to accept written answers. Giuliani has said Trump will answer questions on possible collusion with Russia during the election, but will not respond to questions over potential obstruction of justice committed by the president.
Trump's advisors have consistently tried to avoid an in-person interview. Though the president at one point said he would be willing to speak with Mueller, he eventually reneged on his offer on the advice of lawyers, who fear he will not be able to deal with prolonged questioning.
The president insisted the written answers came directly from him, even though he spent several hours with his attorneys working on the questions. "My lawyers don't write answers, I write answers," he said.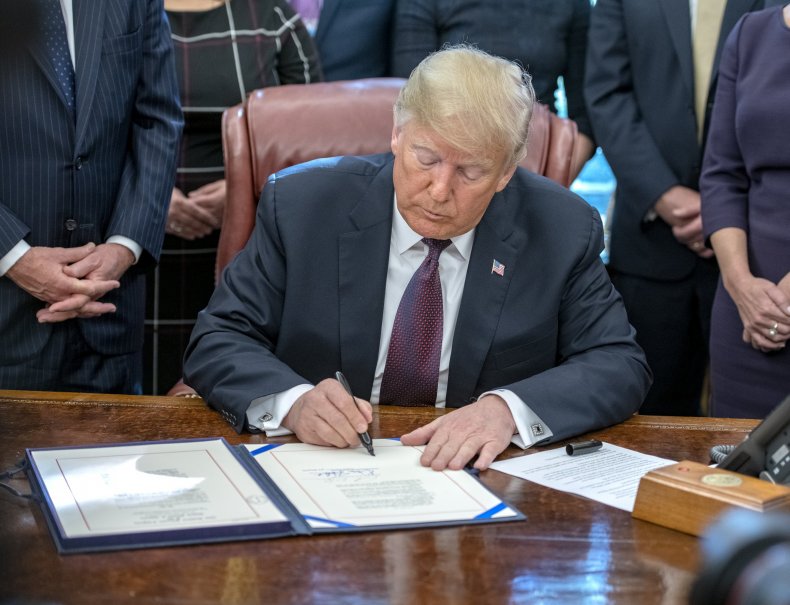 The year-and-a-half long probe has secured convictions for multiple Trump administration aides, including former campaign manager Paul Manafort and Trump's long-time personal attorney Michael Cohen.
Focus on the midterm elections meant the Mueller probe dropped out of the headlines in recent weeks. But Trump's written answers and speculation about forthcoming indictments for several of his associates—including Roger Stone and Jerome Corsi—shows the investigation is continuing apace. There have also been reports that Trump fears his eldest son, Donald Trump Jr., is among those in Mueller's crosshairs.
The president's ongoing frustration was evident in a series of aggressive tweets sent out this week, in which he continued his attacks on the investigation, Mueller and the Democratic Party.
Though he insisted Friday he is "very happy" with how things are going, he tweeted Thursday that the "inner workings of the Mueller investigation are a total mess." He also suggested that Mueller's team don't care "how many lives they can ruin."