Donald Trump Says He's Off COVID Medication, Will Donate Plasma
In his first on-camera interview since being diagnosed with coronavirus, President Donald Trump revealed Friday that he was no longer taking medication for COVID-19 and that, if asked, he would donate plasma to help create a vaccine.
Questions about the state of the president's health had been swirling since Trump's positive diagnosis for COVID-19 in October. Trump was transported to Walter Reed National Military Medical Center for treatment. After a three-day-long stay, Trump returned to the White House causing some observers to point out that Trump had not followed the self-quarantine guidelines set forth by the Centers for Disease Control and Prevention (CDC). White House spokespeople have not divulged when Trump last tested negative for the coronavirus.
Trump told FOX News medical expert Dr. Marc Siegel that his treatment for coronavirus had ended.
"Right now, I am medication free," Trump said. "I'm not taking any medications as of probably eight hours ago. I'm medication free which, frankly, makes me feel good. I don't like medication."
"We pretty much finished and now we'll see how things go," Trump added. "Pretty much nothing. We've had our final doses of just about everything."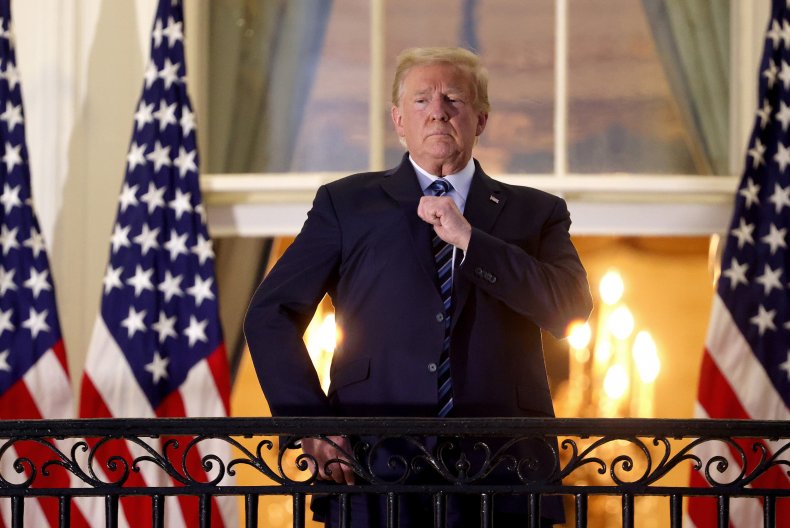 Trump praised the benefits of the medication he received, including an experimental antibody treatment manufactured by the pharmaceutical company, Regeneron.
"Actually, the original transfusion, that's supposed to last for about four months, you know that?" Trump said. "The antibodies? And I think you're supposed to be protected anywhere from two to four months and maybe longer than that, I don't know."
When asked if he would provide samples of his blood plasma to help create coronavirus treatments, Trump said he would.
"If that's they want me to do, I'd love to do it," Trump said.
White House physician Dr. Sean Conley said in a Thursday memo that Trump would be able to "return to public engagements" as soon as Saturday. Officials have not released the results of Trump's latest COVID-19 tests. During Friday's interview, Trump said he had been retested for the virus.
"I haven't even found out the numbers or anything yet, but I've been retested and I know I'm at either at the bottom of the scale or free," Trump said.
Trump's return to the campaign trail is expected to begin on Monday with a rally in Sanford, Florida. A campaign event originally scheduled to take place in Sanford during October was canceled after Trump tested positive for coronavirus.
Newsweek reached out to Trump's re-election campaign for comment.