Donald Trump Says Ukrainians 'Use So Well' the Weapons He 'Gave' Them
Former President Donald Trump, who was impeached for threatening to withhold military aid to Ukraine among other issues, is now taking credit for weapons the country's military is using to stave off an invasion from Russia.
Trump on Wednesday told Maria Bartiromo, of Fox Business, that "Russia has gotten in deeper than they ever thought possible" because of "the weapons that I gave and that the Ukrainians used so well." The former Republican president's remarks are the latest in a series of conservative political and media figures swiveling from praising Russian President Vladimir Putin to backing Ukraine.
"This is a holocaust," said Trump. "This is a horrible thing that's happening. You're witnessing it, and you see it on television every night."
Trump, who has long been friendly with Putin, a week earlier praised the autocratic Russian leader during a political fundraiser, calling him "very smart" for steps he took leading up to the invasion of Ukraine.
"He's taking over a country, really a vast, vast location, a great piece of land with a lot of people and just walking right in," Trump said during the event at Mar-a-Lago. In January, Trump called possible military conflict between Russia and Ukraine a "European problem" in an interview with conservative radio host Glenn Beck.
While in office, Trump was a frequent critic of NATO, a Cold War defense pact formed to prevent the expansion of Russian influence. At one point, Trump was reported to have considered pulling the U.S. out of NATO.
Notably, Trump was impeached by the House of Representatives in 2019 for abuse of power and obstruction of Congress. The charges centered on allegations that Trump withheld $391 million worth of military aid to Ukraine to pressure its government into announcing a politically damaging investigation into Joe Biden, then a Democratic candidate for president.
At the time, Ukraine was fighting Russian-backed separatists. The U.S. military aid was given to Ukraine. Last week, Trump issued a statement taking credit for strengthening NATO and getting military aid to Ukraine.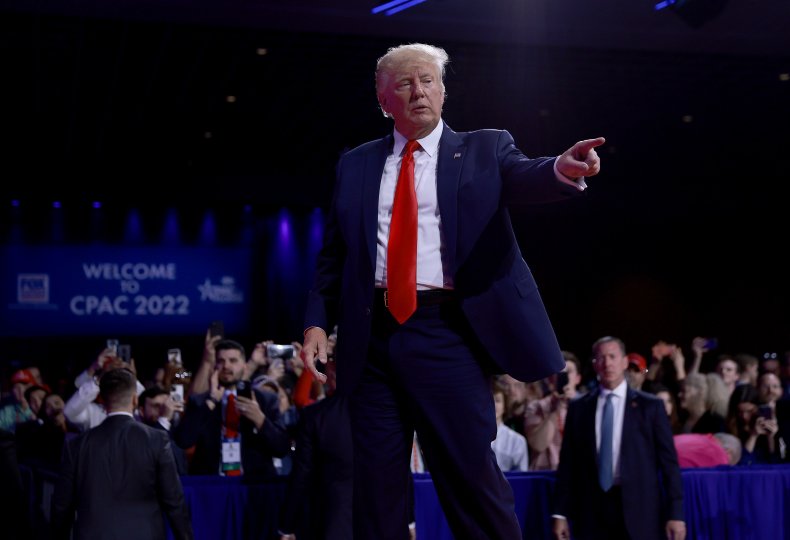 Speaking during his appearance on Fox Business on Wednesday, Trump called for a stronger response to stop Russia, which he said is "not looking so good."
"You have to work out a deal," said Trump. "They have to stop killing these people. They're killing all these people. And they have to stop it, and they have to stop it now. But they don't respect the United States, and the United States is, like—I don't know, they don't do anything about it."
Trump said the U.S. should produce its own oil instead of buying it from Russia, adding, "These countries are not our friends."
"The biggest problem we have is that our president and our country is no longer respected," said Trump.
John Bolton, who served as Trump's national security adviser, speaking on Newsmax's television network on Wednesday criticized his former boss. He said Trump regularly complained about sanctions imposed by his administration on Russian oligarchs, and he "barely knew where Ukraine was."
"It just not accurate to say that Trump's behavior somehow deterred the Russians," he said.
During his State of the Union speech on Tuesday, President Joe Biden got his biggest applause from lines praising Ukraine's resistance. He also outlined a range of sanctions his administration had taken against Russia for its invasion.
Biden said the Russian ruble had tumbled by 30 percent, and the country's stock market had tumbled by 40 percent of its value.
Newsweek has reached out to Trump for comment.