Trump Keeps Returning to the Idea of Pulling the U.S. Out of NATO: Report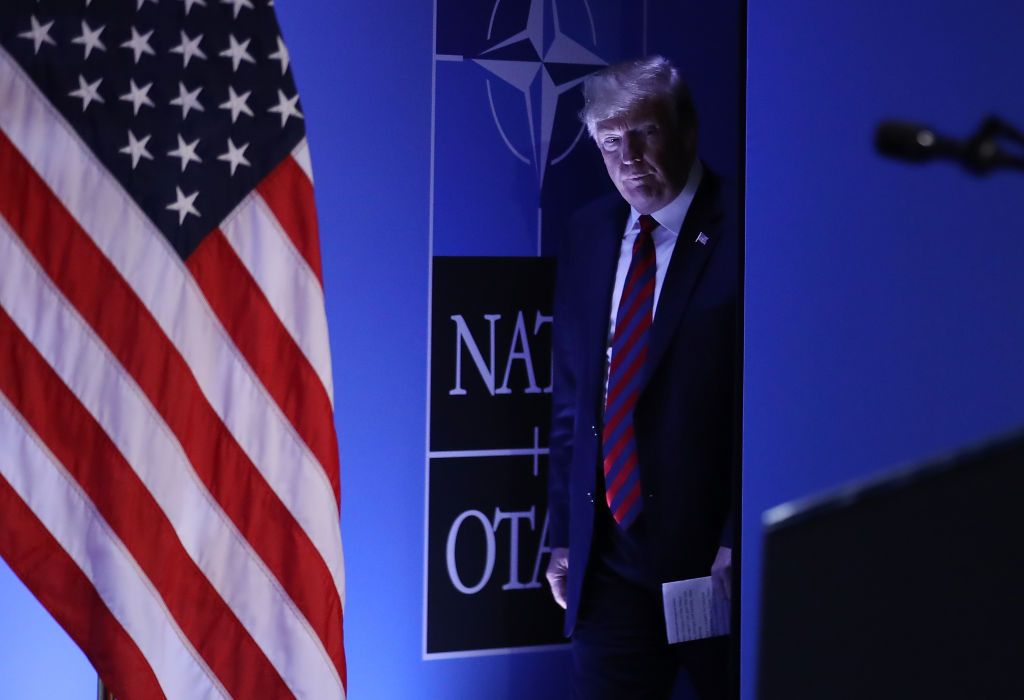 President Donald Trump in conversations with officials last year talked about pulling the U.S. out of NATO, according to a report on Monday.
Senior administration officials, speaking on condition of anonymity, told The New York Times that Trump had told national security officials, around the time of the 2018 NATO summit in July, that he didn't see the point in the mutual defense treaty.
Read more: Former NATO commander asks if Turkey "blackmail" forced Trump's Syria withdrawal
The officials said that they weren't initially sure if Trump was serious when he floated the possibility of NATO withdrawal, but the president has repeatedly returned to the idea. The officials told the Times they feared that Trump could again return to it, as the military budgets of other NATO treaty members lag behind that of the U.S.
The Brussels NATO meeting last July occurred days before Trump met Russian President Vladimir Putin in Helsinki, where he appeared to accept Putin's assurance that Russia had not meddled in the 2016 presidential election over the evidence of his own intelligence agencies.
The president's behavior prompted even members of his own party to question whether he had committed treason.
Trump's relationship with Russia has come under renewed scrutiny, following the publication of a Times report Friday that the FBI had opened an investigation into whether Trump was working on behalf of Russia, after he fired FBI Director James Comey in May 2017. The Washington Post reported Saturday that Trump had attempted to shield the content of his conversations with Putin from administration officials.
Retired Admiral James Stavridis, the former supreme allied commander of NATO, told the Times that U.S. withdrawal from NATO would be "the gift of the century for Putin."
In a statement to the Times, the White House reiterated comments Trump made after last July's summit, where he described U.S. commitment to NATO as "very strong."
The White House did not immediately respond to Newsweek's request for additional comment.
The 1949 NATO treaty, drafted amid fears the Soviet Union was preparing to seize control of swaths of Western Europe, saw the U.S., Canada and several European countries pledge that an attack on one member was an attack on them all. It has been regarded as the bulwark of Western security for decades, with its mutual defense obligation invoked once, by the U.S., following the 9/11 attacks in New York, Pennsylvania and Washington D.C.