Donald Trump Will Try to Play Second Impeachment to His Advantage, As He Did the First
President Donald Trump could angle his impeachment to rile up his fans with anti-establishment rhetoric, potentially boosting his political prospects down the line should he avoid conviction and being barred from holding future office.
With the Senate due to resume, articles from the House are set to be passed to the upper chamber after it voted to impeach Trump for a second time in the aftermath of the Capitol riot. This tees up a Senate trial, set to potentially coincide with the initial days of Joe Biden's White House term.
Last time Trump was impeached, the Senate trial ended in acquittal—which he and allies used as vindication to their claims the process was unfair and, as the president branded it, a "hoax."
He has suggested his latest impeachment has been a "witch hunt," and if he were to avoid conviction, and lawmakers voting for him to be blocked from holding office, there is the prospect of him reacting in a similar way.
"Assuming Trump isn't convicted in the Senate, he will likely try to spin impeachment 2.0 similarly to how he did impeachment 1.0: as a vindication. However unwarranted, that might give him an opportunity to regroup, to rally his base, and to start thinking about his rebuilding his political future," Dr. Thomas Gift, founding director of University College London's Centre on U.S. Politics, told Newsweek.
"While it's tempting to think that the Capitol Hill riot put the last nail in Trump's political coffin, that ignores the fact that—time after time—predictions that Trump couldn't recover from this or that scandal proved to be false. Whether this time really is 'different'—and perhaps it is—remains to be seen."
On the prospect of a 2024 run, Gift said: "Looking ahead to the next presidential election, four years is a lifetime in politics."
While not being convicted would appear the easiest outcome to allow Trump to use the situation to his advantage, the circumstances of his trial—and it coming after his time in office—could allow him to tout the result no matter what.
"No matter what happens Trump is going to declare victory," Dr. David Andersen, assistant professor in U.S. politics at Durham University, told Newsweek.
On how Trump could mold perception of the outcome, Andersen said: "If the Senate fails to convict him Trump will declare this as evidence that he was again unfairly targeted without cause, just like he did the first time.
"But even if he is convicted his reaction is likely to be one of victory. In that scenario he will point out that the only reason he was convicted was because he was no longer in office to defend himself. In this scenario, the evil Democrats—who stole the election and illegitimately hold both chambers of Congress and the Presidency—are now using the powers of government against him now that he is out of office. The only way that he could suffer such a loss was when Democrats united the government against him.
"Even in defeat, he can spin this to make him seem super powerful and the victim of partisan maneuvering."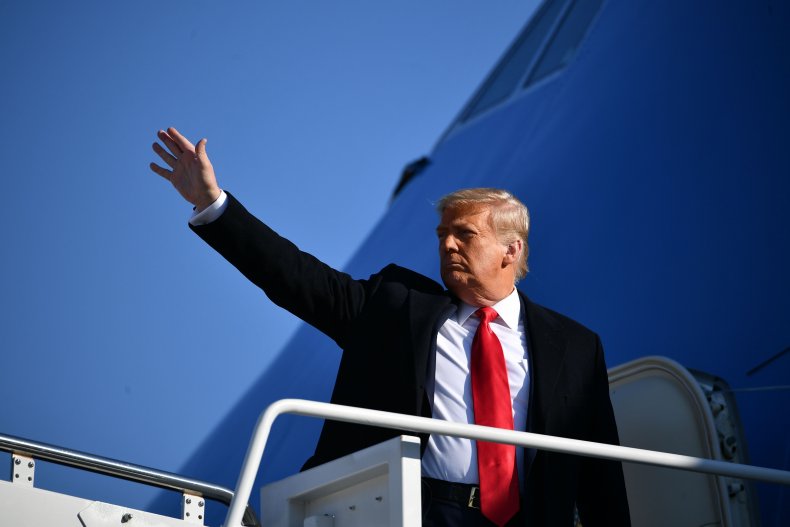 Andersen added that he is uncertain Trump will want to run again, as he could get the aspects of the presidency he enjoyed without being president.
"What he did enjoy were the pomp and trappings of the office and the constant attention," Andersen said.
"I think he will find that he can still get that as a former president, so I imagine that he will happily transition into being a gadfly, constantly criticizing the Biden administration and setting himself up as a pariah."
In this situation, again impeachment could potentially be used as a boost.
"If this is his goal being impeached and banned from holding office again could actually strengthen his position, because then it isn't that he is unwilling to run again, it is that he is not able to," Andersen said. "He won't even need to come up with a reason for not running again. Either way, he wins and gets to remain central to the GOP media machine."
Trump has been tipped for a 2024 run and made it clear that he feels he has unfinished business in statements made after admitting defeat to Biden, while he has hinted at going for the presidency again. He has been the frontrunner in polling for the Republican candidacy next time out.
"If he is not convicted in the Senate, as is quite likely, he could absolutely use this to his advantage," Dr. Clodagh Harrington, associate professor in American politics at De Montfort University, told Newsweek.
"I think that he could harness the support that will surge for him with the impeachment outcome and give him the opportunity to keep momentum moving towards 2024. So, at this juncture, I'd say he's down but not out."
Newsweek has contacted the White House and the Trump campaign for comment on the impeachment situation.
The graphic below, from Statista, details the impeachment process.