Donald Trump Set to Become GOP Nominee on Second Day of Convention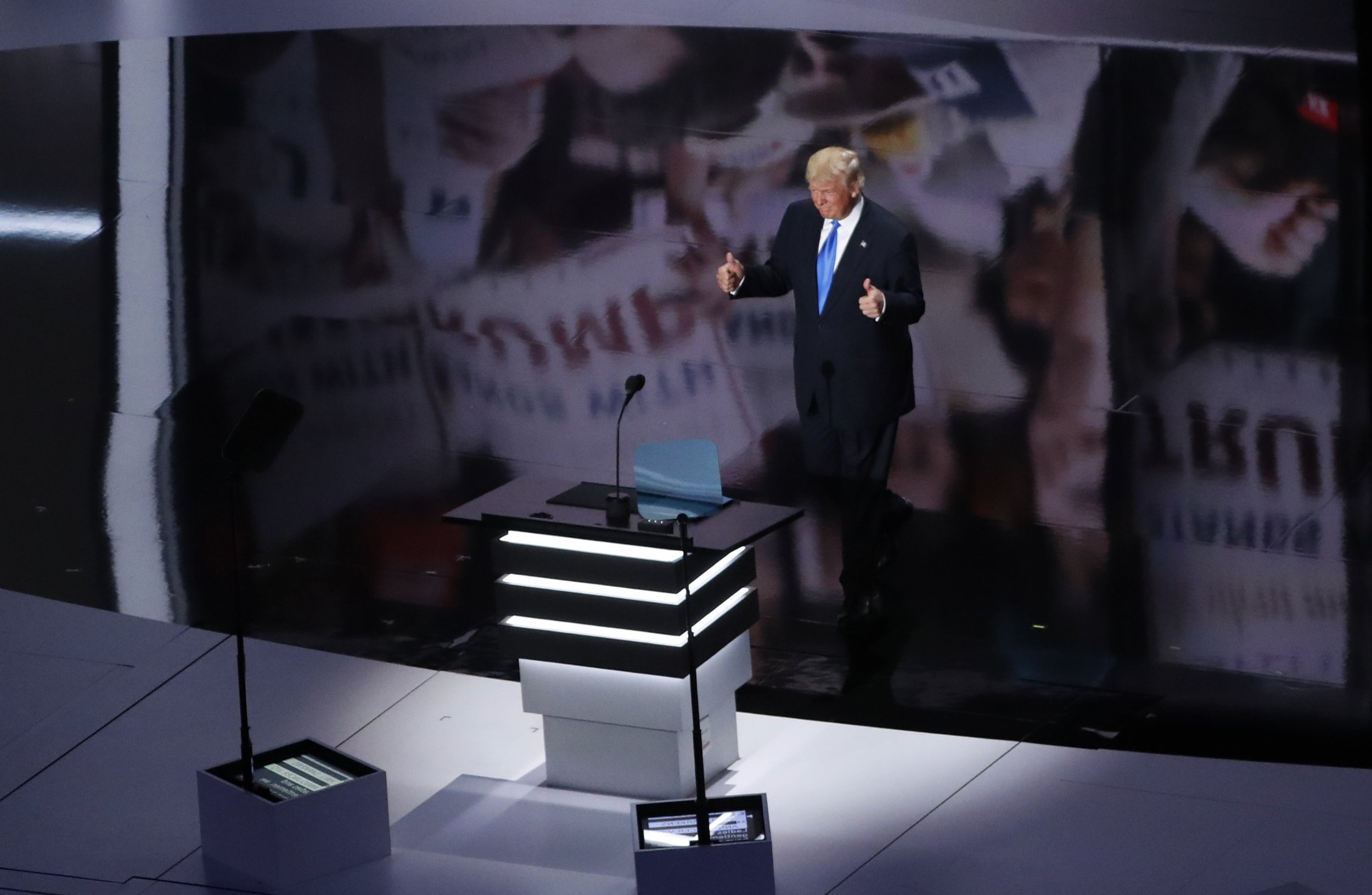 Donald Trump has been waiting for this day since last June, as the delegates to the Republican National Convention on Tuesday are set to vote to officially nominate him as the party's presidential candidate. The New York billionaire has earned enough delegates to receive the nomination, but it becomes official after a roll call vote of each state at the RNC.
The second session of the RNC follows a day of turmoil in Cleveland. Anti-Trump delegates created an uproar on the floor of the Quicken Loans Arena on Monday, demanding that the leadership allow a state-by-state roll call vote on the rules of the event. Some delegates even staged a walkout from the floor of the arena. Their movement ultimately was defeated when Republican Representative Steve Womack of Arkansas, who was presiding over the session, allowed a voice vote and declared victory to those in favor of the rules as previously determined by a committee. At that point, the rules were adopted, and Trump inched closer to becoming the party's presidential nominee.
Several high-profile Republicans will take the stage after the nominating process begins at 5:30 p.m. Eastern time Tuesday. The theme of the day is "Make America Work Again," and the speaker list includes House Speaker Paul Ryan, Senate Majority Leader Mitch McConnell and New Jersey Governor Chris Christie, an ally of Trump who once was considered a possible vice presidential pick. Two of Trump's adult children, Donald Jr. and Tiffany, also will address the crowd, as will Dr. Ben Carson, the onetime Trump rival who pulled ahead of the real estate mogul in several polls last fall.
The following is the list of Tuesday's prime-time speakers:
Sharon Day, Republican National Committee co-chair
Dana White, president of Ultimate Fighting Championship
Asa Hutchison, Arkansas governor
Leslie Rutledge, Arkansas attorney general
Michael Mukasey, former U.S. attorney general
Andy Wist, businessman
Ron Johnson, U.S. senator of Wisconsin
Chris Cox, executive director of National Rifle Association Institute for Legislative Action
Natalie Gulbis, golfer with Ladies Professional Golf Association
Mitch McConnell, U.S. Senate majority leader
Paul Ryan, U.S. speaker of the House
Kevin McCarthy, U.S. House majority leader
Chris Christie, New Jersey governor
Tiffany Trump, Trump's youngest daughter
Kerry Woolard, general manager of Trump Winery
Donald Trump Jr., Trump's eldest son
Shelley Moore Capito, U.S. Senator of West Virginia
Dr. Ben Carson, neurosurgeon and former Trump rival
Kimberlin Brown, actor
Viewers can tune in from home through several different platforms, including C-SPAN for 24-hour coverage and major news networks from 10 p.m. to 11 p.m. The RNC 2016 mobile app will live-stream the speeches.
The first day of the convention was anything but calm. Monday began with Trump's campaign chairman, Paul Manafort, calling out Ohio Governor John Kasich for not attending the party's national event. Manafort said Kasich was "making a big mistake" and was "embarrassing his state" by skipping the convention. Kasich is one of Trump's former presidential rivals and the governor of the state hosting the RNC. He is among a group of high-profile Republicans not at the Quicken Loans Arena, including 2012 GOP presidential nominee Mitt Romney and 2008 vice presidential nominee Sarah Palin.
The day concluded with an array of speeches from survivors of the 2012 attack at the U.S. Consulate in Benghazi, Libya, as well as Trump's wife, Melania. Donald Trump introduced his wife before she took the stage in a rare appearance for the possible first lady this election season. Afterward, there has been controversy about her speech mirroring that of first lady Michelle Obama's 2008 address to the Democratic National Convention. Trump's campaign has denied allegations that her words were lifted from Obama.
"In writing her beautiful speech, Melania's team of writers took notes on her life's inspirations, and in some instances included fragments that reflected her own thinking," Jason Miller, the Trump campaign's senior communications adviser, said in a statement Tuesday morning. "Melania's immigrant experience and love for America shone through in her speech, which made it such a success."