'Stop Trump' Movement Throws RNC Into Chaos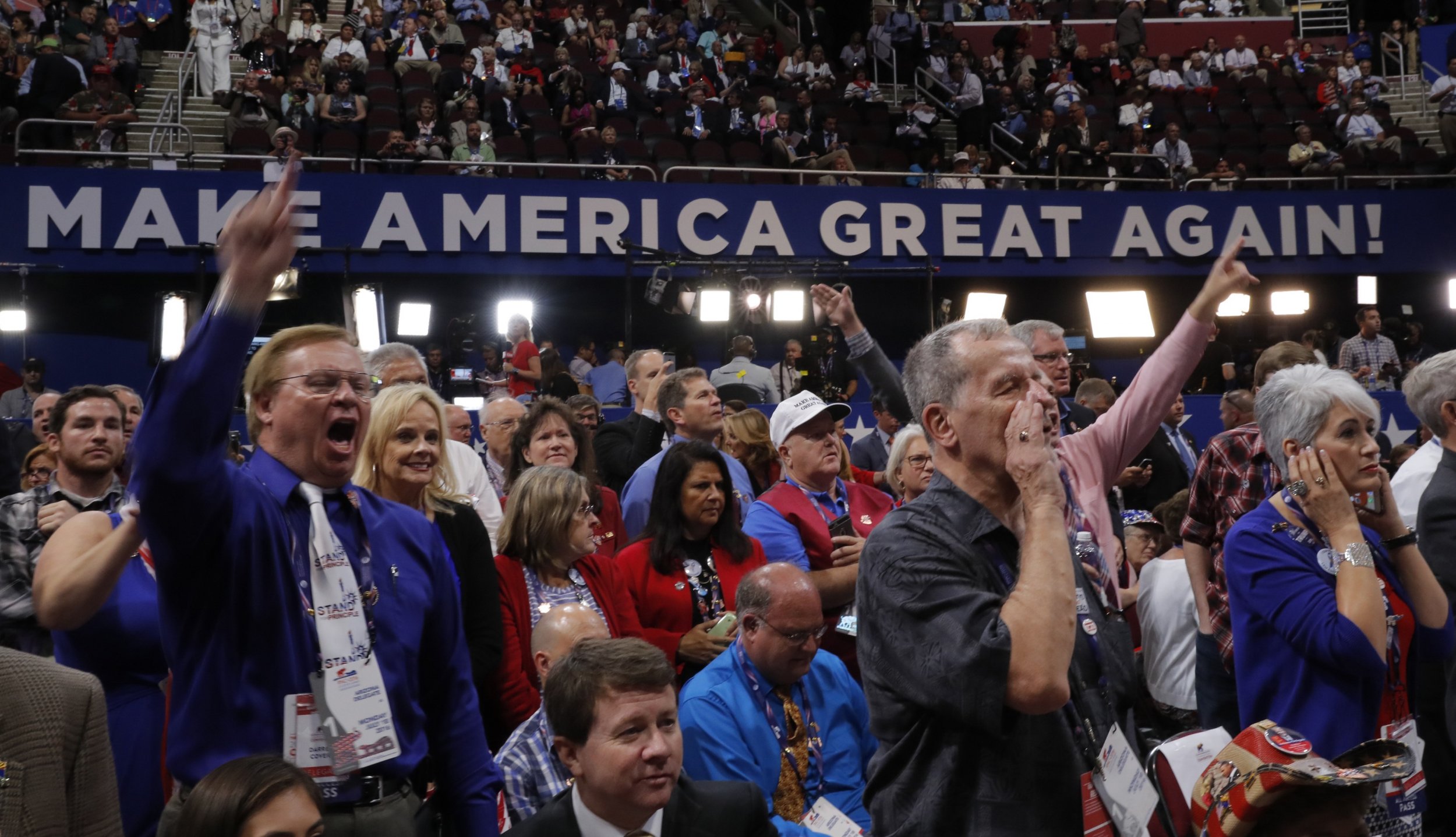 Chaos erupted at the Republican National Convention on Monday afternoon after the leadership bypassed a call for a full floor vote on the rules of the event.
Just three hours after the four-day convention kicked off in Cleveland, anti-Donald Trump delegates and those supporting the presumptive Republican nominee shouted at each other on the floor of the Quicken Loans Arena. Some yelled "USA!" and "Roll call vote!" according to a C-SPAN livestream. A delegate from Virginia wore a neon-colored baseball hat that read, "Vote no on rules." Those who support the real estate mogul said, "We want Trump!"
The delegates opposing Trump's nomination had gathered signatures and demanded a state-by-state roll call vote on allowing delegates to cast ballots freely on their choice for president, rather than having to fall in line behind Trump. But Representative Steve Womack, who was chairing the proceedings at the time, said the rules had already been approved, at which point some delegates started yelling and Womack left the stage. Delegates from Colorado and Iowa staged a walk-out from the floor of the arena.
"You are ignoring delegates who have been elected to this convention," Utah Senator Mike Lee told C-SPAN. Earlier, he was heard off-camera asking for Utah's microphone to be turned on so leadership could hear the delegates.
"This is for unity, folks. This is not how you unify the Republican Party," a voice said off camera.
Womack soon reappeared on stage and called for a verbal vote. "In the opinion of the chair, the ayes have it," he declared. And thus the rules were considered adopted.
Lee said a majority of delegates in 11 states had signed a petition calling for the roll call vote on the rules. In the days before a convention, the rules committee decides on the official guidelines to govern the event. Delegates typically vote on the set of rules to be adopted by the convention, Lee said.
In the weeks leading up to the convention, a coalition of individuals and several groups had increased their efforts to stop Trump from becoming the GOP's presidential candidate. They attempted to make it clear to the rules committee that not all delegates wanted to be bound to a specific candidate at the convention. But the committee met last week and voted down the effort by the anti-Trump movement.
In response, the movement claimed it had gathered sufficient signatures among the convention delegates to force a vote on the rules committee's work. But apparently it was all to no avail.
The RNC launched Monday with the theme "Make America Safe Again," which is a play on the candidate's slogan. Trump was expected to introduce his wife, Melania, for her speech to the crowd Monday night.