'Make America Safe Again' Is Monday's Theme at the Republican National Convention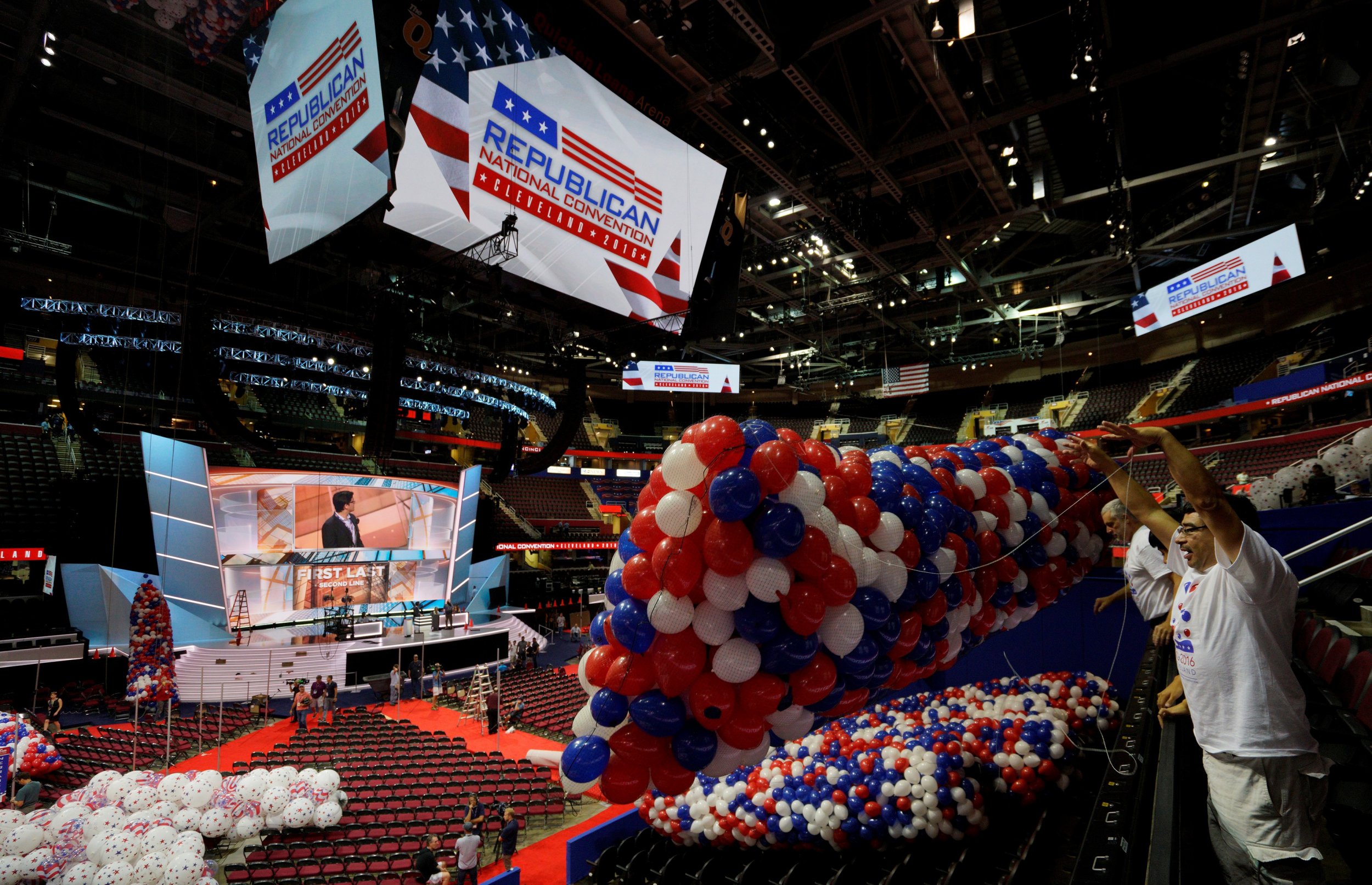 "Make America Safe Again" is the day's theme as the Republican National Convention kicks off Monday afternoon. Speeches by Donald Trump's wife, Melania, and survivors of the 2012 attack at the U.S. Consulate in Benghazi, Libya, are expected to be among the highlights of the first day.
The four-day convention centers around the presumptive GOP nominee's "Make America Great Again" slogan. Campaign manager Paul Manafort said the convention will show a "very personal" side of Trump.
"You are going to see how he is taking care of people who, you know, he just meets through newspaper stories he reads about and has that sense of community and sense of philanthropy," Manafort said Sunday on CBS News's Face the Nation. "So you are going to get a broader perspective of the man."
The Monday speakers are expected to focus on two main points of the New York billionaire's campaign, national security and immigration, according to a schedule released Sunday. Mark Geist and John Tiegen, who survived the Benghazi attack, and Pat Smith, the mother of a victim, are slated to speak Monday. Four Americans died in the incident, which occurred while Hillary Clinton was secretary of state. Now, of course, as the Democrats' presumptive nominee, she is in line to face off against Trump in the November general election. Clinton faced widespread criticism from opponents in the wake of the attack, but the Republicans' Benghazi panel last month ended its investigation with no new evidence of wrongdoing.
The following is a list of Monday's prime-time speakers, who will address the crowd after the business session.
Willie Robertson, chief executive officer of Duck Commander and Buck Commander and star of Duck Dynasty
Rick Perry, former governor of Texas
Marcus Luttrell, U.S. Navy SEAL
Scott Baio, actor and TV producer
Pat Smith, mother of Benghazi victim Sean Smith
Mark Geist, U.S. Marine Corps veteran who fought in Battle of Benghazi
John Tiegen, U.S. Marine Corps veteran who fought in Battle of Benghazi
Kent Terry and Kelly Terry-Willis, the Brian Terry Foundation
Antonio Sabato, Jr., actor
Mary Ann Mendoza, immigration reform advocate
Sabine Durden, immigration reform advocate
Jamiel Shaw, immigration reform advocate
U.S. Representative Michael McCaul (R-Texas)
David Clarke, Sheriff of Milwaukee County
U.S. Representative Sean Duffy (R-Wisconsin)
Rachel Campos Duffy, the LIBRE Initiative
Darryl Glenn, El Paso County commissioner
U.S. Senator Tom Cotton (R-Arkansas)
Karen Vaughn, mother of fallen U.S. Navy SEAL
U.S. Senator Jeff Sessions (R-Alabama)
Rudy Giuliani, former mayor of New York City
Melania Trump, businesswoman and Trump's wife
Lt. Gen. Michael Flynn, U.S. Army (retired)
U.S. Senator Joni Ernst (R-Iowa)
Jason Beardsley, Concerned Veterans for America
U.S. Representative Ryan Zinke (R-Montana)
A few of the scheduled speakers have dropped out since the RNC released its initial list last week. Rabbi Haskel Lookstein, who converted Trump's eldest daughter, Ivanka, to Judaism, has backed out of delivering the opening prayer at the convention. And Tim Tebow, a retired NFL quarterback who has often made his religious views public, said he won't address the convention, despite multiple media reports previously saying otherwise. But Wisconsin Senator Ron Johnson, who is running in a tight re-election race, was added to the week's lineup in an updated list that was released Sunday.
The week's other themes include "Make America Work Again," "Make America First Again" and "Make America One Again." Police are on high alert in Cleveland, as the first day of the convention follows closely Sunday's shooting attack in Baton Rouge, Louisiana that left three police officers dead and three others injured. That attack came a week after a sniper fatally shot five officers in Dallas soon after two black men were killed during altercations with police officers, in Baton Rouge and Minneapolis, Minnesota.
Each day's convention session starts at a different time; Monday began at 1 p.m. at the Quicken Loans Arena. Viewers can tune in from home through several different platforms. Both C-Span and CNN are offering 24-hour coverage, and the major news networks will focus on the convention each night during prime-time. Twitter and CBS News have partnered to livestream the event on desktop and mobile apps. PBS and NPR will provide live coverage from 8 p.m. to 11 p.m. Eastern time. The mobile app, called RNC 2016, also will livestream the speeches and broadcast 360-degree videos.