Gunman in Baton Rouge Police Shooting ID'd as Ex-Marine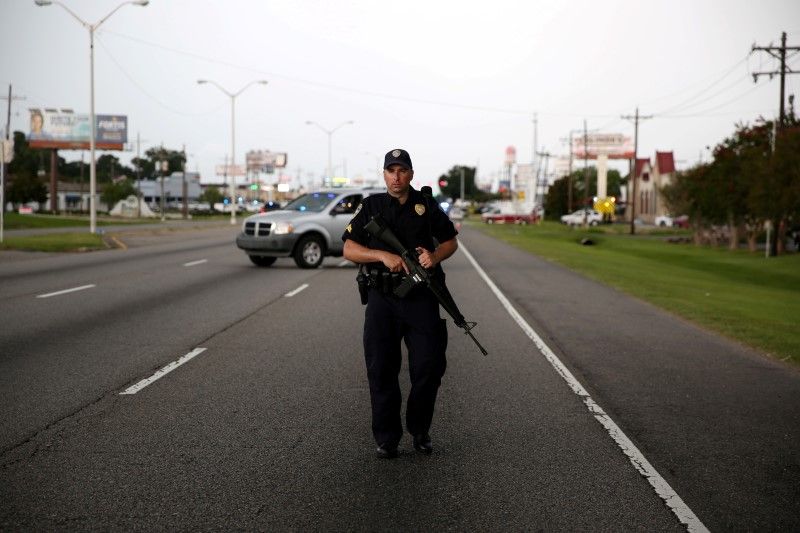 One Baton Rouge Sheriff's deputy is in critical condition, and three law enforcement officers are dead after a shooting Sunday morning that was carried out by a single gunman identified by government sources as a former Marine who served in Iraq.
Police cannot yet say if the gunman acted alone but emphasized that there is "not an active shooter scenario in Baton Rouge," in a news conference Sunday afternoon.
"We do believe...that the person who shot and killed our officers, that he is a person who was shot and killed at the scene," said Colonel Mike Edmonson, superintendent of the Louisiana State Police.
Authorities did not release the gunman's name, but multiple sources told news outlets the shooter is Gavin Long of Kansas City, Missouri. Long joined the Marines in 2005, became a sergeant in 2008 and was honorably discharged in 2010, the New York Times reports. He served in Iraq from June 2008 to January 2009.
Related: Three Officers Dead, Others Wounded in Baton Rouge Shooting
The three dead officers include one sheriff's deputy, 45, and two Baton Rouge Police Department officers, ages 41 and 32. One 41-year-old sheriff's deputy is in critical condition, and a deputy, 51, and police officer, 41, are hospitalized with "non-life-threatening injuries," authorities said. The identities of the deceased and wounded officers were not released.
Governor John Bel Edwards told reporters that state authorities "are doing everything humanly possible to make sure that everyone is protected."
Sheriff Sid J. Gautreax said law enforcement's "number one priority is the safety of our community," and "with God's help, we'll get through this.
"Until we come together as a nation, as a people, to heal as a people, if we don't do that and this madness continues we will surely perish as a people," Gautreax warned.
The shooting took place before 9 a.m. near police headquarters at Airline and Old Hammond highways, as police received a call of "a guy carrying a rifle." Authorities did not otherwise identify his personal characteristics except to note that he was wearing all black clothing. Multiple shots were fired in the ensuing minutes between authorities and Long.
The Baton Rouge and Louisiana law enforcement officers said the shooting is an active investigation that is being conducted by local agencies with help from the federal government.
President Obama said Sunday that the attack was the work of "cowards who speak for no one."
"I condemn, in the strongest sense of the word, the attack on law enforcement in Baton Rouge. For the second time in two weeks, police officers who put their lives on the line for ours every day were doing their job when they were killed in a cowardly and reprehensible assault. These are attacks on public servants, on the rule of law, and on civilized society, and they have to stop," the president said in a statement. "We may not yet know the motives for this attack, but I want to be clear: There is no justification for violence against law enforcement. None. These attacks...right no wrongs. They advance no causes."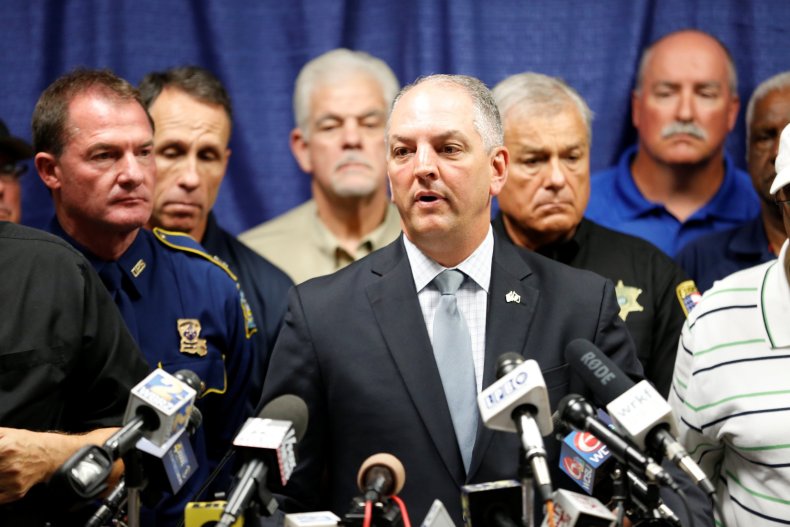 Louisiana authorities echoed Obama's words.
"The people who carried out this act do not represent the people of Baton Rouge or the state of Louisiana or what's best about our community," Edwards said. "Only through peace and unity can we heal."
Baton Rouge has seen repeated protests against police since the death of Sterling, a father of five, who was shot and killed at close range after police reponded to a report of Sterling threatening people with a gun. The ACLU sued Baton Rouge this week, alleging police had violated protesters' constitutional rights to speech and free assembly by using a "military-grade assault on protestors' bodies and rights."
Five officers were killed in Dallas during mass demonstrations there, one day after Philando Castile was shot and killed by police in Minnesota during a traffic stop.