Melania Trump, Bill Clinton, et al.: Why the Spouses Behind the Candidates Are the Most Interesting Ever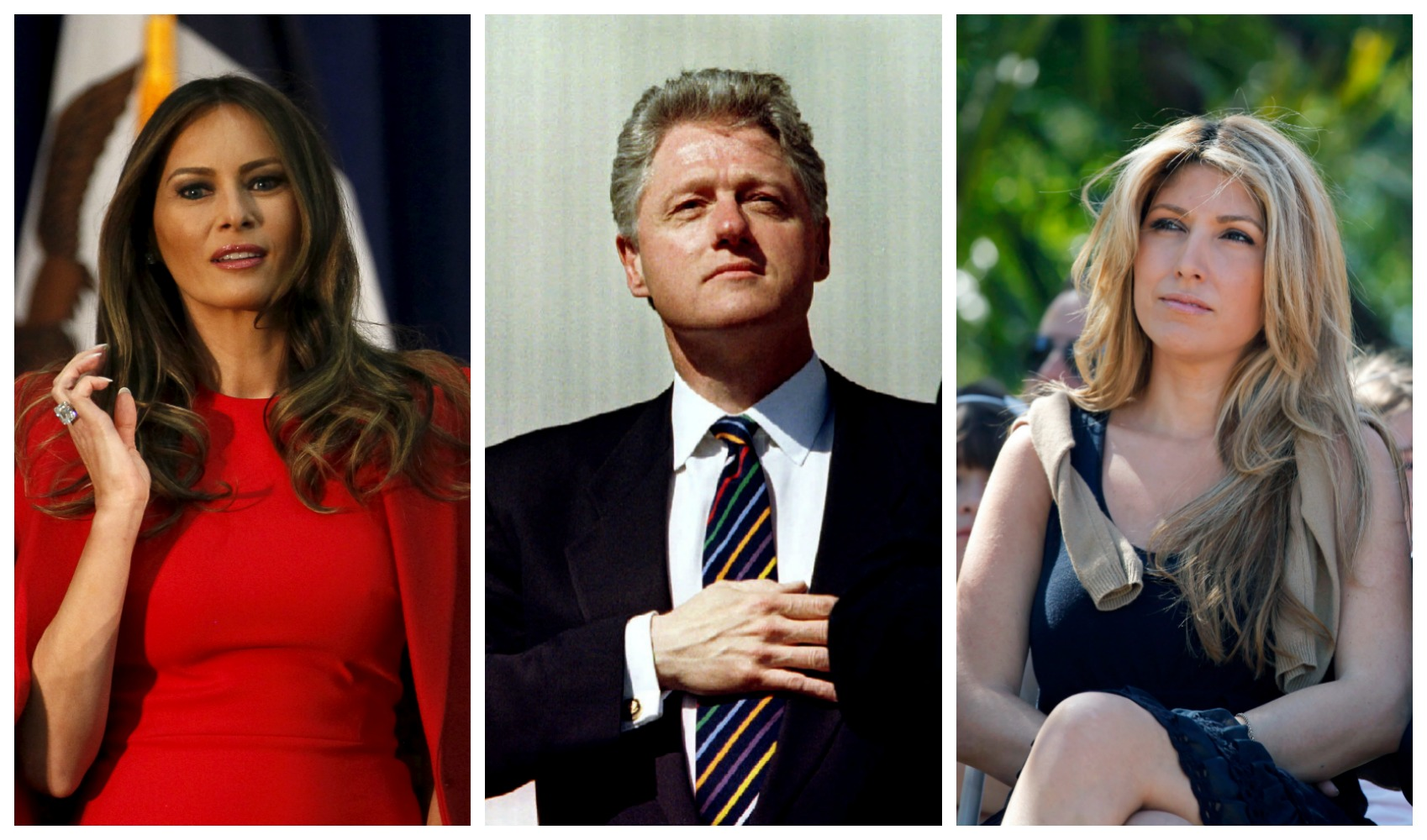 Many of the six presidential spouses remain out of the spotlight while on the campaign, often merely appearing onstage after a win to wave or shake hands with supporters and sometimes giving interviews to the media. (Bill Clinton is a big exception, of course.)
Who are these potential first ladies—or first gentleman—of the United States? They've had interesting lives: a model, an investment banker, a former NFL cheerleader, a stay-at-home mom, an educator and, of course, a former president of the U.S. Some are second marriages. One is a third marriage. (You can guess who that is.) All are supporting their spouse's aspiration to lead the country, but many have been reluctant and not shy about sharing their hesitancy about all that goes with a run for the highest office in the land.
Melania (Knauss) Trump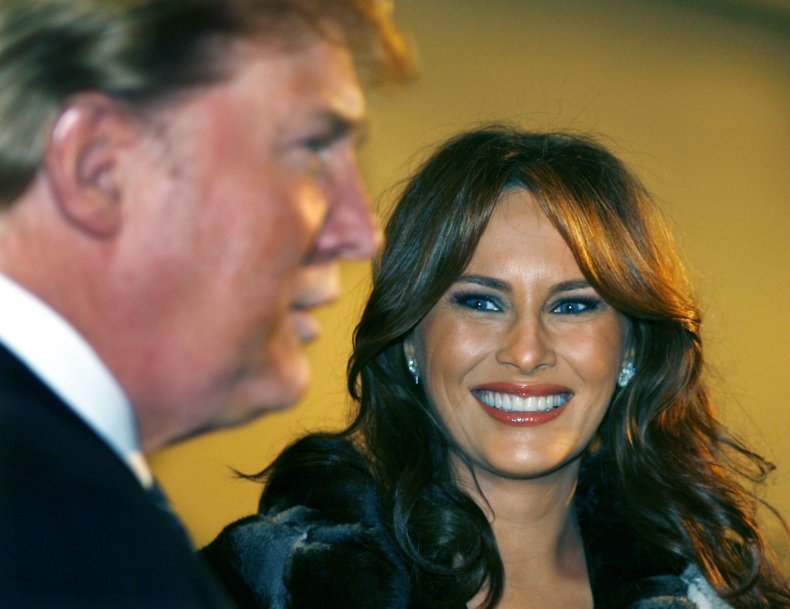 It may seem ironic that GOP front-runner Donald Trump, known for wanting a temporary ban on Muslims entering the country and for building a wall with Mexico to thwart illegal immigration, is married to an immigrant. Melania Knauss Trump was born and grew up in the small Central European country of Slovenia, with its variable landscape that includes the Alps and Mediterranean. There, she earned her degree in design and architecture, and she speaks four languages—English, French, German and Italian.
At 16, she began modeling, according to her website. Her career began to flourish, and after college she traveled to Milan and Paris for photo shoots. It wasn't until 1996 that she first arrived in the U.S.
The 45-year-old immigrant now lives in New York City. Her career highlights include posing naked on a fur carpet for the cover of the British GQ magazine, starring in an Aflac insurance commercial and co-hosting ABC's The View with Barbara Walters. As a businesswoman, she has launched her own jewelry and skin care collections.
"I like to help women to spend not a lot of money, be powerful, to feel elegant, glamorous, to feel good about themselves," she said in 2011.
Donald and Melania married in January 2005 at his Florida estate, Mar-a-Lago. They were introduced at a party in 1998—to which he brought a date—a year after he had split from his second wife, People magazine reported. When Morning Joe's Mika Brzezinski asked Melania what she first noticed and loved about the businessman, she said his "amazing mind." She added that he is "very smart, very charming" and has "great energy."
"We have a great relationship. We are [our] own people," she told MSNBC's Brzezinski during an interview in February. "I don't want to change him, he doesn't want to change me."
Melania is Trump's third wife and mother to their 9-year-old son, Barron. The 69-year-old businessman has four adult children—two daughters and two sons.
She describes herself as a "full-time mom," a role she says she loves. "I decided not to be in the campaign so much, but I support my husband 100 percent," she told MSNBC.
If she ultimately lives at 1600 Pennsylvania Avenue, she will be only the second first lady born outside of U.S. borders. (Louisa Adams, wife of sixth President John Quincy Adams, was born in London.)
Melania said she believes her husband just wants to keep the country safe. As for her husband's comments about immigrants, she told MSNBC, "I don't feel he insulted the Mexicans. He said 'illegal' immigrants. He didn't talk about everybody. He opened conversation that nobody did."
Asked whether she thinks her husband ever goes "too far," she said, "I follow the law the way it's supposed to be. I never thought to stay here without papers." She defended his proposed ban on Muslims as temporary and "not for all the Muslims." (In reality, though, her husband has called for a "total and complete shutdown" of Muslims entering the country.)
She added that some of Americans' negative attitudes toward her husband are "normal." "We are prepared for that. We have thick skin. We know that people will judge him and people will call [him] names, and they don't give him enough credit," she said, adding that she is in tune with the news "from A to Z."
"Do I agree all the time, with him? No, I don't. And I tell him that," she told MSNBC, adding that she calls him several times a day to offer her opinions.
Even with his spat last August with Fox News anchor Megyn Kelly at the first GOP debate, she said her husband treats men and women equally.
Donald Trump explored several presidential bids before he officially declared last year. Previously, she explained her role if she lived in the White House, as reported in 1999 by The New York Times.
"I would be very traditional, like Betty Ford or Jackie Kennedy," she said. "I would support him."
Heidi (Nelson) Cruz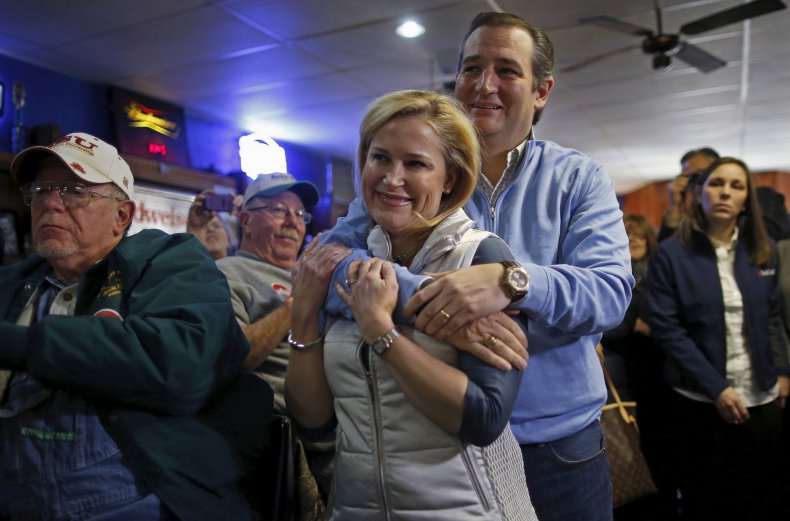 The Harvard-educated wife of Republican Texas Senator Ted Cruz has campaigned vigorously, sometimes flying solo, for her husband. She often leads her own rallies to tout her husband's views and meets one on one with supporters. She is on a leave of absence from her job for the duration of his presidential campaign. But if she doesn't become first lady, she likely will return to her position as a managing director at Goldman Sachs in Houston, where she is in charge of the wealth management unit.
For now, she leads her husband's fundraising operation.
"I wouldn't have given up my job and the time with my girls if I did not really believe in my heart that Ted Cruz would win this election," she said at a recent campaign stop, according to The Washington Post.
Prior to her Goldman Sachs job, she worked on George W. Bush's 2000 presidential campaign, specifically on his economic policy. There she met her future husband, who at the time was working as a domestic policy aide on the campaign. During the Bush administration, Heidi worked for the U.S. trade representative's office, the Department of the Treasury and on the staff of National Security Council. In those roles, she was known more as an analytical thinker than as a partisan activist, according to The New York Times.
In 2004, she left Washington and joined her husband in Texas, where he wanted to pursue an elected position in Houston. Her transition has reportedly been challenging. A heavily redacted police report first obtained by BuzzFeed explains how, in 2005, a police officer responded to a call about a woman with her head in her hands sitting just feet from an expressway. The woman reportedly identified herself as Heidi Cruz. She hasn't elaborated much on the incident, but told the Times earlier this year that "we all have rough patches."
While in Texas, she joined Goldman Sachs. "I think it works really well for our family for us both to have careers, and I know what my commitments are to Goldman," she told the Times in 2013.
In addition to two business degrees, she has an undergraduate degree from California's Claremont McKenna College, where she majored in economics and international relations, and was active with the College Republicans organization.
Ted, 45, and Heidi, 43, married in May 2001 and have two young daughters, Caroline and Catherine. The whole family has appeared in at least one campaign ad, titled "Ted Cruz's Christmas Classics," in which the senator reads politically related holiday stories to his daughters, alongside Heidi.
From previous interviews, we know the senator bought Heidi a Smith & Wesson .357 Magnum revolver to keep at her bedside table for when he travels and she is alone at home with their children.
When he announced he was running for president last March—the first candidate to do so—Cruz spoke highly of his wife's upbringing—how she was born in California, the daughter of missionaries, and lived in the African countries of Kenya and Nigeria. When her family, publicly known to be Seventh-day Adventists, returned to the U.S., she ran a small business baking and selling bread at a local stand to compete with her brother. He called his wife his "very best friend in the world."
When the Times asked her in 2013 if she could see herself as first lady, she replied, "Um, I don't think I should answer that."
Jeanette (Dousdebes) Rubio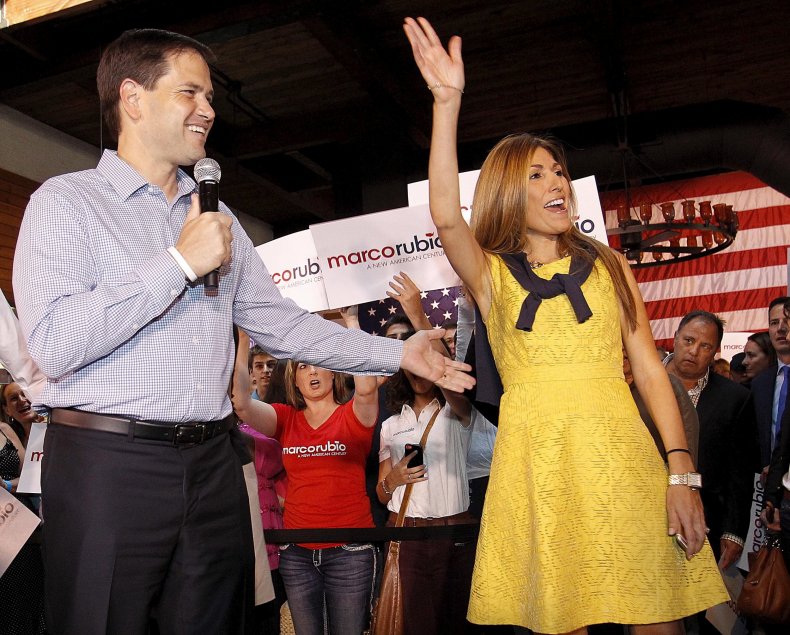 Jeanette Rubio never thought her husband, 44-year-old Republican Senator Marco Rubio of Florida, would run for president one day.
"It's one of those things that people talk about when they're young and they say, 'I would like to do this' or 'I wish I could do that.' But I never thought that it would come to this," she told ABC News.
Marco and Jeanette dated on and off for seven years before they were engaged at the top of the Empire State Building, similar to a scene in one of her favorite movies, Sleepless in Seattle. They were married in 1998. "He definitely charmed me with his humor," she told ABC.
Jeanette was born and grew up in Miami to Colombian parents. She graduated from South Miami High School and attended Miami Dade College. For a year in the '90s, she was an NFL Miami Dolphins cheerleader. Later, she worked as a bank teller.
The Rubios have four school-age children, Amanda, Daniella, Anthony and Dominick. After she was pregnant with their first child, she left Miami International University of Art & Design without a degree. During interviews with the media, she has admitted that she relates to single mothers, mostly raising their children alone on weekdays.
The 42-year-old stay-at-home mom told CBS News she's "not a political person." She is religious and attends a weekly Bible study at her church, according to her husband's campaign website. "I'm used to it, but it's not easy. You know, it's not easy when I have to do things with the kids: activities, homework," she said. "It's like being a single mom."
Except for Election Day and big announcements, Jeanette rarely is seen on the campaign trail. Often described as soft-spoken and shy, she avoids the Washington scene. A conservative blogger once called her the "antithesis of Marco." Her husband wrote that his political career "deprived" her of "the settled, predictable family life she longed for," in the wake of her experiences stemming from her parents' divorce when she was 6.
She works part time for the Braman Family Charitable Foundation, in South Florida, which is financed by Norman Braman, the former owner of the NFL's Philadelphia Eagles.
In a 2015 New York Times article, friends described Jeanette as "grounding" and "disciplined," and someone who arguably moved her husband into adulthood, often reminding him of the need for and importance of family time. Just this month, the presidential candidate said he regretted insulting front-runner Trump, such as commenting about his small hands, a statement he admitted his wife didn't appreciate.
Jeanette's bad driving habits have been noted in the media. As of 2015, she had been cited for 13 traffic violations, according to the Times.
Karen (Waldbillig) Kasich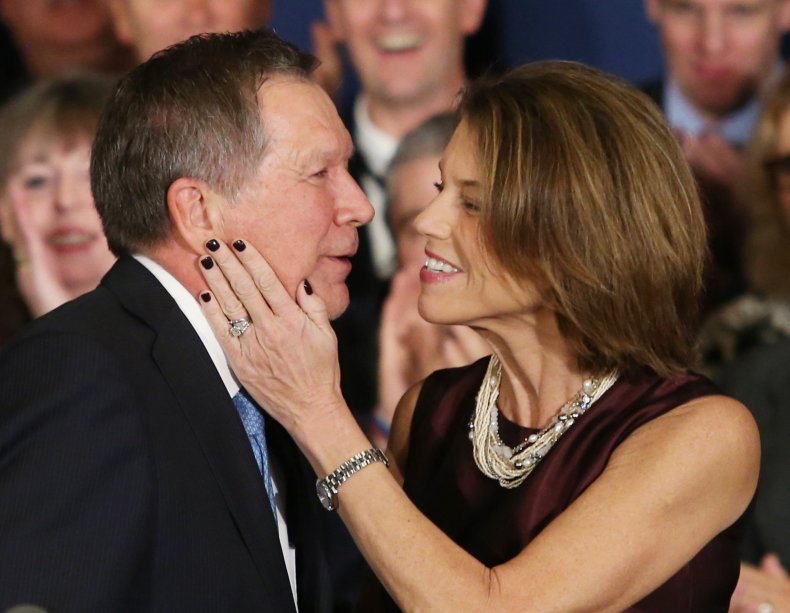 Karen Kasich, 52, became the first lady of her home state of Ohio in 2011, when her husband, John, 63, was sworn in as governor. Admirably fit, she is known for her passion and commitment to health and fitness, especially running, swimming and weightlifting. "If I can shine a light on anything as first lady in Ohio, health would be what I'd focus on," she said in early 2011, according to Cleveland.com. "I've seen the effect of wellness on people's lives, so I'm pretty passionate about it."
Karen was born and raised in Upper Arlington, Ohio. She received a bachelor's degree in communications from Ohio State University. For nearly 20 years, she worked in public relations, health care and marketing.
Karen met John, who at the time was a congressman, through a work project. Her mother advised her to buy a copy of Newsweek to prepare for the first date, which eventually led to an eight-year courtship, according to The Columbus Dispatch.
"She said, 'Oh my goodness, you don't know a thing about current affairs, you need to go get Newsweek magazine right away. What will you talk to him about?' And to the day she died, my mother sent me Newsweek magazine every Christmas," Karen said during a recent interview with ABC.
As she says, the conversation must have "gone fine"; they were married in 1997. John, who was divorced, described his new wife as his "anchor" and his "light."
Karen rose to vice president at what is now GSW Worldwide, a health care advertising agency. But she left the role shortly after the birth of their twin daughters, Emma and Reese, who now are teenagers.
"I felt I was half as good as I was at work and half as good as I could be at home," she told the Dispatch. "I wanted the focus to be on my kids; I'm only going to have them for a short while."
From assisting with an after-school program to coaching their soccer team, Karen has played an active role in her daughters' lives.
As Ohio's first lady, she has worked to raise awareness for women's heart health and children's wellness. A history of heart disease runs in her family; both of her parents died from heart complications.
But for the most part, she tries to shield her daughters from the hyper-focused spotlight of her husband's career. He left Congress in 2001 and almost a decade later decided to re-enter politics, running for governor of Ohio in 2010. He was re-elected in 2014. "He tells everybody I told him he'd be sleeping outside; I didn't go quite that far," she told the Dispatch. "I can't stop him."
In 1999, he sought the Republican nomination for president but dropped out after only a few months. When he decided he wanted to throw his hat into the ring for the 2016 race, she said she responded by saying, "Oh boy, here we go again."
But in a recent episode of The Circus on Showtime, she said she enjoys going out into communities and meeting with residents. "It's fun for me because I come on and off the trail.... I don't do this day in and day out," she said.
A motto she applies to both running and life is "You don't have to go fast, you just have to go."
Bill Clinton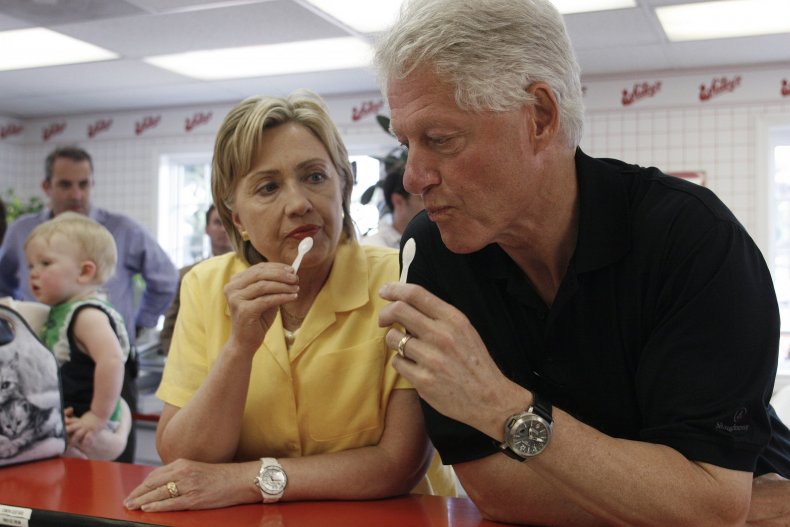 A win for Hillary Clinton would mean a role reversal for the Democratic couple—and two firsts for the White House. From 1993 until 2001, he was the country's 42nd president and she the first lady. Another Clinton victory would make Hillary the first woman president and Bill the first "first gentleman" in U.S. history.
Months before William Jefferson Blythe III was born in Hope, Arkansas, his father died in a car crash. His mother left him in the care of his grandparents after she moved to New Orleans to finish nursing school. Upon her return, the family moved to Hot Springs, Arkansas, and she married Roger Clinton. Bill eventually adopted "Clinton" as his last name.
He attended Hot Springs High School and later graduated from Georgetown University in Washington, D.C. He won a Rhodes scholarship to study for two years at Oxford University and consequently avoided the Vietnam War draft.
Clinton, 69, met Hillary Rodham, 68, at Yale Law School. They both graduated in 1973 and married two years later, in October 1975. Their only daughter, Chelsea, now 36, was born five years later.
His political career includes stints as both the attorney general and governor of Arkansas. He is one of only two presidents to be impeached, for his dalliance with former White House intern Monica Lewinsky, but he was not convicted.
Clinton, known as "the Comeback Kid" when he first ran for president, is considered by most to be an asset to his wife's presidential bid. He made his first solo appearance on the campaign trail in the early-primary state of New Hampshire a month before the crucial vote on February 9.
"Every presidential election, people run, and, believe it or not—this is kind of scary this year—but believe it or not, most everybody actually tries to do what they say they're going to do when they're running. They're telling you what they believe, so you gotta take them seriously," he said while stumping for his wife in January.
Trump has called Clinton's affair "fair game" during this year's race. Until just recently, the former president's sexual history had remained outside of any mention during the campaigning.
It remains to be seen whether Clinton will stay in the background or advise his wife, 68, on policy, should she win the November 8 general election. If she becomes the first woman president, Clinton says, she probably would repeat some of the duties she held as first lady, including picking the flowers and china for state dinners. During a Democratic debate last December, she said she would "turn to [her husband] as prior presidents have" for special missions and advice, especially on how to reinvigorate the economy.
Jane (O'Meara) Sanders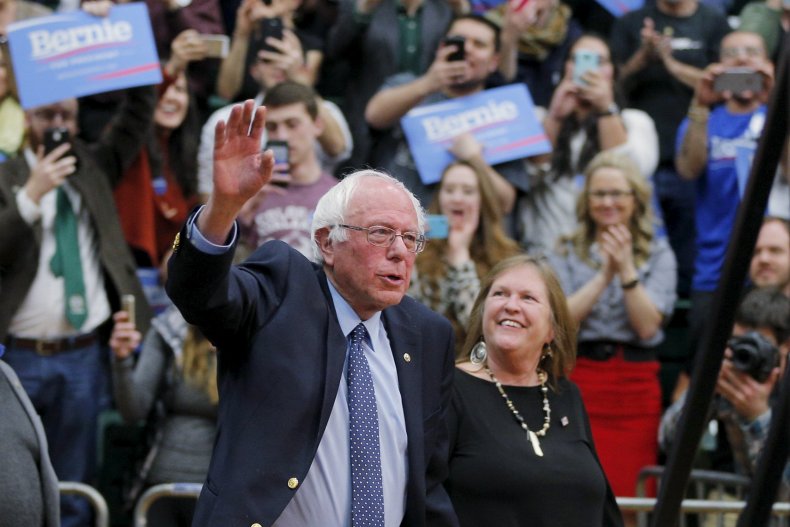 The pickup line Democratic presidential candidate Bernie Sanders used on his future wife was: "Have you had dinner?"
Speaking recently to WGN Radio in Chicago, Jane Sanders said sharing a meal was the only way for them to spend time together. Their first sightings of each other happened in Vermont, during one of his mayoral debates and his victory party in 1981. "He and I met eyes a number of times during that debate.... He impressed me—with his ideas as well," she said.
Jane grew up in Brooklyn—just 15 blocks from where her future husband was raised—in a traditional Irish-Catholic childhood. But the two didn't know each other when they lived in the New York borough.
As a teenager, she earned a scholarship to an all-girls Catholic high school. Then, as she told Bloomberg last May, she went to the University of Tennessee, Knoxville, for a year and a half, got married and had three children. Her family moved to Brooklyn, where she worked as a bank teller and cashier at a supermarket while raising her kids.
She separated from her husband in the late 1970s, according to The Burlington Free Press. She returned to school, at Goddard College in Plainfield, Vermont. There, she received a degree in social work and later worked as a community organizer in Burlington. Her alma mater asked her to return to lead the college, and she became provost and interim president. At the time, she said, "This job is mine. This is good for me. This is Jane," according to the 1996 Free Press article.
At 50, she received a doctorate degree in leadership and policy studies from the Union Institute and University in Cincinnati.
Before marrying Bernie, she was a senior partner at a consulting company in Burlington and a political strategist. Besides the presidency of Burlington College, her résumé includes developing programs and nonprofits for children and families. Now she is her husband's close political adviser. She is nine years younger than the senator, 74.
Bernie and Jane were together for seven years before their wedding in May 1988. After the ceremony, they marched in a parade and "honeymooned" in the Soviet Union. Both were married previously. He brought a son, and she three children, from their former relationships. They don't have children together but have seven grandchildren.
When her husband entered Congress in 1990, she eventually followed him to Washington D.C. "This was extremely hard. I stepped into a completely different world in Washington, where people wear Chanel suits. I fit in better with the congressmen than their spouses," she told the Free Press. She became her husband's chief of staff.
Years later, when he shared his decision with her to run for the Democratic presidential nomination in the 2016 race, she thought, Oh no, she told WGN Radio with a chuckle. She said she ultimately was persuaded when Americans encouraged him to run and the media started paying attention to his views on significant issues.
In the Bloomberg interview, she said she is a fan of the New York Mets, actively protested against the Vietnam War and attended Woodstock in 1969. "That was fun," she said with a smile. "It was raining all the time, so everything turned into mud. It was fantastic doing mudslides."
Speaking of her husband, she told The Huffington Post, "I'm much more social than he is. He's much more cerebral." She added, "He thinks things through, I feel things through."
She went on, "It's a common occurrence on the campaign: 'OK, where's Jane?' 'She's still back there talking to somebody.'"
As her husband's campaign gained momentum, she became more and more visible on the trail, only recently showing up at rallies without him. "We're best friends, colleagues, husband and wife, and we really like to spend time together and enjoy new experiences," she told The Washington Post. "This is certainly a new experience."
Since publication, Rubio has dropped out of the presidential race.