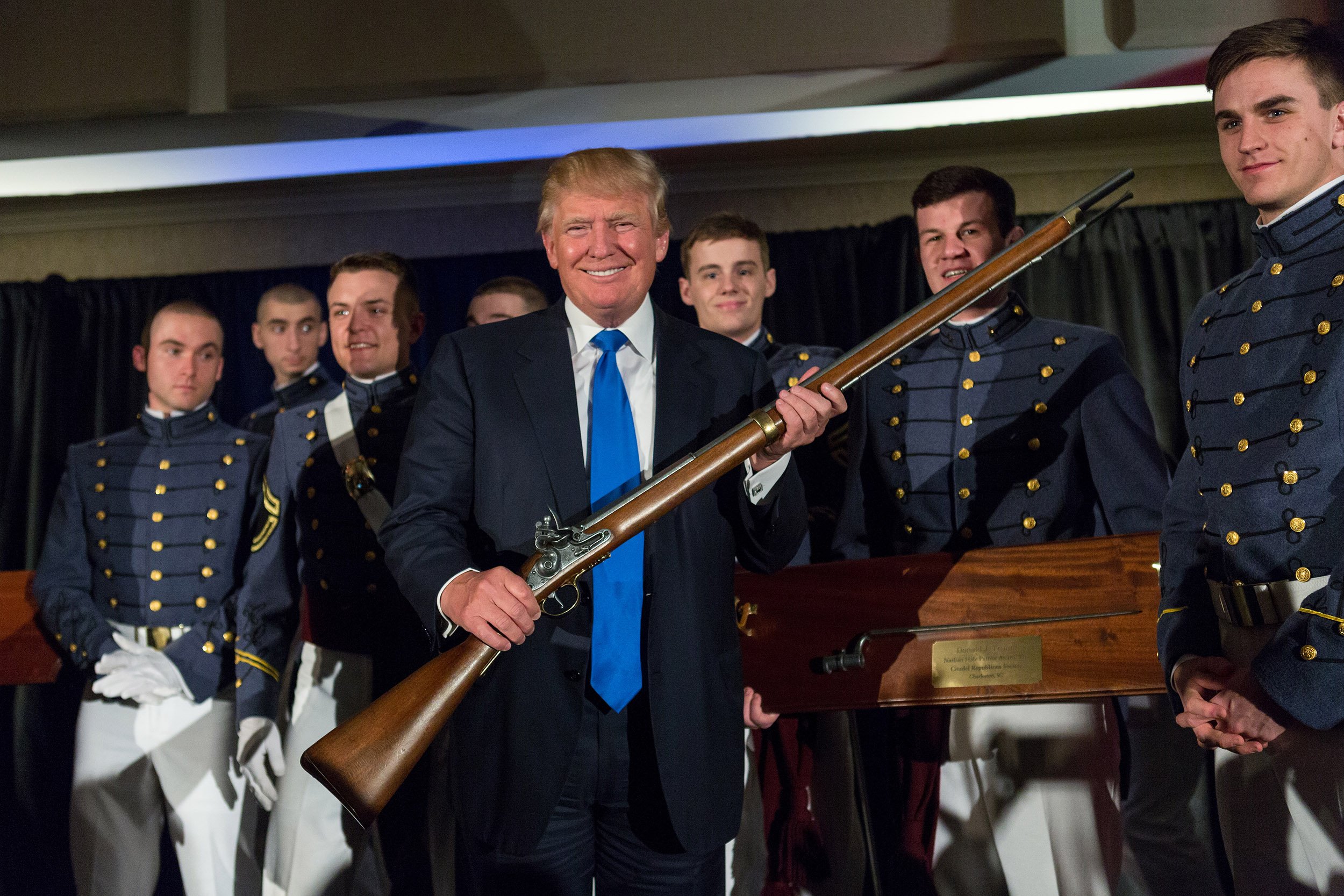 It's no surprise that the five remaining Republican candidates vow to overturn President Obama's recent executive actions on gun control and tout their love of the Second Amendment. But which of them is really the best shot?
Short of having them compete in competition, it's a pretty good bet that the mild-mannered Ben Carson might be the best since he actually had some military training in the ROTC, while the rest are amateur shooters. Of course, gun-control advocates often take up arms, too. Bill Clinton, John Kerry and others have gone on hunting trips, all the better to show that their beef is not with hunting, but with the easy accessibility of handguns and semi-automatic weapons.
None of the current GOP candidates grew up in a rural environment where hunting was a part of daily life, although John Kasich's upbringing in western Pennsylvania is closer to that than Rubio's Miami or Trump's Queens. So here's what we know about the would-be commanders-in-chief.
Donald Trump
Trump boasted in January that he "could stand in the middle of
Fifth Avenue and shoot somebody and I wouldn't lose voters." No one took him literally.
But in several interviews, Trump has told reporters he owns "a gun" and has a concealed-carry permit, which he brags is difficult to obtain in New York. At the October 28 GOP debate, the real estate billionaire said he carries a gun in New York "sometimes a lot." He continued: "I like to be unpredictable, so people don't know if I'm carrying."
In an interview last month with Field & Stream, Trump said he has hunted, but now doesn't "devote very much time to it because I'm so busy with everything." If he is elected, he said he would "love" to hunt with his two adult sons who have been shooting game since they were five years old.
He also repeatedly touts his scions, Donald Jr. and Eric, as lifetime members of the National Rifle Association (NRA). They "know more about rifles...more about shooting, they know more about hunting," he said at the 2015 NRA Annual Meeting. In his victory speech following his Nevada win last week, Trump said both of his sons are "serious NRA," and that Donald Jr. "loves the rifle stuff."
"We love the Second Amendment, folks. Nobody loves it more than us, so just remember that," Trump said to cheers and applause from his supporters who were gathered at the Treasure Island Hotel and Casino on the Las Vegas Strip.
Last summer, photos from a 2011 hunting trip to Africa resurfaced of Donald Jr. and Eric posing with big-game wild animals, including a cheetah, elephant and buffalo. In 2012, TMZ quoted the presidential candidate Trump saying he wasn't a "believer in hunting" and that he was "surprised they like it."
That same year, Donald Jr. told Forbes: "Hunting forces a person to endure, to master themselves, even to truly get to know the wild environment. Actually, along the way, hunting and fishing [sic] makesyou fall in love with the natural world." Before the Iowa caucuses on February 1, Donald Jr. participated in Governor Terry Branstad's annual deer hunt. He told an Iowa radio host and reporter he is a "big-time shooter" who shoots every weekend.
In a November 2015 interview with Deer & Deer Hunting, Donald Jr. revealed that he has never been able to convince his father to wear camouflage. But commenting on his own possessions, he said, "Someone's going to get a great gun collection one day."
He added: "Hunting and fishing has [sic] kept me out of trouble."
The 69-year-old Trump says he's a proud member of the NRA. He has called on the government to expand gun rights for law-abiding citizens and has argued many times that arming civilians could stop mass shootings, a notion also pushed by the NRA and other pro-gun activists. He called gun-free zones a "catastrophe" and "feeding frenzy for sick people."
But Trump wasn't always such a strong supporter of gun ownership. Before he was a candidate, Trump called out Republicans who "walk the NRA line" and refuse even limited restrictions on gun laws, in his 2000 book, The America We Deserve. He also wrote that he supported the ban on assault weapons and a longer waiting period to purchase a gun. At the time, he was considering a bid for the presidency, but never declared his intent to run.
Fifteen years later in April 2015, two months before he joined the presidential race, Trump told those gathered at the NRA Annual Meeting: "I love the NRA. I love the Second Amendment." Often, he shifts the conversation about gun control to mental health, which he says in his published position paper is an issue politicians have ignored for too long.
Marco Rubio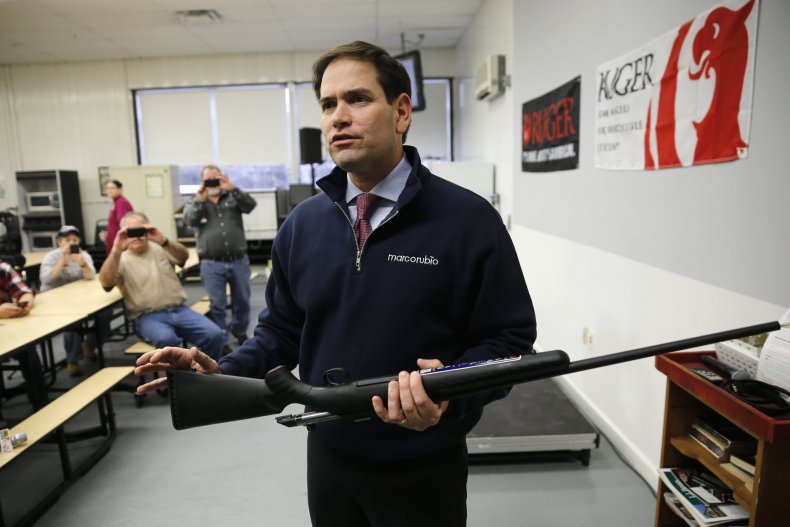 The freshman senator bought his first gun—a Taurus .357 revolver—in February 2010 specifically to defend his family, as reported by the Tampa Bay Times. In 2009, he started training for his concealed weapons permit. The timing corresponded with the U.S. Senate election in Florida, which he won in November 2010. He told The Washington Times in 2014 that he trained with his wife at the shooting range two or three times a year.
Then, on Christmas Eve in 2015, he bought what he inferred is his second gun. "I was previously a firearm holder, as well. This was an additional one," he told CBS News about the purchase.
He added: "I'm a strong supporter of the Second Amendment. I have a right to protect my family if someone were to come after us." He specifically mentioned he would use the weapon to protect his wife and kids from the Islamic State militant group, better known as ISIS.
Earlier this year, Rubio focused on praising the Second Amendment and condemning Obama's executive actions specifically during campaign stops in the early voting and rural state of New Hampshire. He speaks out about the amendment as a right instead of a privilege or suggestion, even displaying the slogan as a T-shirt sold by his campaign.
The 44-year-old senator toured and held a rally in January at Sturm, Ruger & Co., a gun manufacturing company in Newport, New Hampshire. There, he held a rifle and told the crowd that he and his wife are owners of handguns, not rifles, according to The New York Times. Employees reportedly gave a rifle to the candidate, who said the firearm would be a "nice addition" to his home.
But Rubio has been criticized for not remaining true to conservative qualities. The NRA, for example, gave him a B+ rating in 2010, which since has increased to an A. The scores are based on how politicians vote, as well as on their actions and behaviors related to firearms legislation.
In his role as speaker of the Florida House, trouble arose with a bill allowing employees to leave a firearm in their car while they went into the workplace. In a battle between the gun industry and businesses, the measure was defeated in 2007, tainting the image of Republicans in the eyes of the NRA. But it passed the next year. After Rubio left office, Marion Hammer, then the NRA's Florida lobbyist and a former president, called him "a big disappointment," who "talked the talk," but "didn't walk the walk."
The purchase of his gun in 2010 and his permit training seemed to be an effort to reform his image among pro-gun Americans. Later, he spoke at both the 2014 and 2015 NRA Annual Meetings. He has described the right to own a gun as part of the American Dream.
"Passing along a family tradition of hunting and shooting is not something that we should have to ask our leaders for permission to do. It is fundamental to achieving happiness in America," he said in 2014.
In his speech the next year, he criticized Obama for trying to change the guarantees under the U.S. Constitution: "The president has no authority to tell a father he cannot own a gun to defend his family and property. The president has no authority to tell a young woman she is better off without the protection of a firearm."
Ted Cruz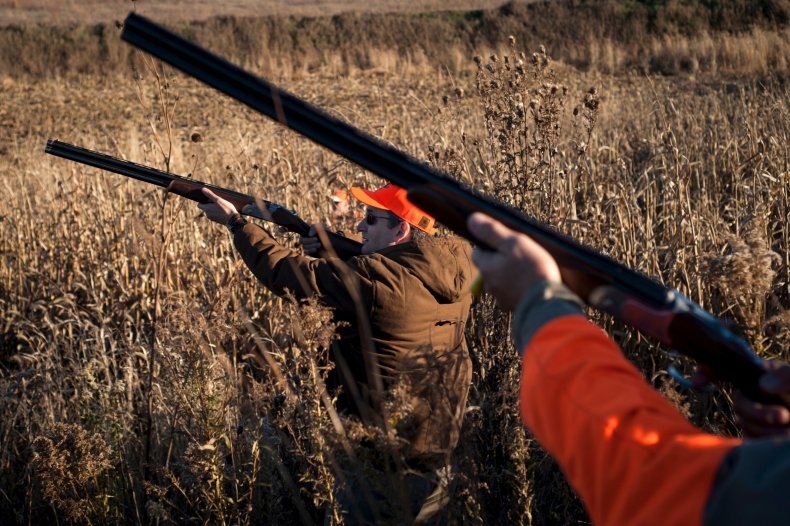 The 45-year-old junior Texas senator is an outspoken proponent of the Second Amendment. He opened his speech at the 2015 NRA Annual Meeting with: "God bless the NRA."
Cruz owns a 12-gauge Beretta Silver Pigeon shotgun for bird hunting, according to the Huffington Post. He reportedly purchased his first hunting license in 2006. And he has recounted how in 2003 he bought his wife a Smith & Wesson .357 Magnum revolver to keep in her bedside table for when she is alone at their Texas home when he travels. It is known that he often goes to shooting ranges, which he has visited several times on the campaign trail.
He has earned an A+ rating from the gun lobby amid his time serving in the Senate since 2013. He has been filmed firing shots from a rifle. "Of course in Texas, we cook bacon a little differently than most folks," he says in a campaign video posted last August by the Independent Journal, a conservative website. The video shows him firing off several shots at a target from a bacon-wrapped rifle. "Let's see if we got some bacon," he says. "Mmm, machine-gun bacon." (He later was criticized for calling the weapon a machine gun, which actually was reported to be an AR-15 semiautomatic rifle.)
In another ad, he wears camouflaged overalls and goes duck hunting with Louisiana's Phil Robertson, the controversial star of the TV reality series Duck Dynasty. Last fall, Cruz was captured in a series of photos hunting pheasants with a shotgun alongside Iowa's Representative Steve King. The shotgun was similar to the one he has said he has at home.
As solicitor general of Texas, he led a coalition of 31 states before the U.S. Supreme Court defending the Second Amendment's right to bear and keep arms.
"In Texas, there's a right answer. 'I support the Second Amendment,'" he said at the 2015 NRA Annual Meeting. "Unless you are clinically insane, even if you're a Democrat, that's the right answer in Texas."
John Kasich
The Ohio governor's presidential campaign website confirms he "is a gun owner himself" and "a strong supporter of the right to bear arms." But he doesn't seem as eager as his competitors to be photographed holding firearms for all to see.
Kasich, 63, has held public office since he was elected to the state Senate in 1978. His stance on guns has been mixed and has changed during that time. He voted for the 1994 federal ban on assault weapons that became law, for example, a move that earned him a failing grade from the NRA and later put him to the left of a Democrat in the 2010 gubernatorial race.
But during his time as governor, he has worked to earn a positive view from the NRA, changing his stance on the assault weapons ban and signing a bill to allow concealed handguns in bars and restaurants and other measures that expand certain gun rights. The NRA endorsed him for governor in 2014, and his rating jumped to an A.
Ben Carson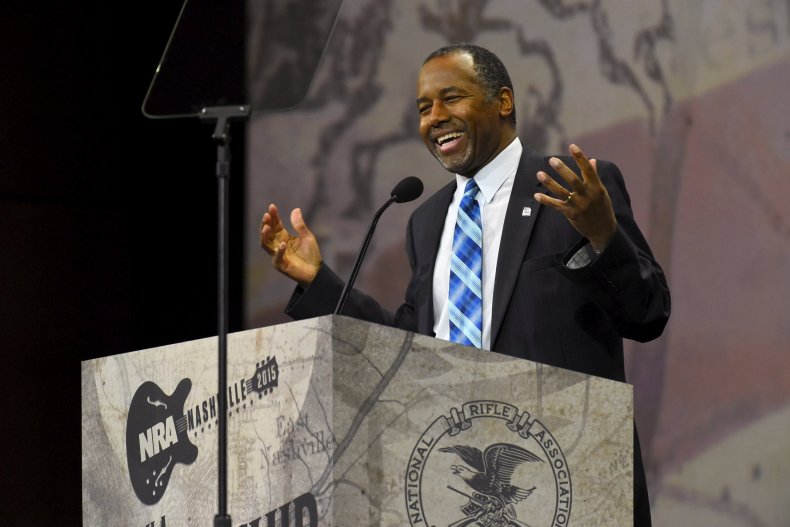 The 64-year-old retired neurosurgeon has said he owns a gun specifically for self-defense.
"I see [my gun] as a protection, absolutely. One of my homes is way out in the country, away from the police, away from anybody," he told USA Today last November. "If someone is threatening your life or the life of your family and you don't have ready access to the police, I would prefer to have a mechanism for protecting myself."
And he has been quoted using the typical pro-gun response that "people do have the right to have weapons" and guns are needed for defense against a possibly unruly government.
But he once supported a ban on military-style assault weapons. In 2013, he told conservative radio host Glenn Beck that residents in large cities shouldn't own semi-automatic weapons. "I think if you live in the midst of a lot of people, and I'm afraid that that semi-automatic weapon is going to fall into the hands of a crazy person, I would rather you not have it."
He added: "If you live out in the country somewhere by yourself, I have no problem."
In his 2015 book, A More Perfect Union, he explains why he changed his opinion on the issue once he read more about the history of tyranny around the world.
In the interview with USA Today, he also said: "When you look at tyranny and how it occurs, the pattern is so consistent, get rid of the guns for the people first, so you can go in and dominate them. That is not what we need to be doing."
While speaking at the 2015 NRA Annual Meeting, Carson said it wasn't so much that his position evolved, but rather that he learned how to express himself clearly.
He continued: "When I was a youngster, I was always excited to see guns." As he got older, he said he saw people lying on the ground with bullet holes, including two of his older cousins who died, and later in life operating on people with gunshot wounds as a neurosurgeon.
"All of that is horrible," he said. "But I can tell you something: It is not nearly as horrible as having a population that is defenseless against a group of tyrants who have arms."
During a February 17 town hall with CNN, Carson suggested the government should offer free classes in gun safety to every citizen.
"I don't know that I felt the need to have a gun, but I like having a gun. It's a nice thing," Carson said. "I have multiple marksmanship awards from ROTC, and I am very much in favor of preserving those rights."
Carson since has dropped out of the presidential race.