Obama: Executive Actions 'Not a Plot to Take Away' Guns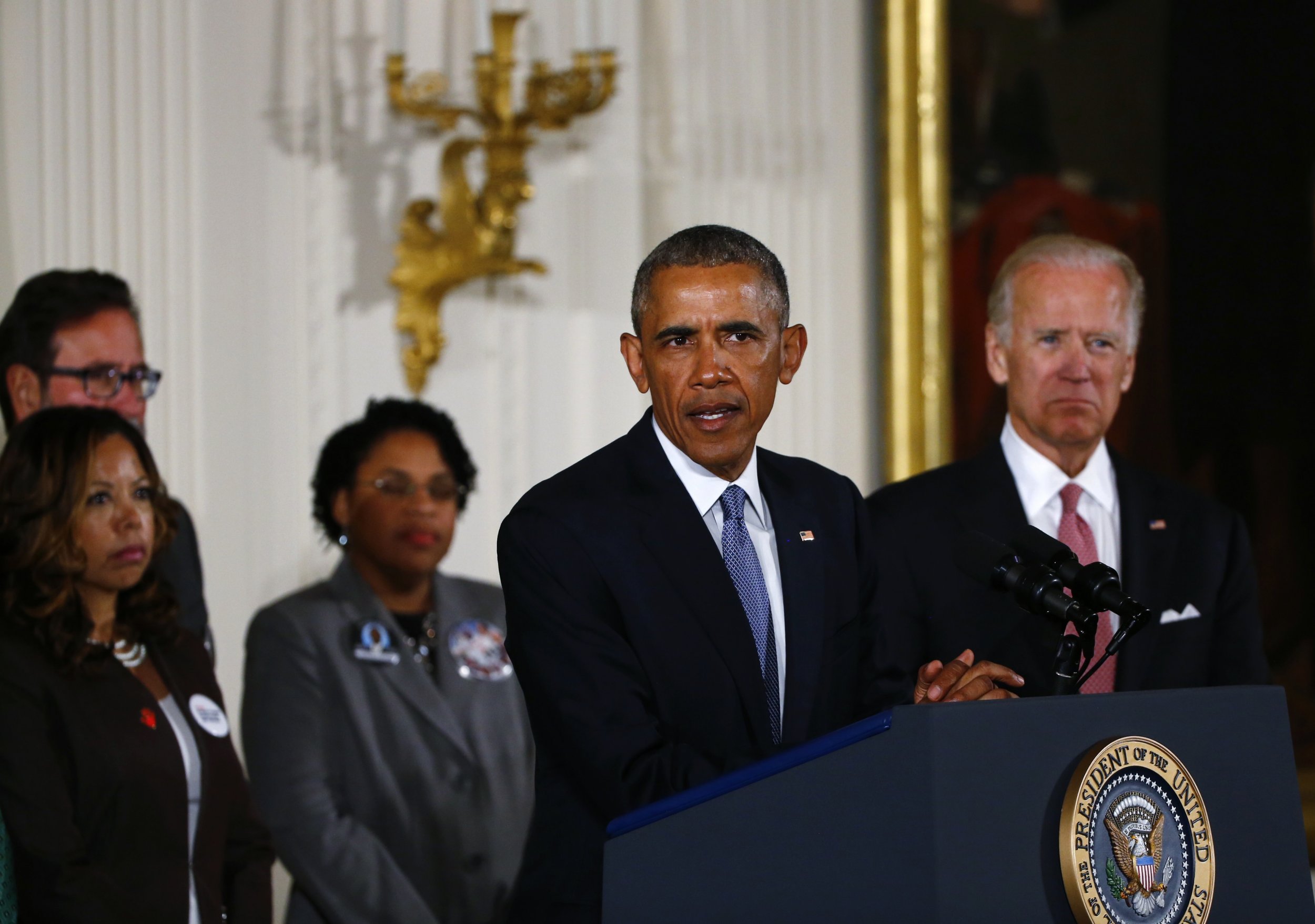 Updated | Surrounded by families of gun violence victims and wiping away tears in an emotional plea, President Barack Obama on Tuesday issued executive orders on gun sales that he said were consistent with the right to bear arms and would reduce violence, although critics denounced his moves as a usurpation of congressional authority.
"There is a ritual about this whole thing that I have to do. I believe in the Second Amendment. It's there written on the paper," he said to supporters at the White House, including those injured in shooting sprees. "No matter how many times people try to twist my words around—I taught constitutional law. I know a little about this. I get it."
His remarks came as he unveiled executive actions on gun control. Legislative efforts at gun control have failed during the president's seven years in office, and the unilateral measures were aimed at breaking the gridlock, although the White House has continued to encourage passage of laws that could not be easily overturned by the next president. Obama, who entered the White House East Room to a standing ovation, called on Congress to enact laws despite one of the country's "most polarized, partisan debates."
The president issued more than 20 executive actions to expand the background checks system. The main part of his plan, released by the White House on Monday afternoon, is to narrow the definition of which gun sellers must apply for a federal dealer's license and thus conduct background checks. The action won't go so far as to implement universal background checks. But quantity and frequency of sales will be "relevant indicators," according to the plan.
"This is not a plot to take away everybody's guns. You pass a background check; you purchase a firearm," Obama said.
The Obama administration also is working to implement new requirements for reporting guns lost or stolen in transit, and for removing patient privacy limits to allow doctors to submit more mental health records to the federal background check registry without legal repercussions.
The White House also hopes to explore new gun safety technology and hire more than 230 FBI agents to process background checks.
Toward the end of his speech, Obama visibly cried, pausing several times to wipe away tears from his cheeks as he spoke about how other Americans' rights, such as those of the pursuit of happiness and of peaceful assembly, are taken away in mass shootings. He called on voters to demand safer gun laws and remember the leaders who have stood in the way of gun reform when election time comes.
Americans understand there are some constraints on their freedoms that are designed to protect innocent people, he added. He cited the acceptance of not yelling "Fire!" in a crowded theater as a constraint on the First Amendment's right to free speech. "If a child can't open a bottle of aspirin, we should make sure that they can't pull a trigger on a gun," he added.
He listed a string of recent high-profile mass shootings—Fort Hood, Aurora, Oak Creek, Newtown, Santa Barbara, Charleston, San Bernardino—and said "too many," with echoes of the phrase from the crowd.
"The reason Congress blocks laws is because they want to win elections," Obama said. "If you make it hard for them to win an election if they block those laws, they'll change course, I promise you."
Thirteen victims' family members stood behind Obama as he spoke. Vice President Joe Biden stood at his side. As he has done in the past, Obama appeared frustrated when he said Americans have become "numb" to the amount of mass violence that occurs regularly in the United States. He echoed his words from the past: that the U.S. is the only advanced country in the world that sees this kind of mass violence erupt with this kind of frequency.
Former U.S. Representative Gabrielle Giffords, who was wounded after being shot in 2011, and Richard Martinez, whose son Christopher was fatally shot in 2014 near the University of California, Santa Barbara, were present in the East Room. Strong public advocates of gun control, including Connecticut Governor Dannel Malloy and U.S. Representative Elizabeth Esty (D-Conn.), as well as Boston Mayor Marty Walsh, were also present for Obama's remarks.
Obama's new plan is his boldest since the December 2012 massacre at Sandy Hook Elementary School in Connecticut; the next month, he signed 23 executive actions designed to reduce gun violence, including reviewing safety standards for gun locks and gun safes and pushing to finalize mental health parity regulations. Giffords called his actions the "most significant achievement for gun safety" since the Brady Bill was passed in 1993.
Still, on Tuesday Obama called on Congress to impose new measures. He said the activists in the room won't rest until progress is made in the House and Senate.
"The gun lobby may be holding Congress hostage right now, but they cannot hold America hostage," he said. "We do not have to accept this carnage as the price of freedom."
Some members of Congress were quick to respond. House Minority Leader Nancy Pelosi said, "Now Congress must follow suit." But House Speaker Paul Ryan said Obama's actions "will no doubt be challenged in the courts" and "can be overturned by a Republican president." He criticized Obama for disrespecting the rights of law-abiding citizens.
Senate Majority Leader Mitch McConnell in a statement said that at a time when Americans are looking for leadership from their president to counter terrorist threats, they instead are getting "lectures, distractions and attempts to undermine their fundamental Second Amendment rights."
He said Congress will track the latest actions closely to ensure whether they follow the Constitution and federal law.
Many of the Republican presidential candidates, including front-runner Donald Trump, Texas Senator Ted Cruz and Florida Senator Marco Rubio, have said they would overturn Obama's executive actions, which are issued as guidelines only, on their first day in office.
Meanwhile, Democratic presidential front-runner Hillary Clinton tweeted that she will continue with Obama's step forward to curb gun violence if she is elected to the White House. Her challenger, Vermont Senator Bernie Sanders, said he would continue to follow Obama's executive actions.
Obama said a town hall meeting he will host Thursday night in Virginia will allow him to hear about the issue from both sides of the political spectrum.
This story has been updated to include the president's remarks from the White House.