Who's Speaking—And Who Won't Be—At the Republican National Convention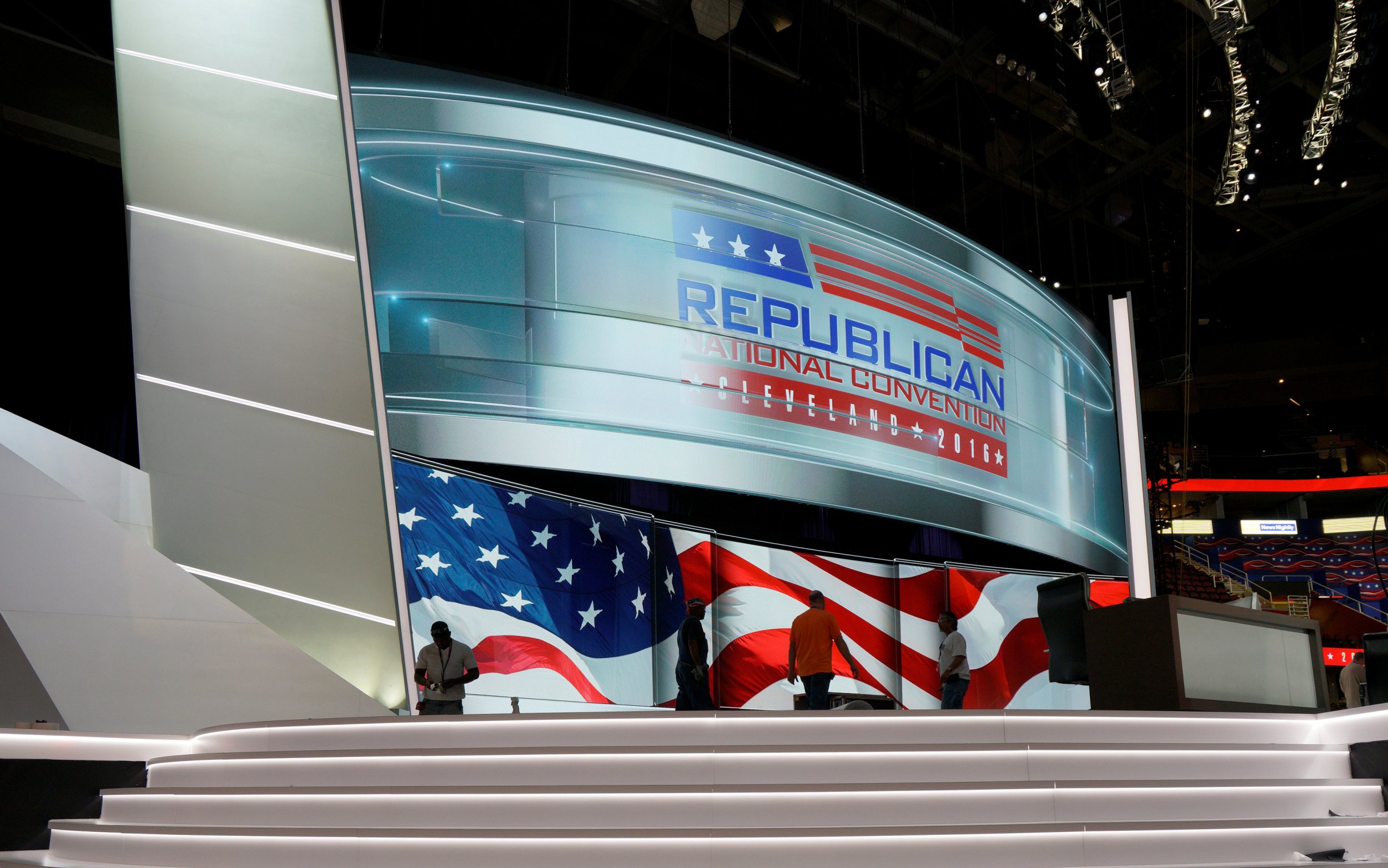 Indiana Governor Mike Pence, seen as one of the favorites in the Donald Trump running mate pool, was missing from the Republican National Convention speakers' list released by the GOP on Thursday morning. His absence further fueled speculation that Trump, the presumptive Republican presidential nominee, will name Pence as his choice.
Meanwhile, others seen as top contenders for the role, including former House Speaker Newt Gingrich, New Jersey Governor Chris Christie, Alabama Senator Jeff Sessions and Retired Army Lieutenant General Michael Flynn, are slated to be speakers at next week's convention. Trump said he will announce his vice president decision Friday at 11 a.m. in New York City.
Pence wasn't the only surprise when it came to the speakers' list. Former Alaska Governor Sarah Palin, the 2008 vice presidential nominee and a strong advocate for Trump, also was left off. She has often praised Trump publicly since he announced his run for president last June, and then offered an early endorsement of the real estate mogul prior to the start of the primary season. The two are an interesting pair: They are friends and are both reality-TV stars. In 2011, rumors swirled about a possible Palin-Trump ticket when the duo shared pizza in New York during her multi-city bus tour. (She had kept her name in the mix of Republicans who might run for president in 2012.) She also seemed to support Trump's birther theories about President Barack Obama.
Trump's wife, Melania, and all four of his adult children are scheduled to speak—even Tiffany, who for the most part remained out of the campaign spotlight for the past year while Ivanka, Eric and Donald Jr. have become influential advisers. Eric Trump even agreed with Tennessee Senator Bob Corker's suggestion that Ivanka is the presidential hopeful's "best running mate"...because of her beauty. Having so many of the presumptive nominee's relatives slated as speakers is unusual at a convention.
Another prominent name missing from the initial speakers' list is Trump's son-in-law, Jared Kushner. Ivanka's husband seemingly has been deeply involved in Trump's campaign, most recently joining the candidate and three of his adult children for a breakfast meeting with Pence on Wednesday in Indiana. He has been described as a "de facto campaign manager" to his father-in-law.
A handful of Trump's former 16 presidential rivals are on the list, including Texas Senator Ted Cruz, Wisconsin Governor Scott Walker, former Arkansas Governor Mike Huckabee and Dr. Ben Carson (and, of course, Christie). Among his ex-rivals who are not scheduled to speak are Ohio Governor John Kasich, former Florida Governor Jeb Bush, South Carolina Senator Lindsey Graham, former Texas Governor Rick Perry and former Louisiana Governor Bobby Jindal.
Also absent from the list are several notable senators and governors, such as Florida Senator Marco Rubio (also an ex-Trump rival), Arizona Senator John McCain, Pennsylvania Senator Pat Toomey and South Carolina Senator Tim Scott.
Other high-profile names expected to address the crowd in Cleveland include House Speaker Paul Ryan, Senator Majority Leader Mitch McConnell, RNC Chairman Reince Priebus, former New York Mayor Rudy Giuliani, Florida Governor Rick Scott, National Rifle Association Executive Director Chris Cox and Jerry Falwell Jr., son of the founder of Liberty University. Ryan initially was among several established Republicans who said they weren't ready to back Trump, shortly after he appeared to clinch the party's nomination.
Another high-profile name from another field, retired quarterback Tim Tebow, also will speak at the convention. A known conservative, Tebow has often made his religious views public on and off the football field.
Meanwhile, Mitt Romney, the GOP's presidential nominee in 2012, won't appear before the party in Cleveland. That's no surprise, as the former Massachusetts governor in recent months has attacked Trump, calling him "phony" and a "fraud."
The RNC noted the list is subject to change. The four-day convention opens Monday at Quicken Loans Arena in Cleveland. The themes for the week will play on Trump's "Make America Great Again" slogan and focus on national security, immigration, trade and jobs.