Donald Trump Meets with Indiana Governor Mike Pence Amid Speculation Over Running Mate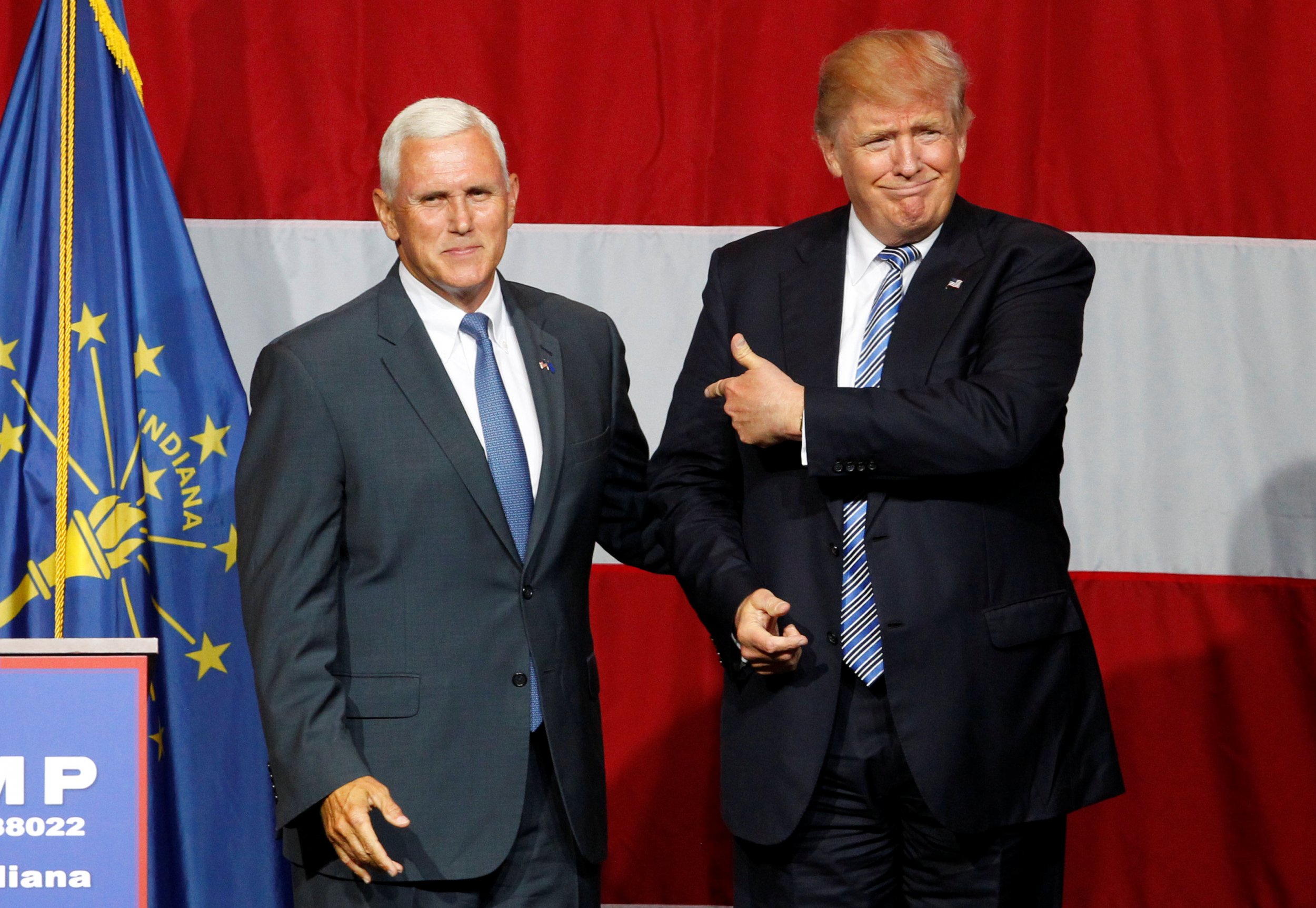 As speculation intensifies about Donald Trump naming his vice presidential pick as soon as this week, the presumptive GOP nominee met on Wednesday morning with Mike Pence at the Indiana governor's mansion.
There, Trump was joined by members of his family, including children Ivanka, Eric and Donald Jr., and top adviser Paul Manafort, according to Politico. Trump spent most of Tuesday with Pence, who introduced him at a campaign rally in Westfield, Indiana. Some in the media have dubbed Pence's participation as his "tryout" for the role.
Trump then remained in Indiana overnight because of an apparent "technical problem" with his airplane, which allowed for an unplanned dinner with Pence and his wife, The Indianapolis Star reported.
Trump is seen as likely to announce his running mate by Friday, just three days before the start of his party's national convention in Cleveland, although his decision could leak earlier. He is expected to make a joint appearance with his VP choice at the end of the week.
The other two who are gaining attention as Trump's possible picks are former House Speaker Newt Gingrich, who ran for the Republican presidential nomination in 2012 and has confirmed he is being vetted for the VP role, and New Jersey Governor Chris Christie, who endorsed the Manhattan billionaire shortly after he ended his own campaign early in the primary season. Trump told The Wall Street Journal on Tuesday that he also is eyeing Alabama Senator Jeff Sessions as a potential pick. Retired Army Lieutenant General Michael Flynn's name recently has been tossed around as well. But in an interview with ABC's This Week Sunday, he said he was unsure whether he was being vetted for the role.
After removing his name from consideration last week, Tennessee Senator Bob Corker suggested the candidate's eldest daughter, Ivanka, as his "best running mate." Eric Trump agreed with the sentiment, adding that his sister's "beautiful looks" qualify her for vice president. She would meet the minimum age requirement for vice president when she turns 35 at the end of October.
Republican House Speaker Paul Ryan told CNN during a town hall Tuesday night that he hopes Trump chooses a conservative, in an effort to maintain such views during the campaign and throughout Trump's possible presidency. Ryan's statement was similar to his reaction in May, just days after Trump emerged as the GOP's presumptive nominee, when he initially said he was "not ready" to back Trump because he wanted "to see that our conservative principles will be championed." Ryan has since changed his mind and now says he supports the real estate mogul.
As reports swirl about Trump's possible running mate, the Republican is now leading presumptive Democratic nominee Hillary Clinton by 3 points in Florida and by 2 points in Pennsylvania, according to a Quinnipiac University poll released Wednesday. Both are crucial swing states. In Ohio, another key state, the two candidates are tied, with 41 percent of support.
In last month's Quinnipiac poll, the former secretary of state led Trump by 8 points in Florida. Since 1960, no candidate has won the race for the White House without taking at least two of these three swing states.
While campaigning this week, Trump criticized President Barack Obama and the Black Lives Matter movement for "dividing America," even as he seemed to be trying to identify with African-Americans who believe the system doesn't operate in their favor. On Fox News Tuesday, Trump claimed he has heard Americans calling for moments of silence for the shooter who killed five police officers last week in Dallas during a Black Lives Matter protest. After an hourslong standoff with the suspect in downtown Dallas, police used a bomb-equipped robot to kill the gunman. Trump reiterated his claim at a rally on Tuesday. But no media reports have revealed such behavior in favor of the shooter.
Meanwhile, Supreme Court Justice Ruth Bader Ginsburg is under fire for criticizing Trump. She recently opened up to The New York Times about her fears about the billionaire becoming president. In return, Trump called on the 93-year-old justice to resign, saying, "Her mind is shot."
Ginsburg also expressed concern about a Supreme Court shaped by Trump. For months, the Republican-controlled Senate has refused to consider Merrick Garland, Obama's Supreme Court nominee to replace the late Justice Antonin Scalia. Instead, Trump and other Republicans argue that the next president should decide who will replace the conservative justice, who died in February.