Bernie Sanders Endorses Hillary Clinton for President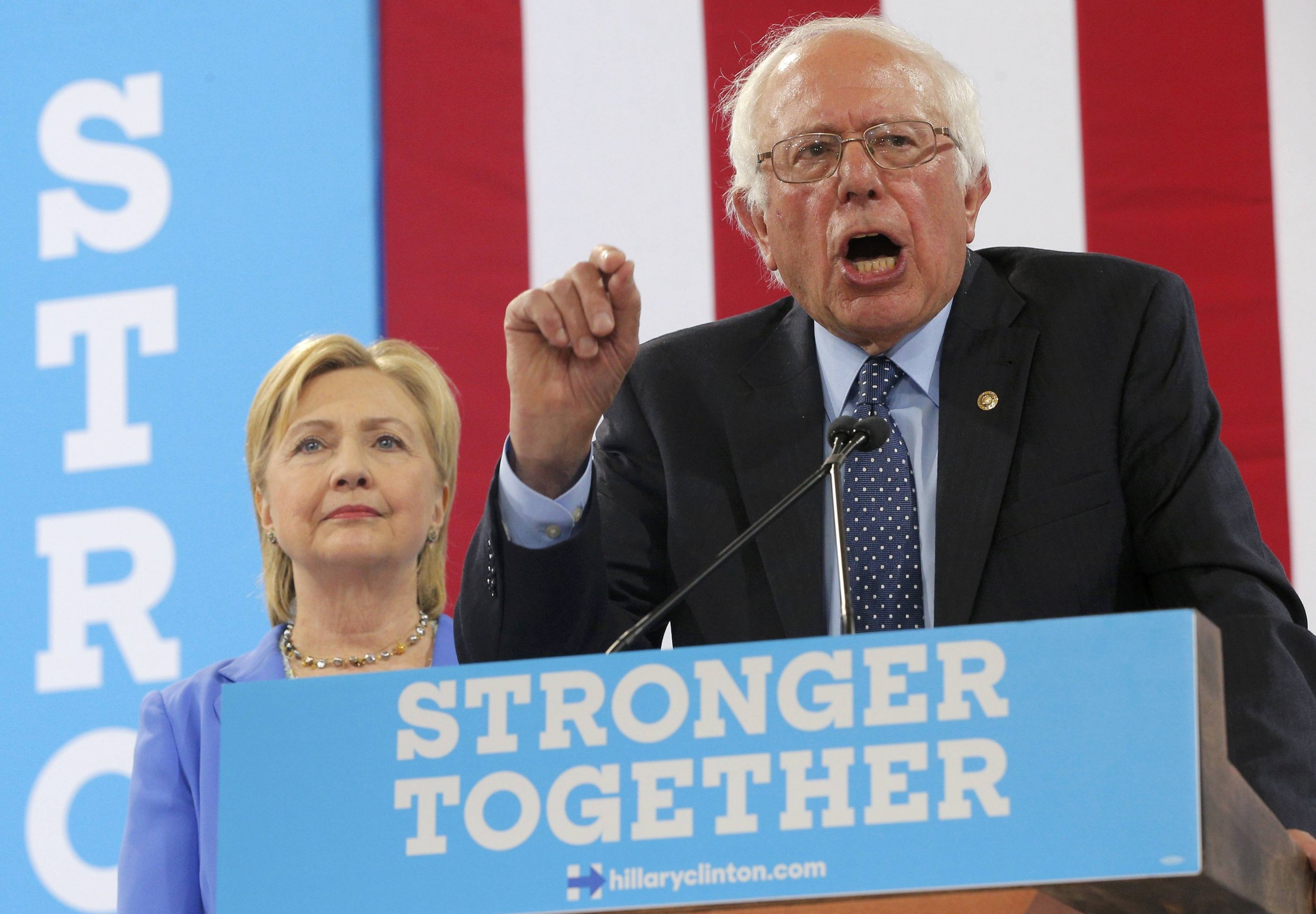 Updated | Standing in front of an American flag situated between two banners that read "Stronger" and "Together," Bernie Sanders on Tuesday morning endorsed his former rival for the Democratic presidential nomination, Hillary Clinton.
"I have come here to make it as clear as possible as to why I am endorsing Hillary Clinton and why she must become our next president," the Vermont senator said to cheers from the crowd gathered at Portsmouth High School in New Hampshire. Many of the supporters waved American flags. Moments before, the two former foes had taken the stage together to the sound of Bruce Springsteen's "We Take Care of Our Own."
Sanders confirmed that Clinton will go to the national convention, in less than two weeks, with 389 more pledged delegates "and a lot more superdelegates" than his campaign earned. Sanders and his campaign repeatedly have pushed back on the number of earned superdelegates—unelected delegates who can support any contender for the presidential nomination at the convention.
"Secretary Clinton has won the Democratic nominating process," he added, "and I congratulate her for that." His nod to her apparent victory was a first since the end of the primary season more than a month ago, when she appeared to have pulled off a historic feat: becoming the first woman to represent a major U.S. political party in the quest for the presidency.
Sanders added: "She will be the Democratic nominee for president, and I intend to do everything I can to make certain she will be the next president of the United States."
The former presidential candidate also used his speech to slam Donald Trump, the presumptive Republican nominee. While Trump insults Mexicans, Muslims, women and veterans, he said, Clinton "understands that our diversity is one of our greatest strengths." Sanders previously pledged "to do everything" he can to defeat the mogul in November.
When she took the stage, Clinton said it was "a privilege" to be standing with Sanders and acknowledged their joining forces to defeat Trump.
Before he made his announcement, Sanders said he was proud of the campaign he ran across the country and thanked the Americans who voted for him during the Democratic primaries, especially those in New Hampshire, who gave his campaign its first victory during the February 9 primary. He again highlighted his belief in continuing a strong push to change the government.
"Together, we have begun a political revolution to transform America, and that revolution continues," he said. "Together, we will continue to fight for a government that represents all of us, and not just the 1 percent."
The Vermont senator had remained in the race for the White House and had resisted endorsing Clinton even though she was all but certain to be the Democratic Party nominee.
While holding on to his presidential bid, Sanders most recently has sought major concessions on various issues in a quest to push the Democratic Party into passing the most progressive platform in its history. During a weekend meeting that Sanders's allies have declared mostly a victory for their side, the two campaigns agreed to platform planks, including seeking a $15 federal minimum wage and a carbon pricing regime to combat climate change. And, amid pressure from Sanders, Clinton last week announced she would expand her health care proposals to favor universal public care, and she would also favor eliminating tuition at public colleges and universities for in-state students whose families earn less than $125,000 annually. These changes mirror Sanders's views, which he highlighted in his speech on Tuesday. He called it "by far the most progressive platform in the history of the Democratic Party."
He continued: "Our job now is to see that platform implemented by a Democratically controlled Senate, a Democratically controlled House and a Hillary Clinton presidency. And I intend to be in every corner of this country to make certain that happens."
Sanders was not successful, however, in including opposition to the Trans-Pacific Partnership Trade Agreement in the Democratic Party platform.
Some of Sanders's key supporters had called on him to concede to Clinton in an effort to unify the party ahead of the national convention, which will take place in Philadelphia in two weeks. But, as he has done over the past year, Sanders continued to highlight his goal of creating a government to represent every American, instead of just a handful of wealthy campaign contributors.
"This campaign is not really about Hillary Clinton or Donald Trump or Bernie Sanders or any other candidate who sought the presidency. This campaign is about the needs of the American people and addressing the very serious crises that we face," Sanders said Tuesday. "And there is no doubt in my mind that as we head into November, Hillary Clinton is far and away the best candidate to do that."
On Monday, both the Progressive Action PAC and the Communications Workers of America threw their support behind the former secretary of state, urging unity in the Democratic Party as it drives to overcome Trump. Clinton and Trump likely will face off in November's general election.
"Hillary Clinton shares our ideals and has worked to improve the lives of Americans her entire adult life—as an activist, a litigator, a first lady, a senator and then a secretary of state," the PAC said, simultaneously encouraging Sanders to continue his calls for high voter turnout.
Sanders's endorsement was a long time coming. Speculation arose in recent weeks that Sanders would do so, especially when the two contenders met last month in Washington, D.C. The senator's nod came more than two weeks after he said he would vote for Clinton in the general election.
But it remains to be seen what a late endorsement will do for the party, weeks after other prominent Democratic figures rallied behind Clinton, including President Barack Obama, Vice President Joe Biden and Massachusetts Senator Elizabeth Warren. A favorite in the liberal wing, Warren has been cited as one of Clinton's possible vice presidential choices, being seen as someone who could energize independents to vote for the presumptive nominee.
This story has been updated to include remarks from the rally.