Hillary Clinton Declares Historic Victory, but Bernie Sanders Vows to Keep Fighting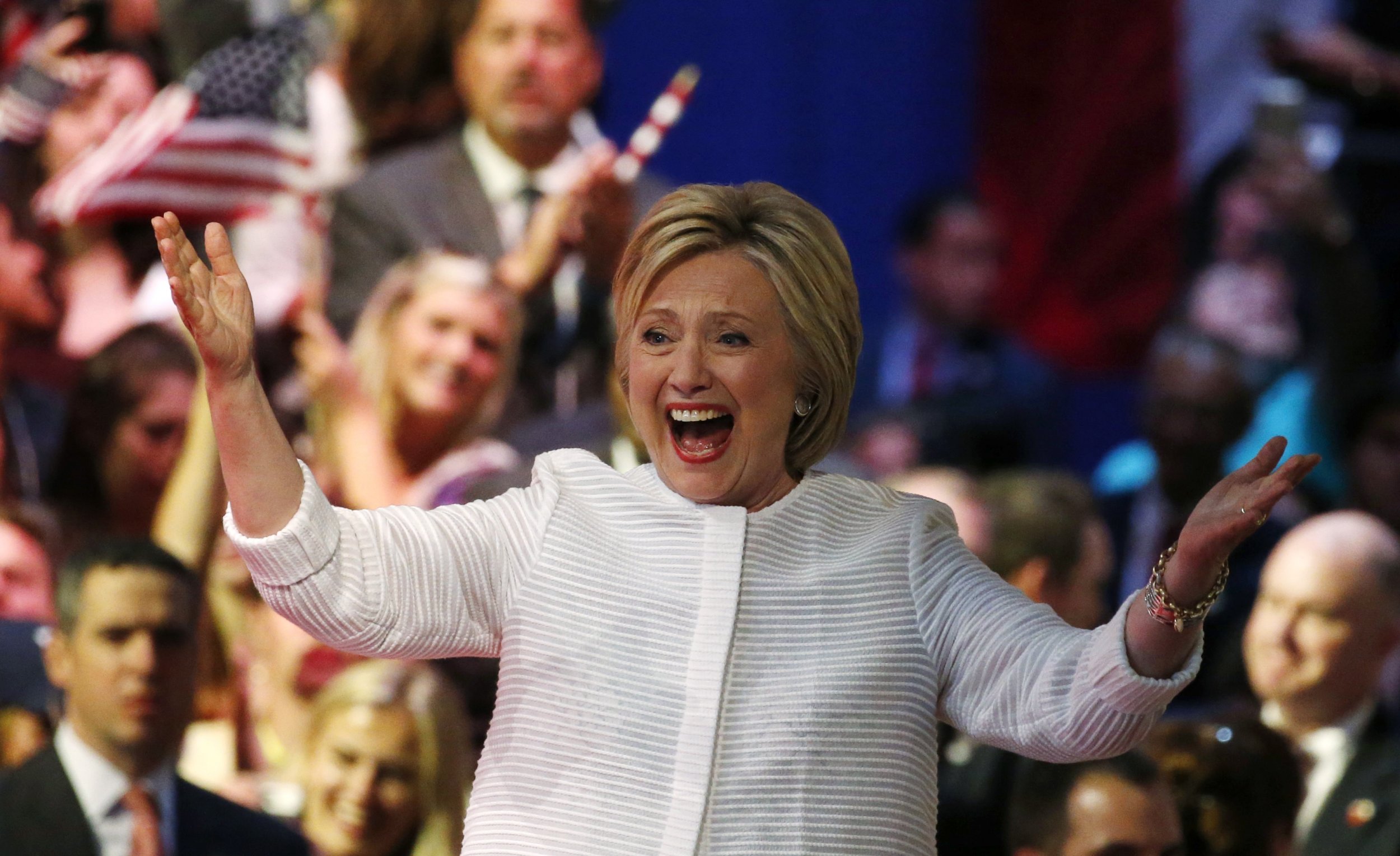 Updated | With key wins in New Mexico and New Jersey in Tuesday's primary races, Hillary Clinton declared a historic victory in the race for the Democratic presidential nomination and is now quickly turning to an already bitter general election battle with Donald Trump, the Republican nominee. Early on Wednesday, she was also declared the winner in California's primary, further cementing her delegate lead over Bernie Sanders.
Her victories in Tuesday's races came a day after the Associated Press called her the Democrats' presumptive nominee, a result of last-minute support from superdelegates. The reported count makes her the first woman to capture the presidential nomination of one of the country's major political parties.
Yet Sanders, her Democratic rival, has not conceded because he says the nomination can't be secured until the superdelegates—those who can support any contender for the presidential nomination—cast their votes at the Democratic National Convention in Philadelphia in July. Sanders picked up victories in Montana and North Dakota after Tuesday's voting.
However, in a speech on Tuesday night at the Brooklyn Navy Yard, Clinton looked forward to the general election. Following a video montage of suffragists gathered at the first women's rights convention in the United States, the former secretary of state, senator and first lady spoke of what most pundits are already calling her historic nomination.
"It may be hard to see tonight, but we are all standing under a glass ceiling right now. But don't worry, we're not smashing this one," she said. "Thanks to you, we've reached a milestone: the first time in our nation's history that a woman will be a major party's nominee for president."
She briefly congratulated Sanders on his campaign but focused the majority of her speech on laying into Trump, again calling him "temperamentally unfit" to be president.
"He wants to win by stoking fear and rubbing salt in wounds and reminding us daily just how great he is," she said. "Well, we believe we should lift each other up, not tear each other down."
"This election is different," she said. "It really is about who we are as a nation...coming together to say, 'We are better than this. We won't let this happen in America,'" she added, criticizing Trump without using his name.
Clinton and Sanders were in a virtual tie going into Tuesday. Aside from California, New Jersey and New Mexico, Clinton also won in South Dakota.
In recent weeks, some Democrats have accused Sanders of damaging the party by staying in the race, and when the Vermont senator addressed supporters late Tuesday in California, he showed no signs of quitting anytime soon. "Next Tuesday," he said, "we continue to fight in the last primary, in Washington, D.C. And then we take our fight for social, economic, racial and environmental justice to Philadelphia."
On the Republican side, Trump, the presumptive GOP nominee and the only remaining candidate in his party, was declared the projected winner in all five GOP contests. He addressed his supporters on Tuesday night from Briarcliff Manor, New York, and used his platform to try to attract disaffected Sanders voters. "We welcome you with open arms," he said, adding that his own campaign had "beat the rigged system."
Later in his speech, he took jabs at Clinton's foreign policy record: "The last thing we need is Hillary Clinton in the White House, or an extension of the Obama disaster," he said. He added that he soon plans to give a speech slamming what he called the "corrupt dealings" of the Clinton family.
"I think you are going to find it very informative and very, very interesting," Trump said. "I wonder if the press will want to attend."
Speaking from a teleprompter, something he rarely does, Trump's rhetoric seemed disciplined and toned down, a stark difference from the fiery addresses he normally gives. While he said his goal always has been to bring individuals together, the New York billionaire simultaneously vowed never to back down in fighting for his beliefs. "I will make you proud of your party and our movement," he said, "and that's what it is, is a movement."
His comments came as some members of the Republican Party are urging others to unite around Trump in an effort to defeat Clinton later this year. Prominent Republicans, including House Speaker Paul Ryan, have shifted course and backed the presumptive nominee.
Yet many remain uneasy about his controversial remarks. Last week, he criticized District Judge Gonzalo Curiel—who is considering civil lawsuits against the now-defunct Trump University—for being biased against him because "he's a Mexican." Curiel's parents are from Mexico, but the judge was born in Indiana. After facing widespread criticism from leading Republican politicians in recent days, including Ryan, the mogul said his words had been misunderstood and vowed to focus on issues that matter to Americans. He did not apologize for his comments.
This story has been updated to include the results from the California, New Mexico and South Dakota primaries, as well as Bernie Sanders'​s decision to stay in the race.