How to Follow Hillary Clinton, Bernie Sanders Primary Results in California, New Jersey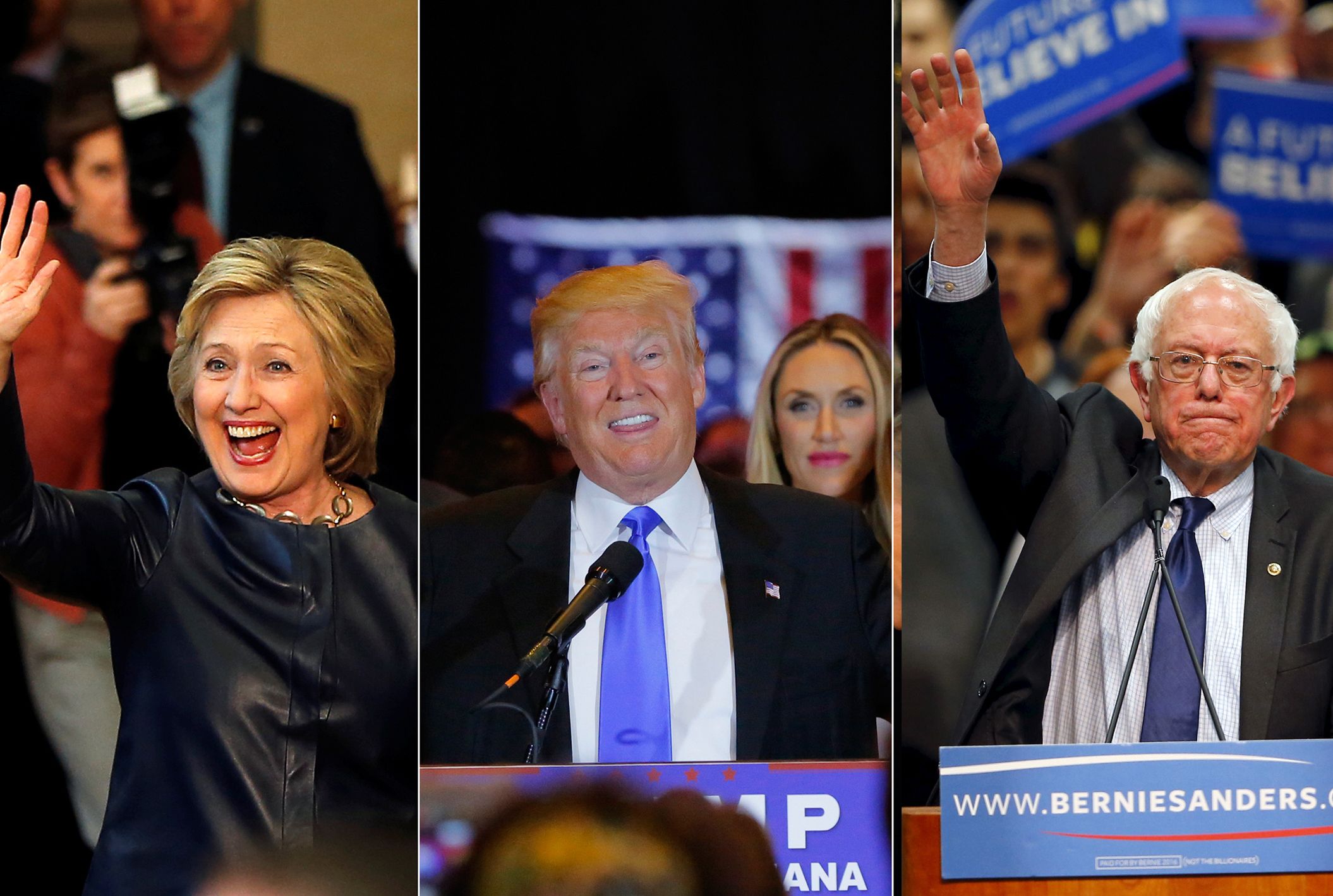 Tuesday will be the last major primary day of this election cycle. Hours before voting contests began in six states, Hillary Clinton was declared the Democrats' presumptive nominee Monday night by the Associated Press. In response, Clinton said she was "flattered," and her campaign called it an "important milestone." But the former secretary of state said she first wants to focus on winning the final primaries and caucuses, contests which will leave Bernie Sanders with a choice of whether to remain in the race.
Five states are holding Democratic and Republican primaries—California, Montana, New Jersey, New Mexico and South Dakota. North Dakota will hold its Democratic caucuses. Most polls will close at either 7 or 8 p.m. local time in each state, and then unofficial results will start to appear on the respective secretary of state websites.
Clinton over the weekend won caucuses in the U.S. Virgin Islands and Puerto Rico, which moved her closer to securing the nomination. But recent polls show Sanders has closed the gap with Clinton in California, and the two now are in a virtual tie. In New Jersey, the other top delegate prize of the day, Clinton has a significant lead. Neither contender needs to win outright in either state to claim delegates because they are allocated based on vote share.
Many of Sanders's loyal supporters continue to say they won't back down. Some encourage him to fight until the Democratic National Convention in Philadelphia next month, when the party officially will declare its presidential nominee. Other Democrats have accused the senator of damaging the party's unity by remaining in the race. The lingering question is whether his fans ultimately will back Clinton if he ends his presidential campaign soon.
During a news conference Monday, Sanders declined to speculate whether he will endorse Clinton ahead of the July convention. "Let's assess where we are after tomorrow before we make statements based on speculation," he said Monday in Emeryville, California. He plans to return to his home in Burlington, Vermont, after the primaries.
He also encouraged residents to vote in this week's contests, stressing the importance of the California primary. He said he was confident he could win if voter turnout is high and called on Americans to ensure Trump doesn't become the next U.S. president.
"It is incomprehensible to me that in the year 2016…given all that we have gone through as a nation for hundreds of years—in trying to end racism, trying to end bigotry, trying to end discrimination—that we have a candidate of a major political party today who is essentially running his campaign on bigotry," he said.
Sanders has used the results of recent polling to argue he is the superior Democratic candidate who could beat the real estate tycoon in November's election. In a recent speculative matchup with Trump, Sanders was ahead of the mogul by about 11 points, according to RealClearPolitics.
"It's absolutely imperative that we beat Donald Trump," Sanders said. "I believe I am the stronger candidate."
Meanwhile in the Republican race, many members of the party are urging unity around Trump in an effort to defeat Clinton later this year. Prominent Republicans, including House Speaker Paul Ryan, have changed their earlier views about Trump and have declared their support for the candidate.
But others remain uneasy about Trump's most recent controversial remarks, this time against a federal judge. He continues to defend his claims that District Judge Gonzalo Curiel, an American whose parents are from Mexico, has conflict of interests as he considers lawsuits against Trump University. The now-defunct school, which the businessman set up in 2005, is the target of two lawsuits that accuse him of cheating students from unfulfilled promises. Curiel was nominated by Obama.
Indeed, ex-Trump rival Marco Rubio swept the Republican contest in Puerto Rico this weekend, even though he has been out of the race for months.
Leading up to the series of primaries on Tuesday, Trump increased his verbal jabs at Clinton and her husband, former President Bill Clinton. While Clinton says she refuses to address Trump's criticisms of her husband's sexual history, she hasn't remained silent about her expected opponent. As she continues to fend off Sanders, Clinton simultaneously takes aim at Trump. In a highly anticipated speech on foreign policy last week, for example, she called the New York billionaire "dangerously incoherent" and "temperamentally unfit" to become president. She also has slammed Trump for allegedly cheering on the 2008 housing market crash.
All three remaining presidential hopefuls focused the majority of their time in recent weeks campaigning in the Golden State. At least two high-profile clashes between pro-Trump fans and protesters erupted outside of his rallies there, first in Costa Mesa at the end of April and then in San Jose last week. Clinton received endorsements from House Minority Leader Nancy Pelosi, who votes in California, as well as from the state's Governor Jerry Brown and Everytown for Gun Safety, a major group that hoped to boost the candidate ahead of the contest in the Golden State, which ranks No. 1 in the country for its strong firearms laws. Media reports indicate President Obama might be ready to endorse Clinton as soon as this week.