After The Donald Trump Rioting Comes The Finger-Pointing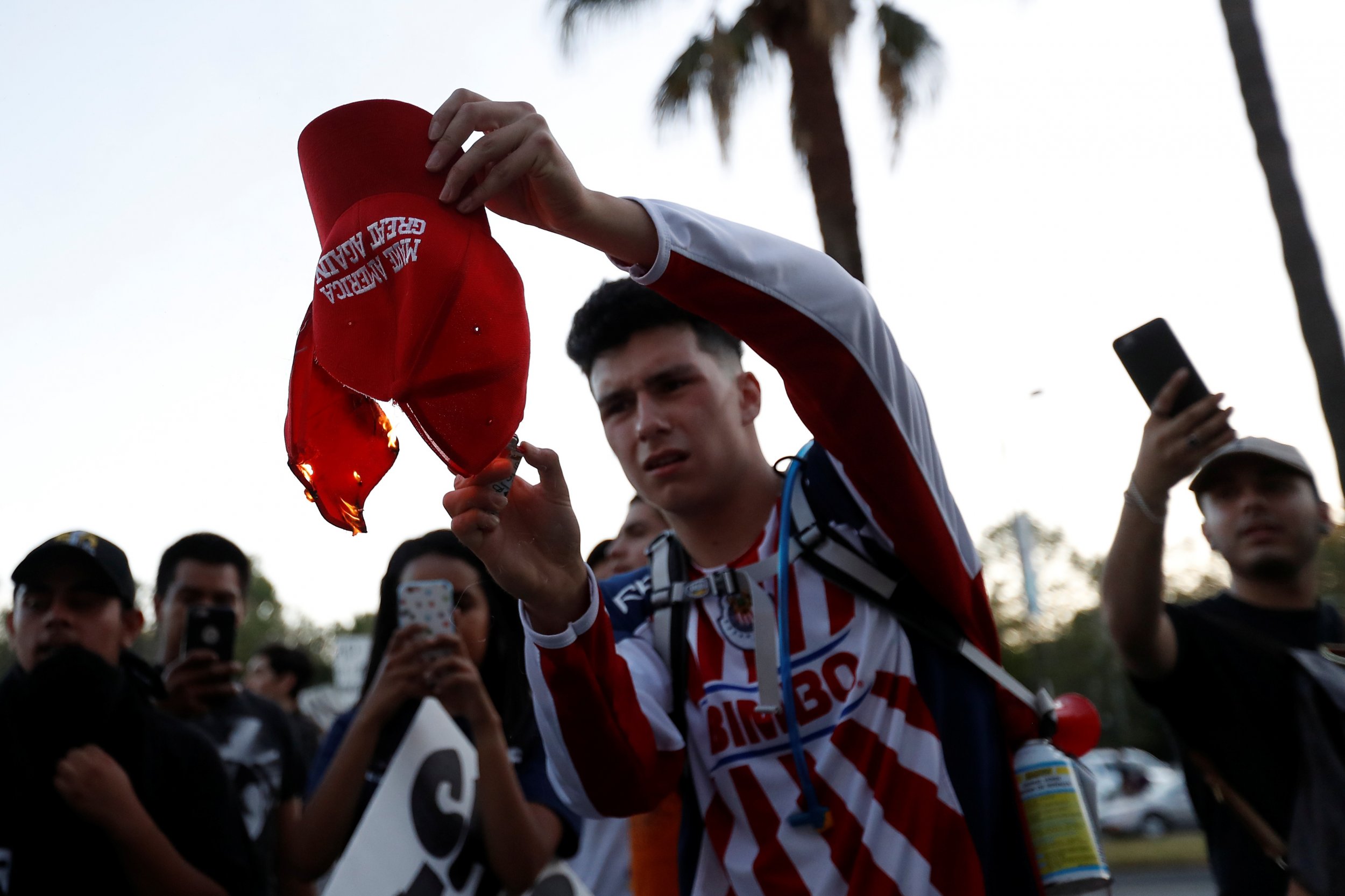 Shortly after protesters clashed with Donald Trump supporters Thursday night in San Jose, California, conservatives began blaming liberals for rioting against a presidential candidate. Liberals pointed a finger at the Republican presumptive nominee for his incendiary rhetoric and the violence of his own supporters. It's a cycle that seems likely to continue until November's election.
Jim Geraghty, conservative blogger and National Review contributor, recently compared the demonstrators' rhetoric and signs at Trump rallies to those seen at Occupy Wall Street, with the Black Lives Matter movement and at the World Trade Organization protests that rocked Seattle in 1999.
"There seems to be this sense in some newsrooms that left-wing protests are somehow inherently less violent, and if there is violence, it's somehow justified or understandable as a reaction to provocation from the right," he said in May.
The post-rioting blame game extended to the East Coast Friday afternoon when Vox Deputy Editor Emmett Rensin was suspended by the media website for posting a series of tweets the previous night that encouraged Americans to riot at Trump rallies.
For his part, Hillary Clinton campaign chairman John Podesta joined many on the left in condemning the rioters' violence, in a tweet late Thursday:
Trump fired back on Friday, saying on Twitter, "Great evening in San Jose other than the thugs. My supporters are far tougher if they want to be, but fortunately they are not hostile."
Video from Thursday night showed protesters surrounding Trump fans as they exited the San Jose McEnery Convention Center after the presidential candidate's speech ended around 8 p.m. Pacific time.
The police response grew along with the protests. Earlier this week, San Jose Police Chief Eddie Garcia said the department was prepared to do "everything possible" to protect residents' First Amendment rights.
At one point, a group of demonstrators appeared to corner a woman wearing a shirt with Trump's name displayed on the back and to throw eggs and other food items at her face. Others set a red "Make America Great Again" hat on fire. Some demonstrators beat drums and waved Mexican flags, while others held signs that read, "Stop hate. Stop racism. Stop Trump"; "Billionaire racist. Go away"; and "Reject politics of hate. Dump Trump."
Meanwhile, pro-Trump residents yelled at protesters to "go back to Mexico," according to The Mercury News.
An officer was assaulted, and police arrested "a few" demonstrators, local news outlets reported. Authorities declined to provide additional details to the media.
The New York billionaire, who has been criticized for encouraging acts of violence at his rallies, has denounced protesters. Prior to Thursday night, violence had erupted at Trump events in Costa Mesa, California, and Chicago. The previous clash happened just a week ago, outside of the candidate's rally in Albuquerque, New Mexico. There, demonstrators threw bottles and rocks at officers' horses, lit items on fire and jumped on top of police cruisers.
The San Jose rally took place just five days before Republican voters head to the polls in California and four other states for the final primaries of the 2016 election season. Similar to his tweet following the incident last week, Trump on Friday responded to the California protesters by again calling them "thugs" who burned an American flag.
Earlier Thursday in San Diego, during a highly anticipated speech on foreign policy, Clinton argued the real estate mogul is "dangerously incoherent" and "temperamentally unfit" to become president. Hours later, Trump fired back at his likely opponent in November, calling her address "phony" and saying she formerly hated President Barack Obama but now will go forward with any idea he wants accomplished.
"The only reason she's behaving like this, and the only reason she's been dragged so far left, believe me, is she doesn't want to go to jail over the emails, OK?" he said about the ongoing controversy over her use of personal email while secretary of state.
"Folks, honestly, she's guilty as hell," he added as the audience cheered inside the San Jose convention center. "The fact that they even allow her to participate in this race is a disgrace to the United States."